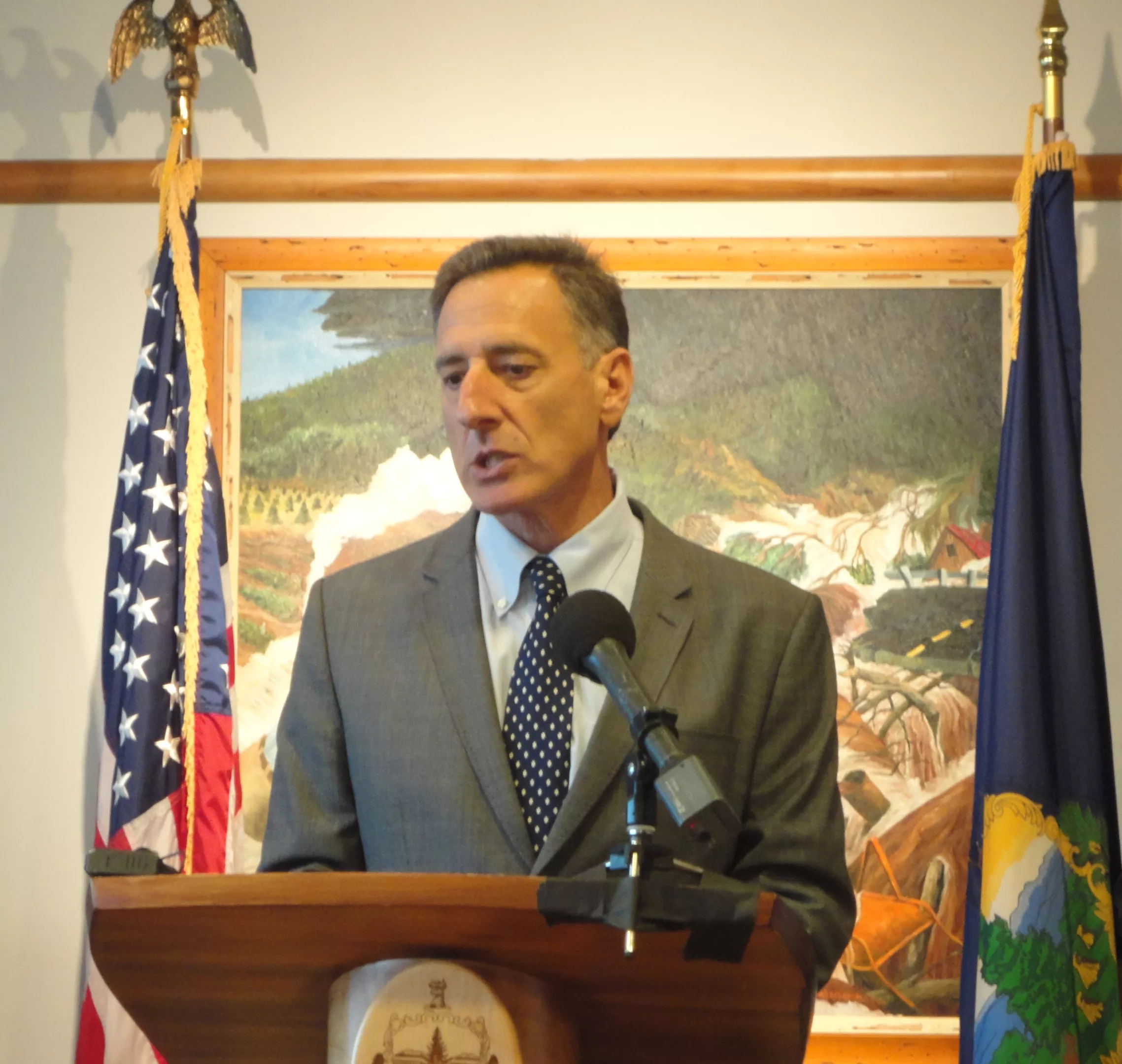 file: Paul Heintz
Gov. Peter Shumlin
With Town Meeting Day in the rearview mirror, we can now safely turn our attention to this fall's election season. And by that I mean what's shaping up to be Vermont's most boring political contest in recent memory.
I know, I know. I'm getting ahead of myself. Columnist caveat: Anything could change, yada, yada. But let's face it, folks: There's not a candidate in sight who would give Gov. Peter Shumlin a serious run for his money. And while it's still early to announce, it's getting pretty damn late to organize a credible run against an entrenched, well-financed incumbent.
Two weeks ago, fellow political columnist Jon Margolis of VTDigger breathlessly reported, "The Vermont Republican party has a mystery man," waiting in the wings to run for governor. Citing House minority leader Don Turner (R-Milton), who in turn cited unnamed "party people," Margolis assured us that "somebody" had made "something closer to a firm commitment" to run.
No doubt there are plenty of people talking about — or, more to the point, trying to get others to talk about — the possibility of their running. But, spoiler alert, the Republicans ain't got nothin' yet.
"I think there will be a candidate," says Lt. Gov. Phil Scott, the party's sole statewide officeholder. "I still have folks who talk to me about different names and their interest, but nobody is willing to commit at this point."
As to whether it's worth it for his electorally diminished party to make a serious go at the governorship, Scott says, "It's always been my belief that we should be focusing our resources on the legislative races. That's not to say we should forget about the statewide races, but that's really where we have the most to gain."
Scott's handpicked party boss, Vermont GOP chairman David Sunderland, agrees that the Republicans' "primary focus" should be erasing their deficits in the legislature. But, he adds, "We're certainly also putting a significant amount of time into statewide races." Sunderland says he's heard from "several interested, strong, viable candidates" for governor, though he wouldn't name names.
"Certainly our intention is to have a strong candidate in the governor's race, and I believe we will," he says.
Compared to 2012 or 2016, at least, this year looks like a decent one for a Republican to run. Without a presidential candidate at the top of the ticket — or, for that matter, Sens. Patrick Leahy (D-Vt.) or Bernie Sanders (I-Vt.) — turnout will likely be low. Shumlin's offered up plenty of material, from a shady land deal to malfunctioning websites, for 30-second attack ads. And by slamming next year's massive tax bill to finance single-payer health care, the right candidate could certainly scare the bejeesus out of the electorate.
Of course, that ignores three unignorable realities: Vermont is blue and growing bluer. Nobody's knocked off an incumbent governor in this state since Phil Hoff in 1962. And through the connections he's made as chairman of the Democratic Governors Association, Shumlin has the capacity to raise a tremendous amount of money.
Another problem?
None of the Republicans' three top prospects — Scott, former lieutenant governor Brian Dubie and former governor Jim Douglas — appear to be hankering for a run. All three have won multiple statewide races, are well known by voters, could attract investment by the Republican Governors Association and might inspire Shumlin's business backers to defect.
But Douglas, who retired in 2010 after eight years as governor and decades of public service before that, says, "No, I think it's important to pass the baton. Somebody said, 'The sequel is never as good as the original.'"
Dubie, a four-term lite gov who lost to Shumlin by just 4,331 votes in 2010, has disappeared from the political scene and declined several interview requests.
And Scott, who's viewed as an up-and-coming moderate, continues to maintain that he plans only to seek reelection.
"I don't have this lifelong dream of being governor or somebody in higher office," he says. "I'm not saying that I'll never do it, but I just don't feel the timing is right for me at this point. And it may not be ever. I just don't know."
That leaves a pair of potential second-tier candidates, neither of whom will say yes or no to the prospect: former state auditor and senator Randy Brock and Campaign for Vermont founder Bruce Lisman.
While Brock maintains he's "not made any decisions," he occasionally sounds like a guy who's already in the race. Addressing Vermont's half-century dearth of incumbent defeats, for instance, Brock says, "That means it's about due. The numbers are with me."
Brock certainly has some compelling arguments: He was the first to publicly predict and articulate the failures of Vermont Health Connect last September. And his emphasis on the state's information technology problems, which sounded tone-deaf during his failed 2012 gubernatorial bid, now seems prescient.
Brock's a smart guy, but his last campaign was rudderless and uninspired. Shumlin barely lifted a finger — except when he was dialing for dollars — and still managed to trounce Brock 58 to 38 percent.
As for Lisman, he continues to act surprised when asked whether he's mulling a run, even though he keeps doing precisely what one would do to gear up for one: spending boatloads of money on a political advocacy group, appearing constantly in paid and earned media and, well, declining to rule it out.
"I don't have any plans," he says. "Nothing's changed. Except more people ask."
While the former co-head of global equities at Bear Stearns clearly has the cash to burn on his own campaign, his opponents would go to town on his Wall Street tenure, which came to an inglorious end not long after his firm collapsed during the 2008 financial crisis.
Nevertheless, a candidate with some dough — like Lisman or Brock, who dropped $300,000 on his last bid — could be appealing to the cash-strapped GOP. That'd free up party resources for down-ballot races, while generating at least a modicum of interest at the top. And while self-funders typically crash and burn — see Rich Tarrant and Jack McMullen — one oft-forgotten counter-example is Shumlin himself, whose $275,000 loan to his own 2010 campaign allowed him to air TV ads early and distinguish himself in a crowded Democratic pack.
Plenty of other names have been tossed around this winter, including Senate minority leader Joe Benning (R-Caledonia) and Rep. Patti Komline (R-Dorset), both of whom are talented and respected moderates. But their name recognition outside the Statehouse is nil. Others, such as former lieutenant gubernatorial candidate Mark Snelling and Rutland City Treasurer Wendy Wilton, say they're not interested in the top job.
The Vermont Progressive party, meanwhile, faces a similar dilemma. Its leaders don't seem eager to distract themselves from winning more seats in the legislature, and no obvious candidates have emerged.
"Shumlin has given us a lot of things to make us consider running against him," says Progressive Party chairwoman Emma Mulvaney-Stanak. "But we haven't had anyone leap at the chance to run for governor."
Rep. Chris Pearson (P-Burlington), who chairs the House Progressive caucus, says that while Shumlin alienated liberals last winter by threatening cuts to programs that help low-income Vermonters, the governor has since changed his tone. And, Pearson points out, "Shumlin is not backing down on universal health care, and that has been a priority for us, and it's something we can't just dismiss."
While the gubernatorial race looks like a snoozer, there's always the chance that a down-ballot contest could heat up. One obvious place to look would be the lieutenant governor's office, which Democrats would surely like to snatch. Why not take Scott out before he aims higher? Especially given that his 2012 opponent, Democrat and Progressive Cassandra Gekas, won 40 percent of the vote with little money, negligible party support and zero name recognition.
Statehouse rumormongers have been floating the notion of House Speaker Shap Smith (D-Morrisville) making a bid for LG in order to set himself up for another statewide run down the road. But asked about it last week, Smith emphatically replied, "I'm not running for lieutenant governor."
According to Sunderland, the GOP has its eyes on the two most junior statewide officeholders: Democratic State Treasurer Beth Pearce and Democratic/Progressive State Auditor Doug Hoffer, both of whom prevailed in tough campaigns in 2012. And Mulvaney-Stanak says the Progs might challenge Scott, Pearce or Democratic Attorney General Bill Sorrell. Neither party offered up any names.
Wilton, who lost to Pearce 41 to 52 percent, says she has "not made any decisions" about a run for the treasurer's office.
If this dismal campaign season ever gets off the ground, it likely won't be until the legislature adjourns in May. But we might at least get some clues on March 15, when candidates will have to file their next fundraising and spending reports.
Here's hoping, for the sake of political columnists' continued employment, there'll be something to write about.
Media Notes
Some of the most compelling — and sensational — coverage of Vermont's opiate problem has come not from the newsrooms of Vermont but from a freelancer in Brooklyn.
Last September, long before Gov. Shumlin delivered his now-famous State of the State address on opiate abuse, Gina Conn and Hannah Palmer Egan drove north to their native Vermont to write about the issue for Vice magazine.
"We were talking about how every time we go back and visit people in Vermont, we hear more and more about friends of ours and acquaintances who got into heroin," Conn says.
Their story, called "Brown Mountain State," provided a vivid look at the life of addicts and dealers in Vermont, and the story went viral when it was published in December.
After Shumlin's speech set off an explosion of media coverage, Politico Magazine asked Conn to write a personal essay about drugs in Vermont — and her own stint in rehab for cocaine addiction — which was titled, "How Did Idyllic Vermont Become America's Heroin Capital?" Last Thursday, she was featured on NPR's "Tell Me More."
Conn, who writes under the pen name "Gina Tron," moved to Barre when she was 9 and, after attending college in Montréal, spent three years working in production at WCAX-TV. In 2008, she moved to New York City and, until last December, worked for New Evangelization Television, a Catholic TV station.
Conn says she's been a reluctant chronicler of the state's drug problem, because she doesn't want to give the place a bad rap.
"But it's hard to make a change unless you can admit what's going on," she says.
Conn readily acknowledges she's no expert on the numbers and relies far more on anecdote than epidemiology. She says she did not approve Politico's headline for her story and doesn't know that she agrees with its premise.
But Conn concedes that she likes to tackle subjects that might make others uncomfortable. Not long after the Newtown school massacre, Conn wrote a story for Vice about how Spaulding High School officials had suspected her of plotting her own school shooting in 1999 after she and a friend signed a note to another girl, "The Trenchcoat Mafia."
Last summer, she wrote an agonizing story about her experience trying to bring to justice a man who sexually assaulted her. And she's currently writing a memoir of her time in rehab and in a psych ward.
"I'm really an open-book person," she says, "And I feel like if I can't be honest about things, people can't learn from their mistakes."