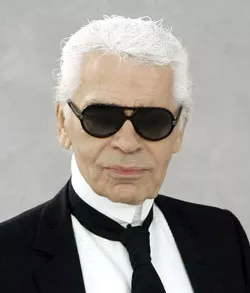 High-fashion hysteria hit the Green Mountains in recent weeks with the news — first reported in Women's Wear Daily — that Chanel designer Karl Lagerfeld had purchased a house on a Lake Champlain island. Then a woman who had just sold her home on Grand Isle to an unnamed corporate buyer called to tell Seven Days she'd received mail addressed to Lagerfeld.
Despite this evidence, the news seemed improbable. A celebrity couturier wanted to spend his free time in the little town known primarily for its ferry docking? The house, which sold for just more than $500,000, is right on the highway — not exactly the gated community one might expect. But Lagerfeld did tell WWD that he would "start doing the Chanel campaigns" at his new Vermont home.
He didn't waste any time. This week, Seven Days received a tip from another source: Models were arriving on Tuesday for a Karl Lagerfeld fashion shoot. Guessing that the fashionistas would slip in quietly via private plane, we opted not to stake out the airport but to head to Grand Isle and query the natives about the haute couture invasion.
Late Monday afternoon, several moving and service trucks seemed to augur the new resident's imminent arrival. Willie LeBeau of Essex Equipment knew better. His company was hired to bring tables, chairs and heaters to the sizable, though far from opulent, dwelling. "I hear [Lagerfeld] bought the house just for the shoot," LeBeau informed Seven Days. "If he were moving, it would take more than two days to renovate it." He went on to warn that his information was hearsay — but seemingly educated hearsay, especially given that the property was not registered in Lagerfeld's name.
Shoppers at A&B Beverage were of no help. The folks walking through the aisles, festively decorated with plastic ghosts and mummies, pled ignorance when asked if they were aware of an international ad campaign in their midst. However, one woman got swoony when reminded that Karl Lagerfeld is the designer for the house of Chanel, saying, "You just gave me goosebumps."
Sources informed Seven Days that the Blue Paddle Bistro would be catering this photo shoot — whatever it was. Proprietor Mandy Hotchkiss confirmed that Alburgh chef Barbara Cote would be overseeing the preparation of breakfast and lunch for a four-day shoot. She was also able to disclose that the photos were being taken for a Chanel campaign. And that the crew of 40 would dine on locally grown squash and Misty Knoll chicken.
On Tuesday, Hotchkiss called to report a face-to-face encounter with the designer: "I met him," she said. "He was very nice to Barbara. He spent most of the time in the house . . . he really just dashed in and dashed out." While Lagerfeld may not be buying bait at the Keeler Bay Store any time soon, it looks like the house on the highway will be immortalized in sartorial circles as a tiny new mark on the fashion map.