Grace Potter and Ryan Miller have had almost inverse Vermont experiences. As any local knows, Potter is the Waitsfield-born singer who has achieved international fame, first with the Nocturnals and lately as a solo artist. She recently relocated to Los Angeles.
On the flip side, Miller is the front man for Guster, a Boston-born alt-pop band that has maintained a large and dedicated fan base for almost a quarter century. After many years living in Brooklyn, six years ago Miller moved with his family to Vermont. He now calls it home — though he did so reluctantly at first.
Both Potter and Guster will be in Vermont this Saturday and Sunday, September 17 and 18, performing at the Potter-founded Grand Point North music festival at Waterfront Park in Burlington. Ahead of the fest, Seven Days lined up a phone interview between the two pop stars. Oddly, Miller spoke from LA, while Potter had just touched down in the Green Mountains.
What follows are excerpts of that long and wide-ranging conversation. For an expanded version, check out the Seven Days arts blog, Live Culture.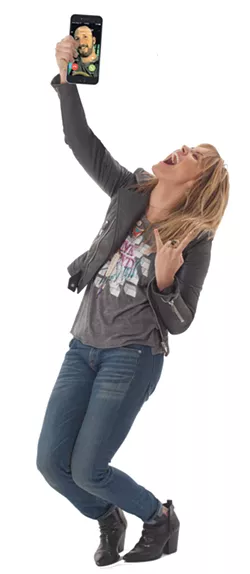 RYAN MILLER: So you made the leap. You're calling LA home-ish these days?
GRACE POTTER: Yeah. I live on a tour bus, really. Whenever I don't, this is becoming more and more the place I come home to, though I can always come back to Vermont.
RM: Are you there to create more opportunities? Or was it a resonant frequency thing, like, this is where you needed to be, personally?
GP: It's a little bit of everything. We have a house out there that I was renting and ... it's kind of a funny story, actually. I rented the house for the band to stay in when we made an album five or six years ago. And the guy who owned it was the hockey player Sean Avery. Do you know him?
RM: I think I do, because I think I have a huge crush on his ex. Did he ever date Elisha Cuthbert?
GP: Ohhhh, yeah.
RM: That's about all I know about sportsball, but go on.
GP: You'll love this, then. So Elisha Cuthbert's DNA was all over the house when we rented it. He had all these pictures that she had drawn and a bunch of her stuff in the closet. And she kept on sending her friends to come and pick it up because they'd had a bad breakup. There was a Crosby, Stills, Nash & Young illustration that looked just like the record cover but was actually a drawing that she did, and it was just sitting in the closet.
So, Sean was just like, "I don't know. I don't care. I'm so done with LA. Make me an offer, and I'll sell you the house." It was an incredibly fortuitous moment in real estate history. But let's talk about music. What are you doing in LA? Do you have a show?
RM: No, we don't have a show. I think part of being a working artist out of Vermont is making sure you get out. When I'm here, I fill my days with meetings and going out. And when I'm in Vermont, I have bonfires with my kids and do sensible, sustainable life things. Vermont has become such an important part of who I am. But, artistically, I need to fly farther afield to find inspiration.
GP: That's exactly it. It's my situation in reverse. I'm not a mom. But there is a homing device within every woman that I know from Vermont. It's like the biological clock starts ticking and it's, "I'm gonna make babies and go home." I can't tell you how many of my girlfriends are in that phase of their life. It's like there's a chip that gets put in all our brains. I was delivered at Gifford Memorial in Randolph, and I'm wondering if there's a microchip in there.
Parenthood will change things. But being a touring musician is one thing. And being a human being and figuring out where you want to live is another. And I'm finding that bridge right now. I'm finding that if you don't get out of a place like Vermont enough, you don't have enough to bring back to it. The creative community in Vermont is so worldly. But it can't be worldly if everyone is just sniffing up each other's assholes.
RM: The first thing that killed me, in a good way, when I got to Vermont was Honky Tonk Tuesday and Radio Bean. I would go and think, This so uniquely Vermont. But it's on a beautiful artistic level, because it lacks that ambition to get out of this town. And that struck me in a way I never could find in LA or when I was living in New York. That's when I understood the nuance of being an artist in Vermont.
GP: I hone in on the novelty of Vermont, because that's what my parents raised me on. I grew up where my parents would pick up all of our groceries by trading a bowl my mom made or a sign my dad made — all of our produce, flowers, meat. It's only quintessential to everyone else. But to me it was life; it's normal. So I didn't realize being from Vermont was a thing until I left.
It's interesting to me that I've sort of taken on this poster-girl-of-Vermont thing. And I think it's because I am so proud of Vermont.
RM: You're finding where your chip is placed!
GP: Exactly!
RM: Do the Grand Point North shows feel different from an internal energy spot than the rest of your shows?
GP: Absolutely. This is an anomaly. It's not a tour stop. I want Grand Point North to feel as special for everybody else as it feels for me. Every year we have little ways to try and make it special. And to me the pressure is on to do something different for the community I haven't thought of before. Like, this year we're incorporating the Abenaki tribe in a lot of the artwork on display. And there will be an Abenaki woman recording the oral history of the tribe on Lake Champlain. So that's my way of reflecting the community, and the excitement and the energy of the community, from year to year.
But in my opinion, my presence there is no more important than anyone else's. I'm just there enjoying it, too. Every year, I walk around and can't believe we built this. It's an amazing accomplishment and exactly what I dreamed of when I was 13 years old and drawing pictures with my sister, trying to envision what our dream festival would be like. And it's come to pass in more magnificent ways than I could have imagined.
That sounded grand. But it really does feel that way.