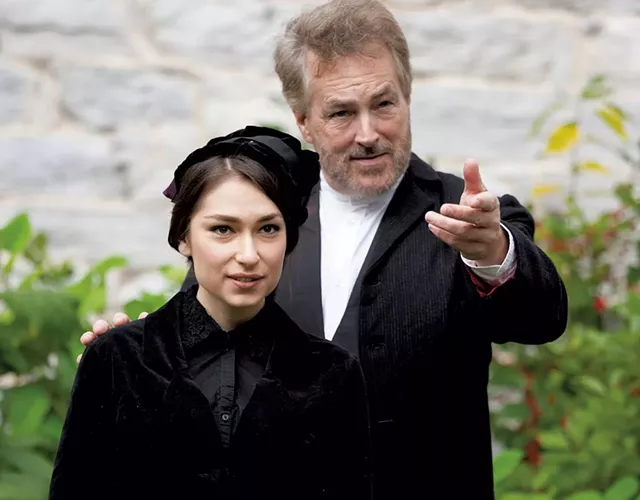 Courtesy Of Peter Lourie
Grace Experience and Bruce Campbell
Grace Experience does not have an average name, nor does she spend her weekday nights doing average things. For example: At 8 p.m. on a recent Tuesday, the 24-year-old Experience, wearing a long taffeta skirt, was weeping in the gymnasium of Weybridge Elementary School. Beside her stood a man in an oversize blazer, imitating a dripping faucet.
To be clear, this was a rehearsal. Experience, a native of Lincoln, Vt., and a graduate of New York University's Tisch School of the Arts, will star as the governess in the Middlebury Actors Workshop production of The Turn of the Screw, which premieres at Town Hall Theater in Middlebury on Thursday, November 1, and moves to Burlington's FlynnSpace later in the month.
Melissa Lourie, MAW's artistic director, chose to produce Jeffrey Hatcher's minimalist adaptation of Henry James' gothic tale of nannying gone horribly awry. The show features only two actors: Experience as the governess, and Burlington actor Bruce Campbell as every other character, including a little girl, a middle-aged woman and a dripping faucet, among other ambient sounds.
The set will be spare, too, with two rugs and a chair serving as the only props. The stripped-down approach is meant to create an intimacy between the audience and the performers, Lourie explained, heightening the sense of psychological chaos as things begin to unravel.
"It feels like you are being told an incredibly eerie story and seeing it play out right in front of you at the same time," said Lourie, who reached out to Experience last winter about getting involved in the production.
"Grace has a delicacy and femininity that work very well with this period role," Lourie said. "Not every actress has this ability to shed modern mannerisms."
Experience, whose name is a centuries-old family moniker on her mother's side (allegedly, there was an ancestor called "Free Love," too), has embraced that challenge. (Experience is actually her middle name, but she dropped her last name, Blewer, in favor of the more evocative stage name Grace Experience.) At just five feet tall, she's physically tiny; her presence is anything but. She looks older than her years, with the prominent cheekbones one imagines on the heroines of Victorian novels.
"I keep reminding myself that it's supposed to be 1872, so my reality is not her reality," said Experience about her character, sitting in the Jackson Gallery in the basement of Town Hall Theater before an evening rehearsal. "Which makes her trajectory so much more terrifying — she knows so little of the world, and she still makes this choice to go to London. She's brave and naïve at the same time."
In a sense, Middlebury is where it all began for Experience. When she was 7, her parents enrolled her in an acting camp led by students at the college. Her father, Chris Bohjalian, a New York Times best-selling novelist, recalled that some of the material might have been a tad mature. For example, she performed a cabaret rendition of "I Can Cook Too," a song from On the Town about a woman's mind-blowing, um, culinary skills.
But that first foray into the world of theater made it clear that Experience had chops, and her parents encouraged her talents by signing her up for acting, voice and music lessons. She made her Town Hall Theater solo debut at age 12, belting out Madonna's "Material Girl" with a full rock band accompanying her onstage.
Throughout elementary and middle school, Experience regularly starred in community theater productions, performing with Lyric Theatre in Burlington, Essex Theatre and Stowe Theatre Guild. Not surprisingly, all of this acting required a lot of schlepping.
"There were days when Grace easily spent four or five hours in the car," said her mother, Victoria Blewer, a fine art photographer. "She did a lot of homework at the Howard Johnson [off Interstate 89 in Burlington]."
Her parents got a reprieve from chauffeuring when Experience went to boarding school at Concord Academy in Massachusetts, after completing her freshman year at Mount Abraham Union High School. At Concord, she continued to study acting, piano and voice.
By the time she was ready to apply to college, Experience recalled, she knew she wanted to become a professional actor. She enrolled at Tisch, where she trained in the Meisner Studio — "also known as the Meisner School of Tears," Experience joked, for its emphasis on drama.
Since graduating in 2015, she's been living and working in New York City, and traveling for roles when necessary. In the spring of 2016, Experience starred as Emily in Our Town at Heartwood Regional Theater in Newcastle, Maine; the following summer, she was Cinderella in Into the Woods, also at Heartwood. More recently, she played a flight attendant with a fear of flying in Grounded, an original show written by her father that debuted in New York City last summer. (Experience has also recorded a number of audiobooks for Bohjalian and other authors.)
When she isn't rehearsing, Experience said, she's generally waking up early to wait in long lines for casting calls. The life she's chosen isn't easy, filled with the anxiety of auditions, the inevitability of rejection, the grind of rehearsals and performances. Experience recently joined the Actors' Equity Association and signed with an agent, which will ease the stress of landing her next job. But her determination and work ethic are unshakable, qualities she attributes to watching her creative parents hustle in their respective careers.
"When you're an artist or a writer, no one is going to make you get up early every day and work," she said. "But I saw my parents work these crazy hours, and that was very inspiring to me."
Last year, Blewer and Bohjalian moved to Weybridge, just a mile and a half down the road from the elementary school where Experience has been rehearsing for The Turn of the Screw. But Experience doesn't take their proximity (or their car) for granted: On rehearsal-free afternoons, she hoofs it to the Weybridge Congregational Church to squeeze in extra time at the piano.
After her Vermont engagement this November, Experience will move to Boston to work on The Wolves, a contemporary play by Sarah DeLappe about a women's soccer team. To prepare for that audition, Experience spent hours dribbling and shooting with her boyfriend in New York City's Central Park.
Though a self-proclaimed nonathlete, she has no qualms about venturing outside her comfort zone. Experience's medium-term goal is to land the Shakespearean role of Juliet or the female lead in the musical Once; long-term, she hopes to do film and television work.
But auditions, Experience has concluded, will always be nerve-wracking. "I've pretty much made peace with the fact that I'm going to be nervous for the rest of my life," she said, with the equanimity you might expect from someone named Grace Experience.