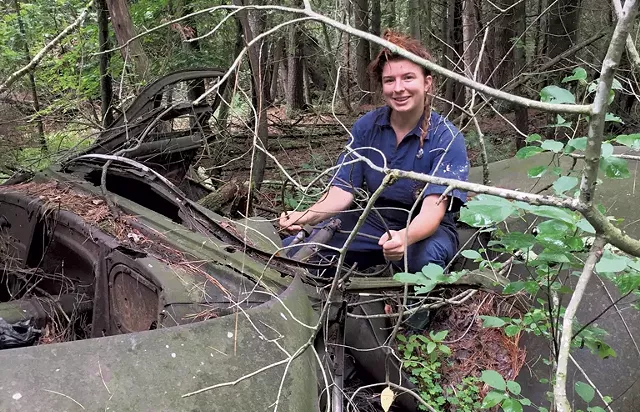 Rachel Elizabeth Jones
Grace Amber in trash-car
In Rubbish! The Archaeology of Garbage, authors Cullen Murphy and William Rathje write, "Art derived from garbage will surely thrive for as long as garbage is around to provide a source." This certainly seems accurate, but for Vermont-raised artist Grace Amber, trash is more than raw material — it's a way of interacting deeply with past and present.
On Thursday, July 20, Studio Place Arts in Barre will open Amber's exhibition "Trash Mounds," featuring sculptural installations made from local detritus. For Amber, who now resides in Portland, Ore., these works are one by-product of an art process that encompasses historical investigation, community building and homecoming.
In a recent interview, Amber, 26, said she's been wanting to make work in her home state for some time — and that Vermont's "trash ecosystem [is] a gold mine that isn't available other places." For one thing, she said, "In the city, the change [in trash] is so fast."
Though Amber's final installation will remain in process until Thursday's opening, she did say that her assemblages will be made solely of findings from her trash excursions. This parameter has led her to innovations such as crafting rope from rubber tires to fasten pieces together.
When she arrived in early July, Amber reached out to friends and family about her project and put up a call for "trash guides" — people who could show her neglected trash mounds — on community bulletin boards around Chelsea.
That flyer contained a series of questions: "Do you have a mound of trash in the woods near where you live? Do you know its origin story? Is finding an old rubber tire like finding a morel [or is it different]? Does your trash feel haunted? Where does the trash 'belong'? Are you worried about the trash? Is the trash worried about you? Do you believe in trash fairies? What do the trash mounds tell us about our collective regional trauma?"
One of her goals, Amber said, has been to "repattern the pathway I take when I'm in my hometown [and to make] a new way to interact with people that feels more authentic to my interests." To date, she has gone on nine "trash missions" in Vermont, including one to a busted old car in the woods near this writer's home. During these excursions, Amber often records her conversations and ambient sounds, which she later listens to when making sculpture from her findings.
"I try to view my hands as another weathering agent," she said of working with her scavenged materials, likening the effects of her intervention to those of the sun or rain.
Amber identified much of the trash she's witnessed here as originating from the 1920s through 1960s: a lot of metal, cans, old shoes and plastic. "[Vermont] trash tells a story about borders really strongly," she said. Often, trash mounds are located just at the edge of an earlier property or along a river, she explained.
Amber's efforts "to make visible things that are discarded" extend beyond the physical into the realm of historical narrative. Abandoned piles of garbage left to rot do not particularly harmonize with the Vermont brand of preserved rural bucolicism or the state's reputation for progressive eco-mindedness. The fostering of the state's "quaint and perfect" image, Amber said, "can also suppress the reality of human experience."
After each trash mission, Amber takes field notes on her experience. She's observed that her delight in someone else's trash has proved infectious. Her guides, she said, have been able to "celebrate the finding with me." She's learned a great deal about the area where she grew up and was thrilled to find out about the now-deceased Boyd sisters, known locally for making sculpture from trash gathered in the woods.
Amber's uniform, as it were, is a navy mechanic's jumpsuit. Sewn over its breast pocket is a patch with a six-pointed star and the declaration, "Trash Rules Everything Around Me."
"I believe the patch a lot," she said.