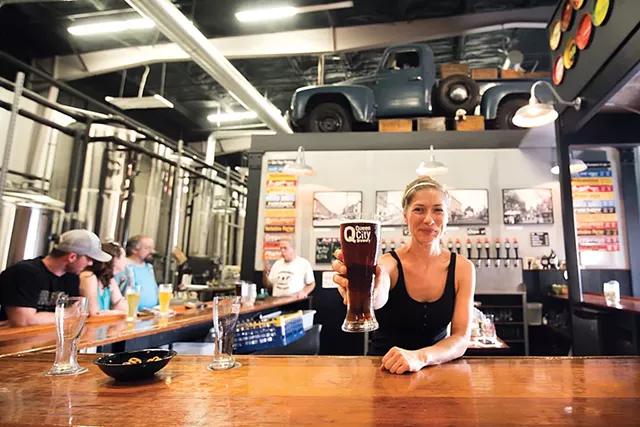 Luke Awtry
Queen City Brewery
Queen City Brewery
Five friends — all with an affinity for old-school European beers — opened this Pine Street brewery in 2014 on a hunch that locals would embrace delicate, balanced beers as a break from IPA mania. Today, folks crowd into the airy warehouse-style bar for glasses of copper-toned Landlady ESB Ale, as well as German styles such as steinbier, rauchbier, dunkel and maibock — most of which are still uncommon, even in Vermont's fast-expanding beer canon.
Burlington Beer Company
Frequent can and bottle releases draw the beer-loving crowds, while daily hours offer a casual experience. Play a game of Jenga and order a round of tacos.
Citizen Cider
316 Pine St., Suite 114, Burlington, citizencider.com
This is the spot for getting apple-sauced — responsibly, of course. The lively tasting room offers 10 ciders on draft, plus local beer, spirits and nonalcoholic concoctions.
Colchester's Mead Hall
Beowulf would feel at home among the craft meads and honey wines that flow through these draft lines. Sample a Scandinavian cheese plate or pickled herring.
Foam Brewers
The brews are imaginative, the waterfront location unbeatable. World-class cheese and charcuterie, live music, standup comedy, and local art make it a very happy hour indeed.
Four Quarters Brewing
Fancy a Belgian-style beer? Get to this Winooski brewhouse for a tasting. Occasional live bands and vinyl nights provide a solid soundtrack.
Switchback Brewing
Get the inside scoop on Switchback's unfiltered ales during a Saturday production-area tour, then kick back for a pint or a hot dog in the sunny tasting room.