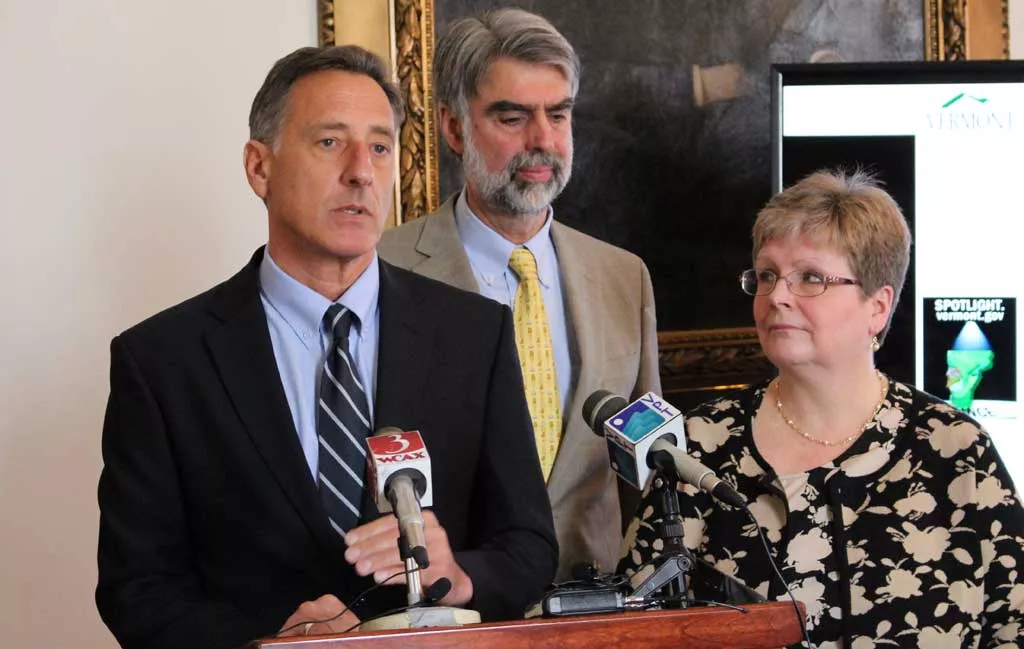 Three busloads of donors arrived at the Bruce Museum of Arts and Sciences in Greenwich, Conn., last Wednesday night to mingle with four governors over cocktails. They were there, the Connecticut Post reported, to kick off a two-day fundraising retreat for the Democratic Governors Association.
Along with Connecticut Gov. Dannel Malloy, Maryland Gov. Martin O'Malley and New Hampshire Gov. Maggie Hassan, the corporate and union donors were joined by the DGA's chairman: Vermont's own Gov. Peter Shumlin.
The retreat attracted more press attention than is typical for such events. That's because just weeks before, Shumlin's organization filed suit against Connecticut's election regulators in federal court, arguing that the Constitution State's election laws are unconstitutional.
The DGA's goal? To ensure that Malloy could raise big bucks for the organization at its fundraisers and then benefit from the DGA's "independent" advertising during his ongoing reelection campaign, despite a restrictive Connecticut law that bans the practice.
Sounding much like the U.S. Supreme Court's conservative majority, the DGA claimed in an April 23 complaint that the law "chills DGA's rights of speech and association" and "violates the First Amendment." By presuming that Malloy's DGA fundraising constitutes coordination with the group, it argued, state regulators are trampling on its rights and those of other independent super PACs.
"That harm is only compounded as Election Day approaches," the DGA's lawyers wrote. "With every day that passes, DGA loses opportunities to engage in constitutionally protected political activity."
With the clock ticking, the DGA called on Judge Janet Hall to grant a preliminary injunction before the Greenwich fundraiser. That way, Malloy, the DGA's former finance chairman, could raise money at the event without fear of breaking the law. Hall ordered settlement talks two weeks ago, but she still hasn't ruled on the injunction.
Soon after the DGA filed suit, a coalition of 10 good-government groups lined up against it. In a letter they sent Shumlin early last month, the groups — including Common Cause and the League of Women Voters — called it "an indefensible attack" on Connecticut's "groundbreaking" public financing system and urged the DGA to drop it.
"We are very surprised that you would allow yourself to be associated with this lawsuit," the groups wrote Shumlin, noting, "In the past you have said decisions like Citizens United v. FEC are 'antidemocratic.'"
Indeed, says Common Cause Connecticut executive director Cheri Quickmire, "There's irony all around."
Leading the charge to weaken one of the nation's strongest campaign-finance laws is the Democratic governor of Vermont, she notes. And benefiting from a successful suit would be the first Connecticut governor to win election with the help of the state's 2005 public-financing law. Just last week, Malloy qualified for another $6.5 million in public financing after raising $250,000 in small donations and pledging to take no more than $100 from each donor.
"You throw up your hands because, on the one hand, you're really proud and impressed that folks participate in [public financing] at the level they do," Quickmire says. "And on the other hand, you're not sure where the next attack will come from."
The DGA denies it's on the attack. The good-government groups' letter "fundamentally misunderstands the DGA's action," spokesman Danny Kanner said in a written statement.
"Our intent is not to undermine Connecticut's campaign-finance law," he wrote. "We simply want to affirm our right to promote Democratic governors and progressive policies, as we do in states across the country."
But Connecticut activist and former state legislator Jonathan Pelto says it's clear the DGA is trying to skirt contribution limits and "launder" Malloy's donations through the organization under the guise of independent fundraising.
"There's a widespread understanding that the Greenwich fundraiser was to raise money for Dannel Malloy," says Pelto, who is considering challenging the governor from the left. "This was a clear-cut effort to raise money from people that were already giving money to Malloy but had already maxed out."
Kanner would not disclose details of the conference, nor how much donors anted up to take part in it. But admission to DGA events is typically restricted to corporate and union "members" who donate tens or hundreds of thousands of dollars — and sometimes more than a million — to the organization each year. The events often feature panels, receptions and private meetings between DGA members and the governors they hope to lobby.
At a similar conference at Manchester's Equinox Resort & Spa last September, Shumlin and his chief of staff, Liz Miller, met privately with several top donors, including the National Association of Home Builders, Oxygen Financial and UnitedHealth Group, Miller said at the time. Shumlin's then-deputy commissioner of labor, Erika Wolffing, also attended the event.
This time around, according to Shumlin spokeswoman Sue Allen, the governor brought no state staff to Connecticut and the DGA paid his way. Neither she nor Kanner would say whether he met privately with donors.
Over nearly a week, Allen repeatedly ignored and then denied Seven Days' requests for an interview with Shumlin, citing a busy schedule. But on the very day the governor returned from Connecticut last Thursday, he found time to hold a fundraiser for his own reelection campaign at Montpelier's NECI on Main.
According to attendees, 20 to 25 registered Vermont lobbyists and those who employ them — including FairPoint Communications, Green Mountain Power, Comcast and the Marijuana Policy Project — showed up and wrote checks. Six registered lobbyists told Seven Days they received an emailed invitation to the Montpelier event and four said they received phone calls from the governor himself asking them to attend.
That emailed invitation was sent by Wolffing, who left the administration at the end of last year to fundraise for both Shumlin's reelection and the DGA. Shumlin's former chief of staff, Bill Lofy, serves as his liaison to the organization and as its senior adviser.
And yet, in its Connecticut complaint, the DGA maintains, "To ensure DGA's expenditures are independent, DGA has established a firewall policy designed and implemented to prohibit the flow of information" between the organization and the candidates it supports.
That's pretty hard to believe, given that Democratic governors are the organization's chief fundraisers, provide access to DGA donors in exchange for contributions, and employ the staff members who decide how that money is spent.
Shumlin, in particular, has shown a propensity for blurring the lines between DGA activities and his own reelection efforts. As Seven Days reported in March, the governor has repeatedly raised money for his campaign while traveling to San Francisco, New York City and Las Vegas on the DGA's dime. That's allowed him to harbor his own resources, which are limited by Vermont's campaign-finance laws, while freely spending the DGA's, which are not.
Of course, with Wolffing collecting checks for both the DGA and Shumlin for Governor, the notion that the Vermonter is subject to any meaningful contribution limits is fanciful. Anyone who contributes the maximum $2,000 donation to Shumlin's campaign can just keep writing checks to the DGA — and if the going gets tough, that money will come right back to Vermont.
Connecticut's law attempts to close the most obvious loophole in this convoluted system — by, at the very least, keeping politicians from raising money for the groups from which it claims independence. And Vermont Public Interest Research Group executive director Paul Burns says "it's a shame" that the DGA is fighting it. U.S. PIRG, with which VPIRG is affiliated, signed the letter taking Shumlin to task.
"I think it would be advisable for the DGA to drop the suit and for Gov. Shumlin to use his influence to make that happen," Burns says.
If not, warns Vermont Republican Party vice chairman Brady Toensing, there could be repercussions in Vermont.
Toensing should know. Back in 2010, the Charlotte attorney represented Shumlin's Republican opponent, Brian Dubie, when he was investigated and ultimately fined for illegally coordinating with the Republican Governors Association. The DGA's lawsuit, Toensing says, could set a precedent that Shumlin — or, at least, many Vermonters — will come to regret.
"He is asking a federal court to allow him to do something in Connecticut that is not allowed in Vermont under [the] law," Toensing says. "They think no one here is watching. But a favorable Connecticut decision will likely limit the scope of Vermont's coordination law."
Media Notes
In the past six months, Vermont Public Television has faced a Corporation for Public Broadcasting inquiry, the threatened loss of federal funding, a staff insurrection and the acrimonious departure of its longtime chief executive.
Now it's losing a $75,000 state grant that has provided 60 percent of the production budget for "Outdoor Journal," the station's 12-year-old showcase of Vermont's natural world.
"We didn't feel like the viewership of 'Outdoor Journal' on VPT was reaching either as diverse an audience or as many people as we'd like, given the funding," explains newly minted Fish & Wildlife Commissioner Louis Porter, whose department has for years funded the program with a mix of state and federal money.
Porter says F&W is "in discussions" with several media outlets about where that funding might go, but he wouldn't elaborate.
"We're reevaluating where to use it and how best to accomplish the same goal, which is to make people aware of hunting, fishing and trapping in Vermont," he says.
Will "Outdoor Journal," which costs $125,000 a year to produce, continue on at VPT without state assistance?
"It's a big enough grant that we have to give consideration to whether we can continue," says Charlie Smith, the station's interim CEO, who calls the decision "sad for us."
If it fails to find a new sponsor, Smith says, the program could go on "hiatus."
"It's really premature to say what comes next, because we're really eager to find a way to make it work going forward," he says.
Disclosure: Paul Heintz is an occasional paid guest on VPT's "Vermont This Week."