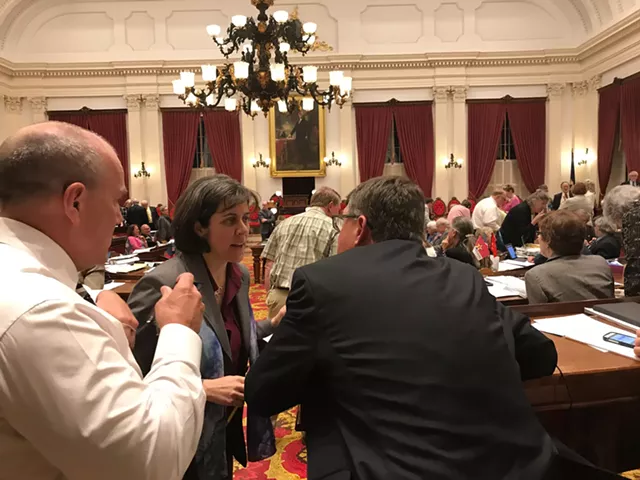 Taylor Dobbs
House Speaker Mitzi Johnson confers with Republican leader Don Turner.
As Vermont lawmakers moved toward adjournment last week, they were also moving in Republican Gov. Phil Scott's direction. The legislature failed to pass several bills that Scott had threatened to veto. Others were stripped of provisions that Scott found unacceptable. Tax measures were shelved or slashed.
But the governor was unmoved. He closed the session with a warning that he would soon recall the legislature. On Monday, in a speech to the Vermont Fuel Dealers Association, he said, "They've left me with no choice but to veto the budget and property tax bills."
Which is an interesting statement, given his usual policy of not making such a commitment until his legal counsel can review a bill and he's had a chance to, you know, read the thing.
What's more, Scott has called a special legislative session for next week, to force reconsideration of tax and budget measures.
But because legislative staff must thoroughly review all bills before sending them to the governor, he may not even have them in hand by then. The process will take 10 business days for the big tax and spending bills, according to Stephen Klein, head of the legislature's Joint Fiscal Office. That takes us to next Friday at the earliest. Scott's special session could start by Wednesday – before he even receives the bills.
It's almost as if he's been spoiling for a fight all along.
The two must-pass money bills attracted significant tri-partisan support. The budget was approved unanimously in the Senate and passed the House on a 117-14 vote. The tax bill cleared the Senate on a 26-3 vote and the House 89-43. That's a lot of Republicans voting in favor.
Sen. Randy Brock (R-Franklin), a noted fiscal conservative who ran for lieutenant governor alongside Scott in 2016, voted for the spending bill on Saturday night and called it "a responsible budget." He observed that the spending increase is less than 1 percent, which more than meets Scott's benchmark of keeping budget growth below the rate of economic expansion. "It's a very, very tiny increase percentagewise in the overall budget," Brock said. "I think that's important."
He pointed to the budget's investment of more than $30 million into state pension funds, which would save three times that much in interest costs. "That's really big," he said. And it's about to be vetoed by the governor.
Brock served on the conference committee that reconciled differences between House and Senate versions of the tax bill and voted in favor of it. "I, like the governor, would love to have seen [the property tax rate hike] be zero," he said. "But the increase was 1.7 percent, which is the increase in education spending passed by the voters this year. So it matches."
Senate Minority Leader Joe Benning (R-Caledonia), another fiscal hawk, voted against the tax bill — but acknowledged that lawmakers "did the best with what we've got."
And yet, the governor stands firm.
Which might be a surprise, based on his history as a politician willing to find the middle ground. But he refuses to compromise on his strategy in the session's closing days. According to top Democratic lawmakers, Scott and his staff did not engage in the legislative proceedings.
"I think the unusual part is that they weren't actively involved in the conference committee discussions," said House Speaker Mitzi Johnson (D-South Hero). "The best way to run government is when the branches are communicating and working together." Instead, during this session, she said it often felt like Scott was "governing by sound bite."
"All year there's been disengagement," said Senate President Pro Tempore Tim Ashe (D/P-Chittenden) at a briefing last Friday with reporters. "We have an administration that's using veto threats as their primary engagement on major pieces of legislation."
Noting the unanimous Senate vote for the budget and the unanimous conference committee support for the tax bill, Ashe said, "The odd party out here has been the administration."
It would be convenient to dismiss Ashe and Johnson's words as pure partisan sniping, but it's clear from the legislature's record that they were honestly trying to find common ground with the governor. The tax bill brought the homestead rate from an initial increase of 9 cents to 2.6 cents. (The nonresidential tax rate would go up by 5.5 cents.) The budget, as Brock indicated, grew by less than 1 percent.
In the closing days, lawmakers scotched several bills that would have raised taxes or fees. The final version of S.260, the waterways cleanup bill, not only eliminated any proposed taxes or fees, it even killed a proposed study of funding mechanisms. The last-day casualties also included proposed taxes on electronic cigarettes and prescription opiates.
In his Monday speech, Scott indirectly acknowledged the Democrats' move in his direction by reducing his $83 million estimate of their alleged fiscal sins. "The legislature voted to take the easy route and raise property taxes by $34 million," he said. "And they also voted for a budget and policy bills, which require another $16 million in higher taxes."
Taking "the easy route" means, as Brock put it, providing the money to cover school budgets that were overwhelmingly approved by voters on Town Meeting Day. The other $16 million, according to Scott spokesperson Rebecca Kelley, is a result of H.196, which would establish a paid family leave program through a tax on employees.
And that's just about it. The legislature passed only one other bill that raises revenue. The "data broker bill," H.764, would regulate companies that collect and market consumer information and charge them a $100 annual registration fee. The Secretary of State's Office estimates that the fee would apply to roughly 200 large corporations. The annual bite: $20,000. "It also removes [consumer] fees for freezing or unfreezing credit," Johnson asserted. "That could save Vermonters $7 to $8 million."
Talk about boosting affordability.
The political rhetoric from Team Scott got hotter in the final days, as administration officials lambasted the Democratic majority. The Twitter traffic got to be a bit ridiculous at times, as chief of staff Jason Gibbs and other top aides felt the need to strike back at critics and questioners.
Your tax dollars at work.
In the middle of an afternoon tweetstorm on May 15, Gibbs wrote, "Legislative leaders have expressed no desire, publicly or privately, to move forward. None." In the ensuing days, those leaders substantially trimmed spending and tax increases and killed a number of tax bills entirely. Somebody was moving forward, and it wasn't Gibbs' boss.
At his weekly press conference last Thursday, Scott insisted that the legislature adopt his entire school funding plan, which would use $58 million in onetime money to keep property tax rates level and establish a long-term plan to cut school costs. "We need the whole plan together," he said. When asked where there was room for compromise, he said, "Within the plan."
He's now taken the same stance on the tax and budget bills: He's willing to compromise on the details — but on the core elements, it's all or nothing.
Candidate Scott promised no new taxes or fees. Gov. Scott has argued that he has a mandate to fulfill his pledge.
True. But the legislature's sizable Democratic majorities have mandates of their own. Scott risked alienating his base by signing gun legislation; the Democratic majority has risked alienating its base by gutting the waterways bill, shelving other progressive initiatives and taking a strict green-eyeshade approach to the budget.
Scott has won political success as a centrist, a conciliator who can work with all parties. That figure was on display earlier in the session, when he signed a marijuana legalization bill and worked with the legislature to pass the gun bills. Not anymore.
He closed his Monday speech to the fuel dealers with: "If we — outside the Statehouse — work together, we can have a more prosperous and affordable Vermont."
"Outside the Statehouse."
In other words, no more working together inside the Statehouse?
Game on.
Money for Nothing?
One of the many bills that barely crossed the legislative finish line was S.94, an economic development measure that establishes a new grant program for remote workers. It also gives the Agency of Commerce and Community Development broad authority over small-business grants to be offered under its ThinkVermont marketing program, aimed at encouraging people to move to the state or start a business here. The ideas in the bill tread well-worn but unproven paths to economic growth.
Let's take them in order. The grant is a pot-sweetener for people who relocate to Vermont and work remotely for out-of-state employers. Remote workers could get grants of up to $10,000. That's a very generous incentive and will likely be used by people in upper-income classes; there aren't many mechanics or factory workers who work from home for an out-of-state employer.
"We're trying to figure out how we can accommodate this growing sector while also trying to attract more people to Vermont," explained Sen. Becca Balint (D-Windham), a member of the Senate committee that wrote the bill. But, she acknowledged, "There's a lot we don't know about how successful it would be."
And there's the rub.
"Attraction and retention are notoriously difficult to prove," said state Auditor Doug Hoffer. "Where is the evidence that this ... will return at least as much to the state [in economic growth]?"
S.94 only designates $125,000 to the grant program. But that's $125,000 to be spent with no proof that it will accomplish anything. And new programs such as this, once established, are almost impossible to kill because each develops its own constituency.
Hoffer also raises a number of red flags about the ThinkVermont initiative, which he referred to as "this so-called program." The bill allows the Agency of Commerce to fast-track business grants and establishes extremely flexible eligibility criteria. (One provision refers to workforce training applications "not eligible for funding through another state or federal program" — which could mean absolutely anything.) In the past, the legislature has been much more specific in setting standards and measures for such programs.
"The amount of discretion given to the agency is staggering," Hoffer concludes.
As with the remote worker grant, the actual dollar amount for the grant program is minimal, a mere $150,000. But the camel's nose is under the tent, and there's a new precedent for giving the Agency of Commerce free rein over incentive programs that already suffer from a lack of provable results.
Disclosure: Tim Ashe is the domestic partner of Seven Days publisher and coeditor Paula Routly. Find our conflict-of-interest policy here: sevendaysvt.com/disclosure.
Correction, May 18, 2018: S.85 would
not
raise state revenues. A previous version of this column contained an error, and reference to the bill has been stricken. Further, the economic development measure in S.94 involves grant programs. Several references that mischaracterized the programs have been updated.