Foodies can get a little stressed during the winter holidays. Between mixing up batch after batch of gingerbread people and striving to get the "roast beast" done just right, most cooks could use a little extra pampering.
To help you find the perfect presents for discerning diners in your life, we sought out some uncommon, delicious offerings from local kitchen emporiums and the web. (If your favorite cookware store doesn't have what you're looking for, ask. Many are happy to place special orders.) Of course, if you happen to be buying us gifts, we've taken the guesswork out of that, too.
'Tis the Seasoning
Alice: I'd like all of my kitchen tools to look like other things. My monkey peeler and hippo chip clips are pleasing, but this year, I'm extending my obsession to the essentials: salt and pepper grinders that look like rabbits. The cute little interracial couple from Chef'n, called the G'Rabbit Jr. Salt and Pepper Set ($19.99), is just what I require.
Suzanne: When I'm simmering a stew, garden-variety sea salt works just fine, but it's fun to garnish dishes with crystals that have a bit more character. Limited-edition samplers from SaltWorks are just the ticket. I'm most jazzed about the Gourmet and Smoke sets ($25 apiece), each of which comes with five salts in corked jars and a trio of serving dishes and spoons. The former includes a truffled variation. The latter features fleur de sel smoked over old Chardonnay barrels.
A Bit of Bubbly
Alice: I would probably be happiest if I never actually ate Tofurky, but I would like to drink it. Each year, Jones Pure Cane Soda, makers of drinks in flavors such as Fufu Berry and Blue Bubble Gum, rolls out a holiday pack of wacky sips. Past years have included Brussels Sprout and Wild Herb Stuffing. This year, there's Tofurky and Gravy ($11.99 for a gift pack of three, plus one each of Black Cherry, Pomegranate and Vanilla Bean). My vegetarian friends will be so proud.
Suzanne: There's one point on which Alice and I agree: We both want a SodaStream. The device, which sells for $119.99 (in red; stainless steel costs more), turns tap water into sparkling water. Like yours with extra oomph? The machine allows users to select their preferred level of carbonation.
I'll mix my fresh bubbly with homemade spice-, herb- and fruit-flavored syrups — no diet cola for me — and save loads by avoiding pricey San Pellegrino.
Cutting Comments
Alice: I didn't even own a cutting board until last Christmas, but after seeing this one, I'm ready for an upgrade. Made from walnut and hard maple, the Space Invaders board ($129.99) fulfills my need for a high-quality cutting surface that's also a geeky tribute to an old video game. Or, I may wait for the Pac Man design, which Indianapolis-based cabinetmaker Cameron Oehler promises in the near future.
Suzanne: My kitchen contains an arsenal of fine cutlery, but one thing I don't own is a knife made of folded Damascus steel. The ancient forging technique produces knives as beautiful as they are functional ($99 and up).
Personal Chef
Alice: I've never had the opportunity to eat at The French Laundry, Bouchon or über-chef Thomas Keller's latest restaurant, ad hoc. But I don't need airfare to taste his famous fried chicken. The ad hoc Fried Chicken Kit, exclusively from Williams-Sonoma ($14.95), packages a lemon-herb brine and garlic-, paprika- and cayenne-seasoned breading in one small sack. All you have to do is buy chicken and get yourself a little grease spattered before you're enjoying a meal that costs $49 back in Yountville, Calif.
Suzanne: Like the contestants on "Iron Chef," I enjoy getting a basket of ingredients and figuring out what to do with them. For that reason, a contribution toward any of my numerous CSA shares would make a welcome gift. I get veggies and other localvore items from Pete's Greens ($748 for 17 weeks); meat from Jericho Settlers' Farm ($190 for 4 months); curds from Vermont Cheese Club ($30 per month); and wine from Dedalus Wine Shop ($25 or $65 per month).
A New Toy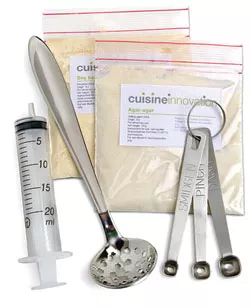 Alice: Mastering a single molecular culinary skill is on my list of things to do before I die. I learned the basics earlier this year at Norma's in Stowe, but to achieve perfection I'll need to practice at home. Enter the Molecular Gastronomy Starter Kit from French company Cuisine Innovations, ($69.99).
The loot includes a syringe, pipettes, silicone tubes, a nonreactive spoon and all the chemicals a girl could wish for to make liquids into gels, spheres and foams.
Suzanne: I already own the EatingWell, Locavore and Epicurious iPhone apps, but there's always room for more. Where I get my wine, a real live human helps me choose something to match my meal, but I'm still interested in Pair It! ($2.99), recommended by Bob Tedeschi of the New York Times. Users select among numerous wine varietals and styles, specify the type of food they're serving, and swirl the phone to generate a pairing. The highly rated Epic Chef Wars game (free) and the Food IQ nutrition-tracking app ($1.99) are on my list, too.
Booking It
Alice: Korean American Chef David Chang is known for elevating Asian street food to fine cuisine at his trio of Momofuku restaurants. Whether or not you aspire to earn a couple of Michelin stars, you can read how it's done in a cookbook by Chang and New York Times food writer Peter Meehan, titled simply Momofuku (Clarkson Potter, $40). I'm planning on spending my Christmas vacation learning to make ramen from scratch — noodles, roast pork and all.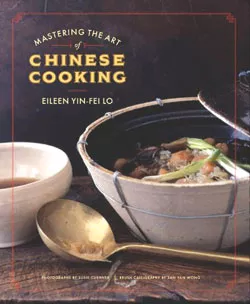 Suzanne: When it comes to cooking Chinese food, I've never gotten beyond stir-fry and five-spice-braised pork belly served with baby bok choy. That's why I need Eileen Yin-Fei Lo's hefty Mastering the Art of Chinese Cooking. With the gorgeous 384-page tome (Chronicle Books, $50) in hand, I'll be making Hunan Hot-and-Spicy Shrimp and "Poaching in a Wok" like nobody's business.
Sweet Satisfaction
Alice: One of my favorite chefs, Homaro Cantu of Moto in Chicago, is famous for printing his menu each day on edible paper. While I don't plan to go that far — yet — I can put words in the mouths of my guests. Message-in-a-Cookie Holiday Cookie Cutters from Williams-Sonoma ($19.95) come with tiny letters that allow bakers to print messages, from the festive to the profane, on their Christmas treats.
Suzanne: Baking is not my forte, so I really appreciate gifts of homemade sweets. But, since cookies are omnipresent during December, it's extra exciting to receive something a bit quirkier. Creamy caramels, pints of hand-churned ice cream in signature flavors or personal-sized pies or cheesecakes would be a welcome change ($5 and up).
What You Never Knew You Needed
Alice: I must own anything that can make me laugh so hard I have a coughing fit. That's why I need Butter Boy ($6.99), from Talisman Designs, in my life. Those too lazy to take a knife and spread butter on their corn can simply insert a stick in Butter Boy's bottom, remove his head and grease their cobs. His dopey grin will keep 'em smiling until picnic season.
Suzanne: It may seem mundane, but for years I've been yearning for a sturdy chinois — a pricey, fine-meshed conical strainer that sometimes comes bundled with a stand and a pestle. It's what chefs use to strain stocks and ensure that purées are silky smooth. ($50 to $90).