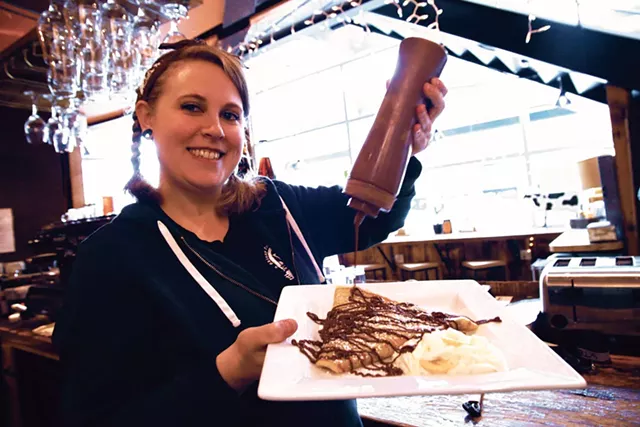 Matthew Thorsen
Anna Walsh, Skinny Pancake general manager
Anna Walsh majored in Japanese at the University of Vermont and has a master's degree in TESOL (teaching English to speakers of other languages) from Saint Michael's College. Although knowing a foreign language is not a requirement of her job as general manager of the Skinny Pancake restaurants at Burlington International Airport, her background in education comes in handy.
"Being trained in teaching has definitely helped me with coaching employees," said Walsh, 30. "And in finding ways to explain things to people."
Sometimes that means telling customers that although it's legal to sell booze at 8 in the morning, the Skinny Pancake bar doesn't officially open until 10:30 a.m. Still, Walsh might accommodate a traveler in need of a drink — even though she knows that "as soon as one person gets a Bloody Mary, 10 more people want to order it," she said.
Keeping customers happy and well fed is her job, and Walsh skillfully manages not one but three Skinny Pancake restaurants at the airport: a small eatery in the main concourse and two past security checkpoints. The locavore crêperie has several other Vermont locations, including a cart on Burlington's Church Street and a flagship restaurant by Waterfront Park.
At the airport, Walsh oversees 50 or so employees and orders food based on how many passengers are flying through. "We're the only restaurant in Burlington that knows exactly how many people are going to be walking by our storefront on any given day," she said.
BTV met up with Walsh to find out what else is cookin' at the airport.
What sets the Skinny Pancake apart from other airport restaurants?
All of our food is fresh and local and organic — as much as we're able. [Typically,] if you go to an airport, you know that you're going to have to eat something that's not very good for you. At Skinny Pancake, people can get a Skinny Salad with fresh organic mixed greens, fresh local cherry tomatoes, fresh local apple slices and a homemade maple-pesto vinaigrette. It's delicious, and you know that you're not going to feel bad about it the rest of the day.
How often do fliers fuel up on coffee after dumping their brew due to Transportation Security Administration (TSA) rules?
All the time. Especially at 5 in the morning, they're not too happy they had to dump their coffee. Our morning crew is so stellar. They are the most unstoppably nice people. If somebody shows up grumpy, it doesn't get them down. We provide the best service we can. We understand that everybody's coming from a different situation. The only thing we can do is keep smiling and keep being welcoming and friendly.
What's different about working at the airport locations of the Skinny Pancake, versus its other outposts?
Aside from small menu differences, the guests are different and have different needs. At the waterfront location and on Church Street, you're getting people who are on their day off. They're in good spirits; they are really excited to eat crêpes. At the airport, there are people who don't know what a crêpe is, and they don't necessarily want to eat a crêpe — so it's our job to turn it around. Certainly, serving a "captive" audience is different here.
At the airport, I like having the opportunity to get to know the guests, too. Maybe they were delayed and are not very happy about it. It's a good opportunity to make them feel welcome.
What security precautions do you and your team go through every day?
Our staff has to go through the metal detector every day. Any belongings have to go through the scanner. The TSA agents, they are completely friendly, [but] they don't make exceptions for us. If I set off a metal detector, I'm getting patted down just like everybody else. They never lose sight of their job, which I really find admirable.
What crêpe is best for calming the nerves of a stressed-out traveler?
Definitely something involving chocolate and whipped cream. It's comfort food and sweetness. It makes people feel like they are having a special treat, which they deserve.
---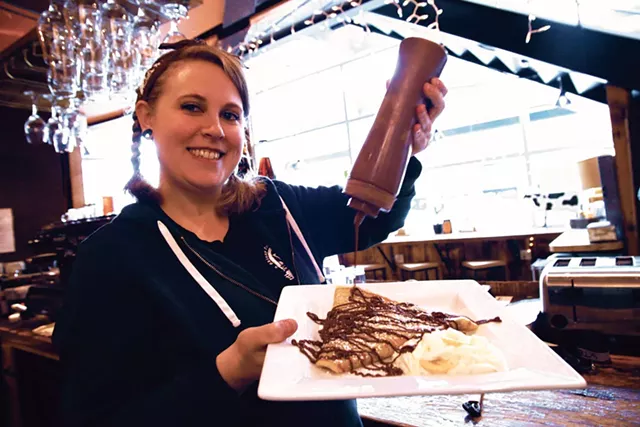 Matthew Thorsen
Anna Walsh, Skinny Pancake general manager
Anna Walsh possède une majeure en japonais de l'Université du Vermont et une maîtrise TESOL (enseignement de l'anglais langue seconde) du Saint Michael's College. La connaissance d'une langue étrangère n'est pas une condition préalable pour son poste de directrice générale des restaurants Skinny Pancake à l'Aéroport international de Burlington, mais sa formation en éducation lui est très utile.
« Le fait d'avoir étudié en enseignement m'a beaucoup aidée à encadrer les employés, affirme Anna, âgée de 30 ans, mais aussi à trouver des façons d'expliquer les choses aux gens. »
Parfois, il s'agit de faire comprendre aux clients que même si c'est légal de vendre de l'alcool à 8 h le matin, le bar du Skinny Pancake n'ouvre pas avant 10 h 30. Officiellement... car Anna accepte à l'occasion de satisfaire un voyageur assoiffé, même si elle sait qu'en servant un Bloody Mary à un client, dix autres voudront la même chose.
Satisfaire les clients et leur servir de bons repas, c'est son travail, et Anna gère non pas un, mais trois restaurants Skinny Pancake à l'aéroport : un petit dans le terminal principal, et deux autres une fois la sécurité passée. Cette crêperie locavore est présente à plusieurs autres endroits au Vermont : elle a notamment un kiosque sur Church Street, à Burlington, et son adresse principale près du parc Waterfront.
À l'aéroport, Anna supervise une cinquantaine d'employés et commande ses produits en fonction du nombre passagers en transit. « Nous sommes le seul restaurant à Burlington, dit-elle, à savoir exactement combien de personnes vont passer devant notre comptoir ».
BTV s'est entretenu avec Anna pour savoir ce qui mijote à l'aéroport.
Qu'est-ce qui distingue Skinny Pancake des autres restaurants d'aéroport?
Nous essayons le plus possible de nous procurer des aliments frais, locaux et biologiques. D'habitude, quand on va dans un aéroport, les choix santé ne sont pas légion. Chez Skinny Pancake, on peut commander une Skinny Salad composée d'ingrédients frais : verdures biologiques, tomates cerises locales, tranches de pommes de la région et vinaigrette maison à l'érable et au pesto. C'est délicieux, et on ne se sent pas coupable tout le reste de la journée.
Les voyageurs qui ont été obligés de jeter leur café à cause des règles de la Transportation Security Administration (TSA) viennent-ils souvent refaire le plein chez vous?
Tout le temps. Ce n'est jamais agréable de devoir jeter son café, mais ça l'est d'autant moins à 5 h du matin. Par chance, notre équipe du matin est géniale. Rien ne saurait altérer sa bonne humeur. Si un client grognon se présente, l'équipe ne se laisse pas démonter. Nous offrons toujours le meilleur service possible. Nous comprenons que tout le monde arrive d'une situation différente. La seule chose que nous pouvons faire, c'est garder notre sourire et accueillir les gens chaleureusement.
En quoi est-ce différent de travailler à l'aéroport par rapport aux autres établissements de Skinny Pancake?
À part quelques variantes dans le menu, les clients sont différents et ont des besoins différents. Aux établissements du bord du lac et de la rue Church, on a beaucoup de personnes en congé. Ces clients-là sont de bonne humeur et ont hâte de manger des crêpes. À l'aéroport, on a des gens qui ne savent même pas ce qu'est une crêpe et qui ne veulent pas nécessairement en manger une — c'est donc notre travail de les convaincre. Ce n'est pas du tout la même chose de servir une clientèle « captive ».
À l'aéroport, j'aime échanger avec les clients. Certains sont d'humeur maussade parce que leur vol est en retard. C'est donc une bonne occasion de leur apporter un peu de réconfort.
À quelles mesures de sécurité devez-vous vous soumettre quotidiennement?
Notre équipe doit se soumettre au détecteur de métal tous les jours. Tous nos effets personnels passent dans le scanneur. Les agents de la TSA sont bien sympathiques, mais ils ne font pas d'exception pour nous. Si je déclenche le détecteur de métal, je vais me faire fouiller comme tout le monde. Ils ne perdent jamais de vue leur travail et je trouve ça admirable.

Quelle est la meilleure crêpe pour calmer les nerfs d'un voyageur stressé?

Il faut absolument qu'il y ait du chocolat et de la crème fouettée. C'est réconfortant et tellement bon. Les voyageurs ont l'impression de se gâter, et ils le méritent bien.