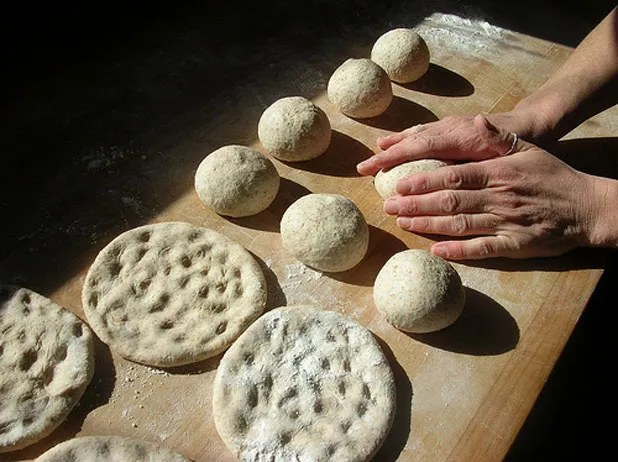 Passover is approaching, which means Jewish people everywhere are stocking up on bitter herbs, lamb shanks and matzo. For the second year running, Naga Bakehouse, in the southern Vermont town of Middletown Springs, is making a handmade version of the traditional unleavened bread, and it has little in common with its square Manischewitz cousin.
For one thing, the dimpled, round Vermatzah breads are made by hand with a combination of Vermont wheat from a trio of growers and an ancient heirloom grain called emmer. Emmer, says Naga co-owner Doug Freilich, has a "nice, rich, sort of nutty flavor" and was one of the grains used to make matzoh thousands of years ago.
Even as it experiments with old-fashioned flour, Freilich's family is using modern technology to sell the results. "It's our first attempt to use the Internet to let people know what we're doing," he explains. Thanks to the web, Vermatzah orders have come in from as far away as California and Montana. "We've had quite an interest globally," Freilich says. "People are really interested in the story of Passover, the awakening of spring."
Closer to home, boxes of Vermatzah have shown up at many of the state's co-ops and specialty food stores. They'll be on sale for $10 a box at the Burlington Winter Farmers Market this Saturday.
"We're glad it's a special for a limited amount of time," says Freilich, "because it's such a labor of love, and we can hardly keep up [with the orders]."