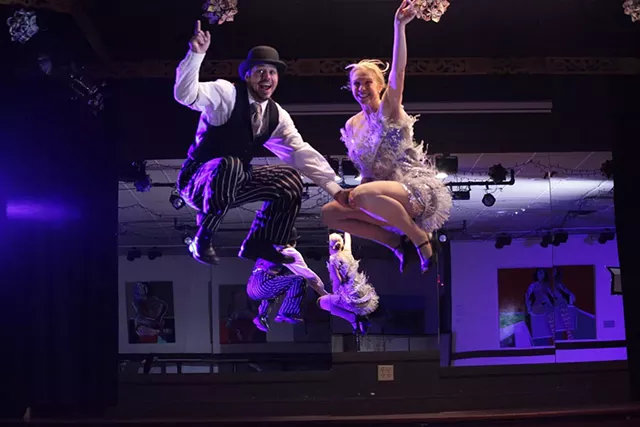 Matthew Thorsen
Brad Thompson and Juliana Dixon
Juliana Dixon has big plans for Vermont's swing scene. The internationally seasoned instructor and dancer, who left Vermont for her native California 13 years ago, returned to Burlington last May with her longtime dance partner, Brad Thompson. This year, they aim to revitalize Vermont's East Coast swing scene, starting with classes at North End Studios in Burlington and the recent formation of a performance troupe.
"One of the reasons I'm so attracted to swing," Dixon says, "is the intergenerational nature of the dance." Currently, she notes, the only local folks practicing East Coast swing are the members of Vermont Swings, who hold dances and events at the Champlain Club in Burlington.
Dixon points out that a "vibrant" West Coast swing culture exists in Burlington, citing classes from Burlington Westie, also at North End Studios. But, while the basics of the two schools are highly similar, she says, "the emoting, the nonverbal communication, are totally different."
Dixon and Thompson are offering a class that focuses on the Charleston, boogie woogie and Lindy hop. The petite blond dancer mentions the third dance frequently as she enthuses about her goals in the Green Mountain State.
Someone like this reporter, with two left feet and a fear of being dropped on her head or spun into a wall, doesn't find differentiating among all those styles easy.
Dixon explains that the Lindy hop "is the parent form of swing dancing. The Charleston developed before swing, and as the jazz bands started to develop this backbeat, rhythm-heavy form, Lindy hop was the dance that evolved with that, in the 1930s."
As a parent form, Dixon continues, "Lindy hop is the most complex, but it's the one you can go the farthest with."
If Lindy hop is so complicated, isn't it a tough way to introduce less experienced dancers to East Coast swing? Dixon promises that her classes will be "a little softer" than a traditional Lindy hop class. Participants can expect to learn "the theory of partner-dance connection, a bit of jazz history and the dance styles that went with it, from the '20s through the '40s." There will also be, she adds, "fun moves, dips and tricks."
It's clear that Dixon is passionate about swing. So is Thompson. Generally more subdued, he becomes animated when speaking about pairing Lindy hop with music from a variety of genres, such as hip-hop.
These partners are optimistic about the wide appeal of swing. Says Dixon, "It's a piece of the fabric of American society that attracts all sorts of personalities."