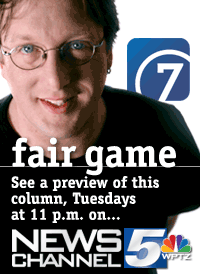 You can't keep a good pol down. Just ask Auditor Tom Salmon, the Democrat-turned-Republican who got busted for driving drunk last year after a celebration of staff pay raises led to too many glasses of red wine.
On Monday, Salmon sent an official email welcoming a potential challenger in his November race: State Sen. Ed Flanagan (D-Chittenden) is considering a bid for state auditor — a post Flanagan held from 1993 to 2001.
Flanagan still struggles as a result of the traumatic brain injury he suffered in a car crash on a snowy night in 2005. Fellow Dems are quietly encouraging him to retire. Last year a couple of Greater Burlington YMCA patrons spotted Flanagan masturbating on a bench in the adult-only Men's Wellness Center.
"My potential opponent has a long history of public service. He has had the job before," Salmon noted in his email. "I am not taking anything for granted, yet remain unafraid of any issue or person."
Salmon's office assistant issued the electronic missive to Vermont reporters from her state email account during state business hours.
You would think Salmon would be savvier about using taxpayer-supported equipment for political uses, especially after being criticized last year for taping a political speech with a state-purchased camcorder. Multiple references in state personnel policies prohibit state employees from politicking on state time, or from using state equipment for personal or political purposes.
I asked Salmon why he chose to ignore the rule. He replied with this three-line, uh, poem:
Fuck off
Immaterial
I'm wasting more state time on your political bullshit.
The "political bullshit," he told me in a subsequent, rambling email which addressed me as "son," refers to questions I raised about salary increases in the auditor's office.
Last November, Salmon told the media that, despite awarding bonuses to three employees, he had actually cut salaries in his office.
Sounds good, but it's not true.
After weeks of back-and-forth emails between "Fair Game" and Deputy Auditor Joe Juhasz — whose annual salary went from $68,000 to $87,000 — it became clear that staff costs are increasing.
While the office's cost to the state's general fund decreased in the past two years, various other state departments are "charged" for the auditor's office through the Single Audit Revolving Fund. Each department decides how to raise the cash, so the SARF is likely made up of federal, state and special funds.
In FY '10, the auditor's costs for staff salaries totaled $992,032, up from $950,642 in FY '09. For FY '11, the auditor is seeking $1,078,490. Included is $70,000 to hire a replacement auditor, said Juhasz.
The financial impact of the auditor's office on the state's general fund has decreased from $321,000 in FY '09 to $247,000 in FY '11. To make up the difference, and then some, the office has increased its reliance on the SARF. In FY '09, the SARF supplied $590,000 for auditor office salaries. In FY '11, the office will tap the fund to the tune of $790,000
No B.S.
Survey Says!
Vermont Auditor Tom Salmon is reaching out in more ways than one. Last Friday he distributed a two-page survey to all 180 lawmakers asking them to rate — on a scale of 1-10 — the effectiveness of the legislative session, each other and their staff, among other things.
He also asked short-answer questions such as, "What does a successful session look like to you?" "What are you hoping will be different next session?" and "What would you like to see changed?"
Judging from the pile of surveys in the mailroom recycling bin, it seems lawmakers really don't want to rate each other. At least in print.
We can sympathize, Auditor: Our Seven Days legislative survey didn't go over so well, either.
Some people just don't like being held accountable.
Senate Secrets
Every good reporter knows legislative deals are often negotiated in the offices of the House Speaker, the Senate President Pro Tem, in the cafeteria and even at Sarducci's, a downtown Italian eatery. But when action happens in a committee room, it's public, right? Nope.
Last Wednesday, the Senate Appropriations Committee asked Louis Porter to skedaddle. He's the chief of the Vermont Press Bureau, which serves the Barre-Montpelier Times Argus and the Rutland Herald.
Two House members — Reps. Jason Lorber (D-Burlington) and Oliver Olsen (R-Jamaica) — also got the boot.
Sen. Susan Bartlett (D-Lamoille), a gubernatorial candidate who chairs the Appropriations Committee, told "Fair Game" she exercised "legislative privilege" to discuss draft legislation with her colleagues and legislative lawyers.
"We were being taken through a draft bill and discussing personnel issues. We were talking some legal issues — us not being in compliance with federal law," Bartlett explained.
There's no mention of such a "legislative privilege" in the Senate or House rules. Committees can vote to go into executive session — with a two-thirds majority — but the reason must be explicit. The rules are similar to those spelled out in the state's open-meeting law.
News of the ouster fueled ongoing complaints that too much legislation this session is being discussed out of earshot of the public, the press and other lawmakers.
That frustration was evident on the Senate floor Friday night when Sen. Dick McCormack (D-Windsor) and other colleagues — Sen. Phil Scott (R-Washington), Sen. Ginny Lyons (D-Chittenden) and Sen. Doug Racine (D-Chittenden) — challenged the push by Bartlett, Senate President Pro Tem Peter Shumlin and Majority Leader John Campbell (D-Windsor) to vote on legislation in hopes of adjourning Saturday.
"We owe it to our constituents that we know what we're voting on," said McCormack.
If It Quacks Like a Duck…
As legislators close up shop — they hope — this week, one question looms: How many bills will Gov. Jim Douglas veto?
Last year he vetoed two bills: same-sex marriage and the budget.
This year, there could be five vetoes: the budget, the tax bill (which raises revenues to support the budget), Challenges for Change, changes to current use and a health care reform measure.
House Speaker Shap Smith marshaled the requisite 100 votes twice last year to override two gubernatorial vetoes. Can he do it five times this year?
"I think we'll come to an agreement with the administration and we'll not be back for a veto session," said Smith.
To avoid the veto drama, legislative leaders are reportedly prepared to give Douglas what he's asking for: to roll back the capital gains tax lawmakers raised last year, and eliminate the estate tax.
Who's the lame duck?
Keeping House
There's been plenty of attention on the three senators who are leaving the upper chamber to run for governor. Who's leaving the House?
"Fair Game" readers already know Rep. David Zuckerman (P-Burlington) and Pat McDonald (R-Berlin) are retiring. At least four others will definitely not return: Rep. Scott Wheeler (R-Derby), Rep. Frank Geier (D-South Burlington), Rep. Steve Howard (D-Rutland City) and Rep. Christopher Bray (D-New Haven). Dems Howard and Bray are running for lieutenant governor, while Geier is running as an independent. Wheeler is resigning to focus on his publication Vermont's Northland Journal, a monthly historical mag about the Northeast Kingdom.
Three reps are in the "maybe" category: Rep. Bill Aswad (D-Burlington), Rep. Kurt Wright (R-Burlington) and Albert "Sonny" Audette (D-South Burlington).
Wright is weighing his options: reelection, a run for state senate, or none of the above. Burlington voters returned him to the city council in March, and many expect him to be a mayoral candidate in 2012.
Aswad is eyeing a run for county side judge. Current judges Thomas Crowley and Elizabeth Gretkowski are retiring.
Not So Frugal Yankee
Entergy Vermont Yankee spent a lot of dough this session, making a case for ongoing operation of VY. So have its opponents.
Both sides spent more than $300,000 on advertising and lobbying during first three months of the year, according to lobbyist disclosure reports filed April 26 with the Secretary of State's office.
Entergy VY spent $112,920 on lobbyist pay and $93,897 on advertising. Entergy VY's ally — the Vermont Energy Partnership — spent $6000 on a lobbyist and $18,750 on ads.
On the flip side, the Vermont Public Interest Research Group spent $62,386 on lobbyist pay and $78,639 on ads. Its ally, the Vermont Citizens Action Network, spent $16,250 on its lobbyist Bob Stannard and none on advertising.
Not all of VPIRG's lobbying dollars were spent exclusively on VY. Their chief anti-VY advocate, James Moore, reported pay of $10,972. But most of VPIRG's ad money was devoted to sinking the troubled nuke plant, said Paul Burns, VPIRG's executive director.
"I can say that, as long as I've been there, I don't think we've ever spent as much during a quarter as we did on Vermont Yankee," Burns said.
In the months leading up to the session, both sides invested roughly $200,000 on lobbying and advertising.
Media Notes
Burlington Free Press business reporter Dan McLean is leaving after four and a half years with the state's largest daily. On Monday, McLean will move from 191 College Street to 1 Church Street, where he'll begin a new job as senior press advisor to U.S. Sen. Bernie Sanders.
Prior to his career in journalism, McLean worked for a short time as a political flak for New York Assemblyman Richard Brodsky (D-Westchester), now a top candidate for state attorney general.
Unlike his colleagues in Sanders' press shop — Will Wiquist, press secretary, and Michael Briggs, communications director — McLean will be based in Burlington.
Got a news tip? Email Shay at shay@sevendaysvt.com
Click here to follow Shay on Twitter.