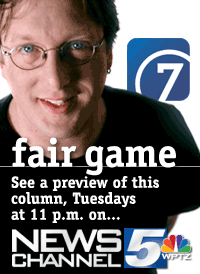 Is the cozy relationship between the administration of Gov. Peter Shumlin and Green Mountain Power just a little too cozy?
State Sen. Vince Illuzzi (R-Essex/Orleans) thinks so. On Monday, Illuzzi delivered a petition signed by 30 Vermonters to the Vermont Public Service Board, the quasi-judicial body that regulates state utilities, asking it to appoint a special independent counsel to represent ratepayers to review the sale of Central Vermont Public Service to GMP. That job would normally fall to the Department of Public Service, an arm of the executive branch.
Illuzzi, who says he organized the petition as a ratepayer rather than as a senator, believes the intertwined relationship between Team Shumlin and GMP compromise the administration's ability to be a true consumer advocate in the merger case.
Backing him up are Burlington attorneys Michael Burak and Samuel Press, both of whom worked as DPS consumer advocates in the 1980s. The pair argue that Shumlin's full-throated support for the merger has compromised DPS' ability to be objective and independent.
As Fair Game has previously reported, Team Shumlin is practically a wholly owned subsidiary of Green Mountain Power.
To wit: Three members of Shumlin's transition team — Elizabeth Bankowski, Kathy Hoyt and Steve Terry — had direct ties to the utility; GMP CEO Mary Powell chaired Shumlin's inaugural committee; GMP exec Neale Lunderville has been hired to head up the state's recovery efforts in the wake of Tropical Storm Irene; and DPS Commissioner Liz Miller's husband is a partner in the law firm that represents GMP before the Public Service Board.
If the merger is approved, GMP and its parent company, Montréal-based Gaz Métro, would control roughly 70 percent of the state's electric wholesale, retail and distribution markets.
"No one is likely to examine it with the healthy skepticism and independence necessary in a deal of this significance to the state," Burak told Fair Game.
DPS Commissioner Miller vehemently disagrees. In an email to Fair Game before Illuzzi filed his petition, Miller said Shumlin — despite his support of the merger — expects the department "to do its job to ensure that any merger is in the public interest and serves the general good of the state of Vermont.
"There are a number of aspects of the merger petition that I expect the department will strongly advocate for that are different than the position taken by the companies," noted Miller. Those include ratepayer benefits, total savings and the ownership of the Vermont Electric Power Company, the state's transmission network.
Press is skeptical about whether the merger truly serves the "general good of the state of Vermont" given the concentration of power, and profits, going out of state.
"An important debate should be had about whether Vermont wants to structure its economy around one mega-utility," said Press. "The only thing worse than having two 800-pound gorillas is having only one."
Dems' Fightin' Words
It's official: State Sen. Tim Ashe (D/P-Chittenden) announced Monday he's running for mayor of Burlington as a Democrat.
Ashe will face three others vying for the Democratic nomination at the party's November 13 caucus: State Rep. Jason Lorber, city councilor and deputy state's attorney Bram Kranichfeld, and housing developer and airport commissioner Miro Weinberger.
In his announcement, Ashe took aim at his Democratic rivals, saying he has the most experience and that the list of challenges facing the city leaves "no time for long learning curves."
After welcoming him to the race, Weinberger was quick to jab Ashe for what he thinks is the senator's biggest liability: his past support for Mayor Bob Kiss and Burlington Telecom.
"Democratic caucus voters have a clear choice about who is best suited to lead Burlington forward: a candidate such as me, who has repeatedly spoken out against the Kiss administration and truly represents a fresh start, or Tim Ashe, who Republicans will relentlessly attack as a longtime political ally and supporter of Bob Kiss and his management of Burlington Telecom," said Weinberger.
Ashe disagrees with Weinberger's assessment.
"I would say my level of satisfaction with Mayor Kiss is evidenced by the fact that I'm in the race to replace our current administration," said Ashe.
Then there's his support of BT.
At a statewide meeting of Progressives in November 2009, Ashe dismissed concerns about BT's financial health and long-term viability. That was two months after BT's $17 million debt to taxpayers was first revealed.
"There is no scandal, there is no controversy, and there is no poor health of our municipally owned telecom service," said Ashe. "Burlington Telecom is off to a very good start."
If by "good start" he meant more than $50 million in debt with no plan to repay the money, then, sure, it's all peachy keen.
Ashe is unapologetic for his BT boosterism. He still wants to see the muni telecom succeed. That doesn't mean he supports how BT has been managed.
"One of my biggest frustrations is that this administration held back from every member of the city council information that would have prevented us from making statements that, in retrospect, make all of us look somewhat foolish for believing that things were not in as bad a shape as they were," said Ashe.
For their part, Lorber and Kranichfeld extended friendlier welcomes to Ashe.
"I welcome Tim to the race and look forward to a great caucus in November," Kranichfeld told Fair Game. "Our momentum is strong, and we will be coming into the caucus with confidence."
Responding to Ashe's experience claim, Kranichfeld said his three years as a city councilor would allow him to "hit the ground running as mayor."
Lorber added, "My campaign is working well, and we're going to continue doing what we're doing." Lorber said his "backyard brainstorms" — informal conversations with Burlingtonians — have created a two-way dialogue missing in city politics. "Transparency and accountability are more than just buzzwords for me."
Like his Democratic rivals, Ashe says the next mayor's first job is to tackle the city's pressing financial issues that center around BT, the airport and the underfunded public pensions.
"The progress on those three issues has been hindered by the constant fighting among the council, the administration and the public," said Ashe, who works for nonprofit housing developer Cathedral Square. "My history in Burlington runs deep. I've lived in the city longer than any other candidate. I've done more business than any other candidate in the private sector here in the form of millions and millions of dollars of construction projects. I have very good working relationships with the congressional delegation. I don't see that any other candidate brings that breadth to the table."
Lipstick on a Prog?
With state Sen. Tim Ashe's entrance into the race, the age-old Burlington question arises: Will enough Democrats see beyond his Progressive pedigree to endorse his candidacy?
Ashe believes his fusion approach to politics is the best hope for Democrats to ensure that Republican Kurt Wright doesn't win the mayor's race in March by splitting the left.
A vocal group of Democrats would like to see a purebred "D" win the caucus, to exorcise the ghosts of 1981, when Bernie Sanders won the mayor's office as an independent — sending Democrats into a 30-year exile from the mayor's office.
Progressives support Ashe's bid, which may concern Democrats who worry that Ashe represents nothing more than putting lipstick on a Prog.
"I think he would be a fantastic unity candidate, and Progressives would like to see someone who can get people to work together," said Elijah Bergman, vice chairman of Burlington's Progressive Party.
Ashe tells Fair Game that if Mayor Bob Kiss opts to run for reelection as a Progressive, he won't openly challenge the mayor at the December 11 party caucus. Ashe said he's running as a Democrat but would accept the Progressives' endorsement if offered.
Kiss will announce in early November whether he'll seek a third three-year term.
"Will I go to the caucus and fight it out with Bob Kiss?" said Ashe. "The answer is no."
(Ashe is the domestic partner of Seven Days publisher Paula Routly. See disclosure on the Letters to the Editor page.)
Greedy and the Governor
Gov. Peter Shumlin is turning up the rhetorical heat in his attempt to bully, er, persuade roughly 80 unionized state employees to drop a grievance against his administration.
The workers filed a grievance after being denied extra pay for emergency work they performed immediately after Tropical Storm Irene flooded the state office complex in Waterbury — as provided for in their labor contract.
Shumlin argues that the grievance is turning the public against the state's hardworking employees.
"The people who are souring the milk here are the 70 or 80 state employees who are claiming that because they were displaced from their workplace they should deserve double pay," the gov said on VPR's "Vermont Edition" on Friday.
Shumlin couldn't stop there and said publicly what he's been implying all along: State employees are being greedy. The governor asked the workers to "stop being greedy in a time of crisis. There is no tolerance in the state of Vermont for greed in a time of crisis."
Hey, what an idea.
Maybe the governor can ask private contractors to not charge the state overtime in this "time of crisis." Or he can ask his top staffers to give back the tens of thousands of dollars that make up the difference between what their predecessors made and what they bring home.
Or maybe Shumlin — whose net worth is roughly $10 million — can ask his fellow 1 percenters to pitch in with higher taxes in this "time of crisis."
You know the saying: Never let a good crisis go to waste.