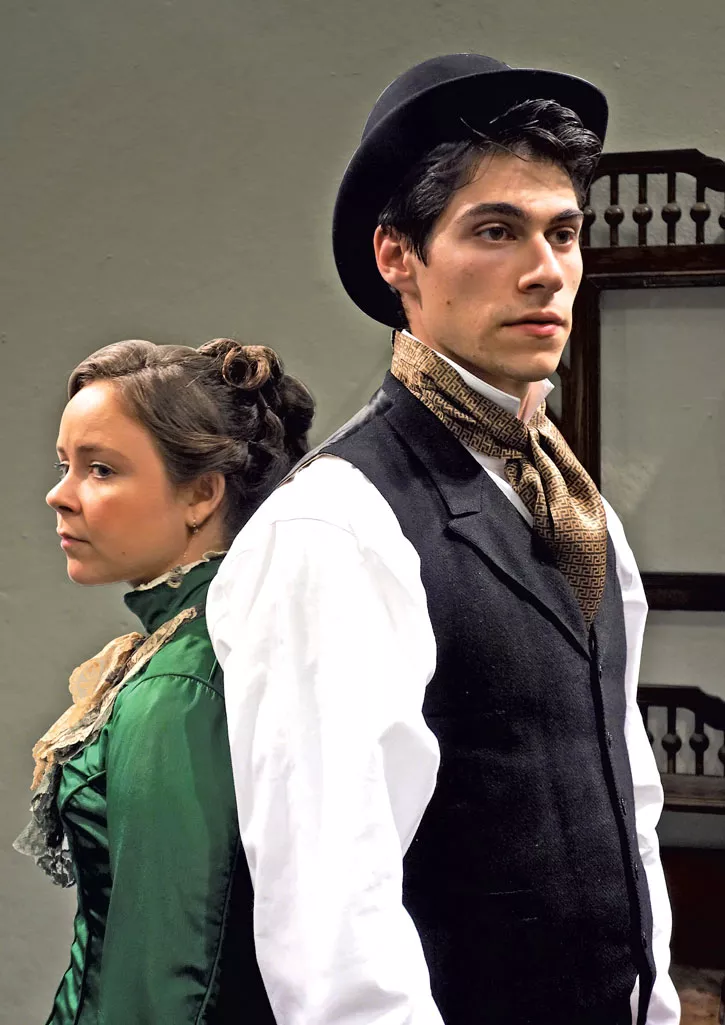 Courtesy of Dartmouth Department of Theater
Emma Orme and Max Samuels
Playwright Sarah Ruhl has said of her 2009 play In the Next Room, "Things that seem impossibly strange within the play — such as the Chattanooga vibrator and the vagaries of wet nursing — are all true. Things that seem commonplace are all my own invention."
Set against the backdrop of "a preposterous spa town" just outside New York, Ruhl's play takes viewers into the "operating theater" — euphemistically called "the next room" — of Dr. Givings, a late-19th-century physician. It was the dawn of a new era: The Civil War had recently ended, the advent of electricity was transforming American households, and the medical profession was in a tizzy over a new, electrically powered cure for "hysteria." That catchall diagnosis was bestowed on men and women experiencing fatigue, anxiety and other symptoms.
In the Next Room, also known as "The Vibrator Play," comes to Dartmouth's Hopkins Center for the Arts this weekend for a two-week run, produced by the college's theater department and directed by faculty member Jamie Horton. Ruhl's play premiered to critical acclaim at the Berkeley Repertory Theatre in February 2009. Later that year, it opened at Lincoln Center's Lyceum Theatre in New York; that production netted three Tony nominations. The play was also nominated for the 2010 Pulitzer Prize in Drama.
"It has that Ruhl magic that shows you what theater is capable of doing," Horton says of the play. "The question about the divorce between sexuality or sexual experience and relationships is striking. It's not that it's a new discovery or anything, but the beauty through which she discovers it is really exceptional."
The vibrator, like that Coke bottle in The Gods Must Be Crazy, prompts characters to embark on journeys of self-questioning and discovery. But the play isn't interested in cheap laughs. As a New Yorker critic put it in a glowing review of the Lincoln Center production, "Sex is always complicated, therefore always funny; Ruhl, however, never laughs at her bewildered, repressed characters, who are either lumbered by frustrations that they can't explain or reeling with a desire for which they have no words."
The characters are both baffled and excited by the new experiences induced by electric lamps and the boxy vibrator in the doctor's office. But contemporary audiences — accustomed to frank treatment of sex — may be most intrigued by the clinical approach to that newfangled gadget onstage.
In those days, as Horton notes, vibrators were medical instruments, not sexual playthings. They were sold in the Sears catalog alongside other household appliances. In fact, vibrators were just the fifth electrically powered apparatus to hit American stores. The characters in Ruhl's play interact with the device accordingly.
For them, an orgasm is a "paroxysm." In her stage directions, the playwright instructs directors and actors: "There is no cliché of how women are supposed to orgasm, no idea in their heads of how they are supposed to sound."
In one scene, Dr. Givings' wife, Catherine, and his patient, Mrs. Daldry, swap notes on their experience during treatment. They are startled by a wet nurse's suggestion that their "symptoms" sound like the feelings some women have while in bed with their husbands.
Horton says those conversations of shared uncertainty and self-discovery drive the play and continue to make it relevant. What lingers is the novelty of the characters' gradual recognition of dysfunctional relationships, not the novelty of a new sex toy. "This play is about women's sexual self-discovery," Horton says, "and the journey toward relationships that marry love and shared sexual experience." Audiences of any era can learn from that.