Jordan Barry ©️ Seven Days
Breakfast tacos and coffee from Blank Page Café
I've ordered a lot of takeout since Seven Days launched Good To-Go Vermont on March 17. Until last week, none of it was for breakfast.
There are plenty of restaurants offering eggs, pancakes and pastries in our online directory of takeout, curbside pickup and delivery options throughout the state, and I wasn't ignoring them on purpose. The fact is, I alternate between sleeping through the so-called "most important meal of the day" and drinking so much coffee that I forget to eat.
Somehow, though, at 9 a.m. one Friday, I found myself driving down Cheesefactory Road to the South Burlington/Shelburne town line for Blank Page Café's weekly breakfast taco pop-up. And you'd better believe I'll be doing it again.
Blank Page Café has been serving coffee and gluten-free pastries since 2016 in the farm store at Bread & Butter Farm. In mid-March, the café added what owner-operator Mike Proia calls "farm-to-table casual" meals to-go, which are currently served three days a week.
"My intention all along was to establish a sort of to-go meal offering," Proia said, cracking the eggs destined for my tacos onto a cast-iron grill top.
The taco operation stands under a tent in the farm's driveway, where it's been every Friday morning since early June. Beside Proia, Alex Gemme worked a tortilla press, flattening balls of masa from Burlington's All Souls Tortilleria before adding them to the grill.
"We didn't plan for the pandemic, obviously, but we had kind of strategically aligned the longer-term business strategy to really just fit with what happened," Proia said. "We renovated our kitchen and obtained a catering license at the beginning of March, literally a week before it hit. The timing was very serendipitous."
Jordan Barry ©️ Seven Days
Mike Proia (left) and Alex Gemme
The week after that, the farm store closed to walk-in customers. Proia realized that the pandemic would drastically affect the café's coffee and baked goods sales — and that fast-forwarding his plans to offer more substantial meals for curbside pickup would be a smart move.
"It was jarring and stressful but very fruitful," Proia said.
Blank Page and Bread & Butter Farm launched an online store where customers can order the farm's products — including grass-fed beef and certified organic produce — together with the café's baked goods, coffee drinks and prepared meals.
The two businesses are separate entities, but more than just sharing space, they're aligned "energetically, philosophically and strategically," Proia said.
As they worked together to move to the online platform, the farm and the café also reached out to other businesses that had lost their markets to the pandemic. The online store is now stocked with locally sourced products, such as eggs, pasture-raised chicken, pork, sustainably caught fish, beverages, dairy products, dry goods, vegetables and more.
"It felt really awesome to become an outlet for them, because we are so close to higher population density and the farm has a built-in CSA following," Proia said of the producers whose wares the store carries.
The café's to-go meals are a perfect encapsulation of that collaboration. The menu brings together seasonal ingredients from Bread & Butter Farm and other farm partners to create internationally inspired gluten-free dishes. Last week, options included spiced beef-and-eggplant moussaka, lemongrass-basil-coconut chicken curry with summer veggies, and sesame-ginger pork stir-fry.
Priced at $22 each, non-breakfast meals to-go are available for curbside pickup on Tuesday, Wednesday and Thursday between noon and 3 p.m. They make a hearty lunch and are easily reheated for dinner.
Proia bills the meals as single serving, but he said many customers find them enough for two. Though I couldn't make a midweek pickup this time, I have my fingers crossed that the moussaka will make a repeat appearance soon.
When I went online to preorder my breakfast tacos, I was tempted by strawberry-lemon popsicles from Adam's Berry Farm ($4) and by a container of Bread & Butter Farm's lard ($15) — a pie-season necessity.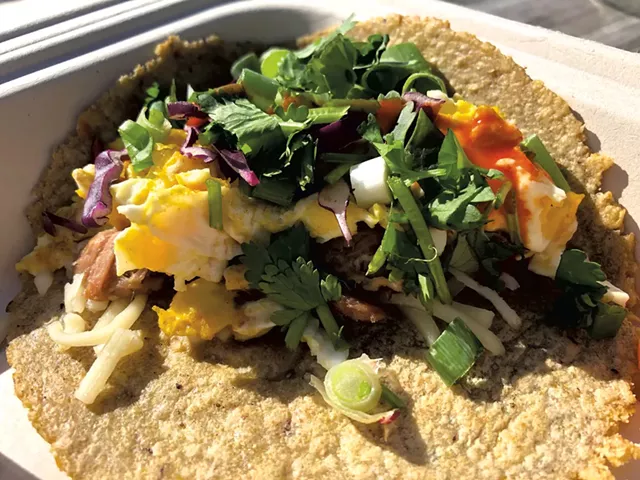 Jordan Barry ©️ Seven Days
Blank Page Café breakfast taco
There are many new takeout websites out there, and this is one of the best I've used. The offerings are divided into clear categories, and no matter what you put in your cart, it's one easy checkout. To keep things simple, I stuck to the tacos ($6 each) and coffee ($4.25 each for a 16-ounce cold brew and a 12-ounce maple cold-brew, both made with beans from Brio Coffeeworks).
The tacos are preorder only, available for pickup between 8:30 and 11:30 a.m. on Fridays. (Order a day or so early because they frequently sell out.) Proia plans to continue serving them every Friday until it gets too cold to grill outside; at that point, he might bring the grill top inside and use it on the stove, he speculated.
The preorder system lets Proia manage food costs and inventory "pretty tightly," he said, which is essential when working with high-cost ingredients. The system also keeps the number of orders — and people coming through the farm — safe and manageable.
"I don't aspire to be a very large operation," Proia said with a laugh. "My goal is to be able to do things well on a really small scale and figure out a way to make that work."
It's not often that I pay $6 for a taco and feel like I've gotten my money's worth. Watching Proia and Gemme at the grill on Friday morning, though, I had an inkling that these would be a bargain.
Coffee and tacos in hand, I'd planned to hop back in the car and head home to devour my breakfast (and maybe return to bed afterward). But, when Proia pointed to the picnic tables spread out beside the farm's greenhouses, I changed my plans. It was a 65-degree blue-sky day, after all.
The hand-pressed tortillas were stuffed with perfectly cooked fried organic eggs from Doolittle Farm in Shoreham and pulled pork from Agricola Farm in Panton, its edges crisped on the flattop. Slightly melted Cabot cheddar held it all together, while scallions, red cabbage and cilantro brightened things up with a punch of flavor and crunch. A side of Cholula Hot Sauce — the go-to in my house — spiced things up.
In theory, the tacos would have tasted the same if I'd eaten them at home; the tortillas were structurally sound enough not to get soggy on my 11-minute drive. But sitting at the picnic table and gazing at the farm scene around me was a pretty magical secret ingredient.
Reimagining what takeout can be — and where we can eat it — is playing a huge role in keeping the restaurant industry afloat right now. If that kind of creative thinking leads to meals like these, I'll even venture out for breakfast.