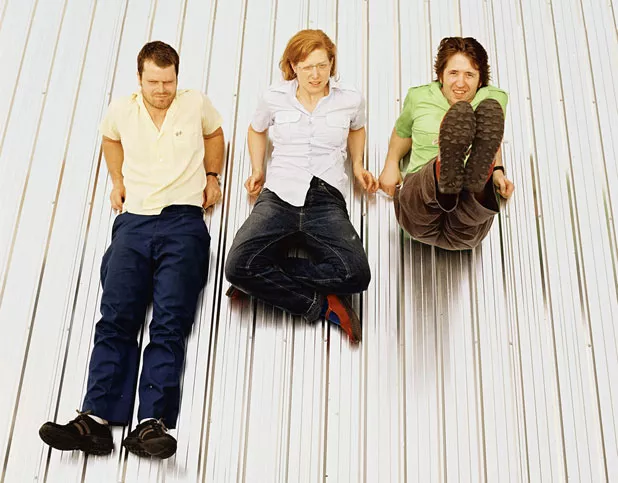 … to those who wait … in small packages … when you least expect them.
Pick any closing sentiment to that old chestnut and it can pretty much sum up my thoughts about the long-awaited release of Swale's debut full-length album, A Small Arrival. Well, maybe not so much the third one, since the collective Burlington music-listening populace has been expecting said album for, oh, about a decade now — though the band did release an Icebox Records EP, Waterlanding, in 2006. But the first two descriptions — those who wait, small packages — are definitely in play here.
Now, before we dig in, you need to know two things regarding anything I write about the local art-rock trio's new seven-year-old album. One, my younger and infinitely more talented younger brother, Tyler Bolles, shows up on bass on a few tracks, which was news to me when the CD arrived. (Ty, you've really gotta start telling me this stuff.) That means I need to recuse myself from making any critical observations, positive or negative. And two, I probably need to do that anyway, since I've been a fan of both the band's music and its members for a decade. I'm not sure I could set aside my affinity for either enough to listen objectively.
The thing is, for local music fans — particularly those of a certain vintage — the release of Swale's new album is a big freakin' deal. And I'm told this is a local music column, where people turn to find out about things that are big freakin' deals in local music. What's a conflicted local music scribe to do?
Ask the only people who could possibly have more of a conflict of interest than I, Swale's Amanda Gustafson, Jeremy Frederick and Eric Olsen, about their new album. That's what. Like I always say, if you're gonna shirk the established tenets of journalistic integrity, go big or go home.
FANBOY, ER, SEVEN DAYS: It took 10 years for your debut full-length to come out. I think I speak for the collective Burlington listening public when I say: WTF?
AMANDA GUSTAFSON: WTF — Will They Fulfill? Oh, yes, we will. This album is great, and I'm not afraid to say it.
JEREMY FREDERICK: I think that the record was very much a priority, but writing and performing really felt like the thing that we wanted to be doing. And the life thing got in the way, too.
ERIC OLSEN: Maybe it's easier listing what didn't happen rather than what did? We didn't break up, no one died. Other than that…
SD: I imagine these songs evolved from the time you started recording in 2005 to now. In what ways did they change? Were there any surprises from the time you began recording and went back to finish the album?
AG: They shrunk, which is strange. Or maybe we got fatter.
JF: Most of the songs were essentially done, minus some overdubs and mixing. I can't recall any major changes to these songs since we recorded them. Hopefully that is a testament to the quality of the songs and their staying power.
EO: They got harder to play.
SD: It seems folks tend to think of Swale as centering around Amanda and Eric, but Jeremy's songs are standouts on the album. Was there a conscious effort to highlight the band's semi-secretly awesome songwriter-drummer?
AG: Does God decide to highlight the unicorn or just allow the smartest among us to believe they are real?
JF: I don't think so, but thank you. I think that every song that each of us brings to the band gets equal priority.
EO: Isn't he the fucking best? He also wrote "Soul Piggy Bank," which Amanda sings — so good. Hopefully soon we'll do some shows where we just cover his annual solo albums. (High Diver, ask him about it.)
SD: Are you gonna make us wait 10 years for another Swale record?
AG: Nope.
EO: We're just playing rope-a-dope. The speed and ferocity with which we release the next batch of albums will knock you on your ass.
Swale celebrate the release of A Small Arrival with a show at Radio Bean in Burlington this Friday, September 28, which happens to be 10 years to the day after the band's first show, also at the Bean. And it promises to be quite the shindig, with performances by Greg Davis, Guster's Ryan Miller, Paper Castles, Ryan Ober, Brett Hughes and Kat Wright, Appalled Eagles and DJ Disco Phantom. I'm told there also will be a live karaoke set with Swale as the backing band.
On a personal note, I'm delighted to finally have Swale's record in hand. And I'm guessing I won't be alone in that feeling, once you folks have a chance to hear it. We'll have a legitimate review of the record in these pages soon — as soon as I can find someone in this town who isn't similarly enamored with the band.
BiteTorrent
In case you missed the spotlight in the calendar section this week, Anaïs Mitchell is set for quite the homecoming this week, after touring extensively behind her critically lauded new album, Young Man in America, for the last several months. She's doing a four-stop Vermont Barnstorming Tour at various unconventional venues around the state. Each stop includes a farm-to-table dinner and will benefit the Vermont Community Foundation's efforts to get local food into Vermont schools. Mitchell will be joined by longtime collaborator Michael Chorney. Colorado songwriter Reed Foehl will open the first two dates — Thursday, September 27, at the Inn at Baldwin Creek in Bristol; and Friday, September 28, at Rockingham Hill Farm in Bellows Falls — and Ireland's Wallis Bird will handle opening duties for the last two shows: Saturday, September 29, at Pete's Greens in Craftsbury; and Sunday, September 30, at the Intervale Community Barn in Burlington.
New Band Alert: Climbing Up Walls, a new project featuring scene vets Jamie Bright, Joshua Cleaver and Cody Sargent, are set to release their debut EP this Saturday, September 29, at Nectar's, which just so happens to be the next installment of Mildred Moody's Full Moon Masquerade. Nifty. Also on the bill, local wagon o' funk, Funkwagon and, as always, Mildred Moody and the body-painting stylings of the Human Canvas.
I still maintain that Charlie O's in Montpelier is greatest bar in the world. But in my travels to Derby Line last weekend to catch Banjo Dan and the Mid-nite Plowboys, I happened upon a joint that earned a special place in my dive-loving heart, the Hellbilly Hideaway. Tucked into a corner spot on the first floor of the Border Motel along Route 5, the joint boasts devil-red walls festooned with portraits of iconic hillbillies, such as Merle Haggard and Johnny Cash. That's my kind of seedy. There's a small stage, and I'm told they host live music on occasion, though not the night I stopped by — and I wonder how that goes over with the motel patrons when they do. Unfortunately, the bar doesn't have any web presence, presumably since WiFi is spotty in Hell. But if you find yourself in that neck of the woods, I recommend popping in.
Last but not least, when the weather turns cool, jazz is often a go-to on my hi-fi. Just feels right, y'dig? Anyway, this Thursday, September 29, the Jazz Studies faculty at UVM will perform Miles Davis' seminal 1957 album, Birth of the Cool, in its entirety at the UVM Recital Hall. Oh, and it's free. If, like me, your consumption of jazz is inversely related to the temperature outside, I can think of worse ways to warm up than catching the likes of Ray Vega, Tom Cleary and Rick Davies getting their prince of darkness on.
Listening In
Once again, this week's totally self-indulgent column segment, in which I share a random sampling of what was on my iPod, turntable, CD player, eight-track player, etc., this week.
Woods, Bend Beyond
Dinosaur Jr., I Bet on Sky
Band of Horses, Mirage Rock
Dum Dum Girls, End of Daze EP
Miles Davis, 'Round About Midnight