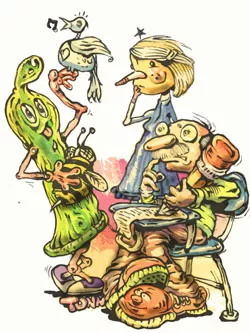 Most people get their sex ed in middle school — that time of life when the sum of 45 and 24 is the funniest thing in the world. Perhaps not the best moment to absorb facts about the responsible use and care of one's genitals.
Valerie Vass, the director of engagement at Planned Parenthood of Northern New England, believes consenting adults are a woefully underserved market when it comes to sexual information. "It's not until college, when you're either in long-term relationships or having multiple partners, that the true questions come up," she says.
Vass and other Planned Parenthood-affiliated educators have come up with a scheme called "Consensual Text" to reach the key 18-to-28 demographic. She says that, for a target group already hooked on communicating via phone message, it's a fun way to learn both trivia and vital information about sexual health.
Every Friday, Consensual Text subscribers are texted a question, which can range from alarming contraception queries ("Is it true a woman can't get pregnant if she is on top?") to Male Anatomy 101 ("Can a penis break?" "What size is 'normal'?") to seeming nonsequiturs ("What do graham crackers have to do with sex?"). At the same time, Vass posts on the group's website an answer researched by a group of New England educators whom she calls her "Goddesses." The Goddesses, headed by PPNNE Vice President of Education Catriona McHardy, cull the questions from their informational sessions with high school and college students. Vass is quick to point out that "all of the questions come from our outreach audiences or are sent to us. We don't need to make any up."
Vass, a former educator and administrator whose previous editing experience was limited to British parliamentary papers, takes charge of writing the online media. Beside posting the weekly question, she blogs about "cutting-edge sexual technology." Recent blog content has included book reviews, links to sex articles on other websites and even an examination of the Brazilian-waxing industry in the current economy.
The texting campaign is not PPNNE's only gambit in teaching grownups how to do it. On Thursday, February 19, at Burlington's Drink, a group of volunteers joined Community Engagement Coordinator Elizabeth Cukor for Planned Parenthood's "Proper Attire" Pub Crawl. To celebrate National Condom Week, they were trawling the bars of Burlington in an effort to get folks suited up.
Each condom comes on a card with instructions for use and information about scheduling appointments at a local clinic. Cukor says that this is especially important: "People need to know that we're out there as a resource. Whether they have insurance or not, they can come to us and get health care."
At Drink, the group doled out protection to groups playing Connect 4. Before progressing to the next stop, Cukor instructed the volunteers — mostly college students in health fields — that "If they want to tell you about the last time they used a condom, and you don't feel like hearing it, you can just excuse yourself."
At the next pub, Ruben James, the guys at the pool tables were genial. "Does it come with a girl?" one asked when offered a condom. Another invited this reporter to join them for pool.
Later, this reporter approached a group of people who appeared to be in their late fifties. One man asked, "Does it come in a large?" "Whaddya need that for?" sniped his female companion.
While that older couple may not have taken the handout too seriously, Vass says it's important to reach way beyond the Gen Y demographic. "For a 60- or 65-year-old woman to go and buy condoms, that's a new experience," she points out. "She would not have done that when she was first sexually active. STIs are starting to crop up more in older people."
The group ended up handing out over 200 condoms, after additional stops at Red Square and The Other Place. While pub crawling and texting sex facts may seem like fun, PPNNE's efforts to educate grown folk about sexual health are dead serious — as evidenced by the nature of its upcoming project. The group's researchers have been hard at work studying the effects of environmental toxins such as lead and mercury on women's health — specifically, their fertility. The results will form the focus of a website to debut soon and a national conference to take place in Burlington in September.
Vass, who began her working life as an educator, feels that anything she can do to "advocate [for] people making the right choices" is her business, and she hopes to help "women . . . take a holistic approach to their health." Has she learned anything herself from running Consensual Text? Oh, yes, says Vass: Before working for PPNNE, "I don't think I ever uttered the word orgasm aloud before."