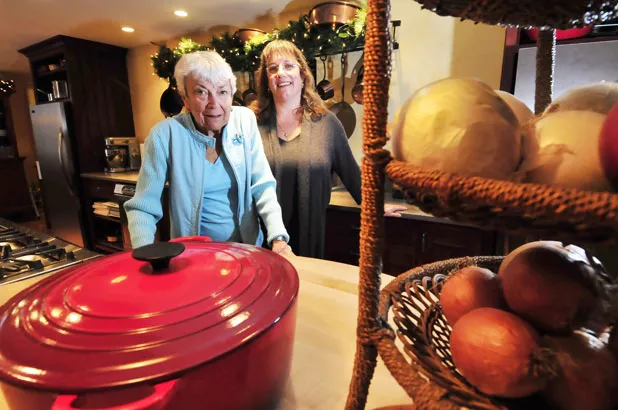 Jackie and Kathy Rose in the kitchen at The Store
You can tell that Michael Proietti, a recent final-five contestant on "The Next Food Network Star," likes to eat. On Sunday, November 15, the tall, rotund and tattooed chef — and occasional drag queen — stood in the teaching kitchen at The Store in Waitsfield, making small talk as he drizzled truffle oil into a bowl of arugula topped with strands of deep-fried leek and Grafton cheddar. Asked how he got his spot on the reality show, Proietti paused, then wise-cracked: "I tried out for '[America's] Next Top Model,' but there weren't any spaces," he said with his Bronx accent. "They tell me I have a face for radio."
How did a guy who runs a hotel restaurant in New Rochelle, N.Y., and was a recent guest on Martha Stewart's radio show, end up in the Mad River Valley, whipping up a four-course dinner for 14 hungry guests? One of Proietti's friends, a local and avid patron of The Store, came up with the idea of bringing him to town. "I've never been to Vermont before," Proietti said at the demo. "It's beautiful, but I miss the skyscrapers."
While The Store may not be a household name outside the Mad River Valley, it has longer-standing claims to fame than Proietti's visit. Owner Jackie Rose opened the cooking emporium at Sugarbush in 1965, six years before a guy named Chuck Williams started promoting his San Francisco-area cookware store — Williams-Sonoma — with a snazzy catalogue. A generation of Vermonters picked up their first pieces of French cookware at Rose's shop, which she called The Store because "she didn't know what else to name it," she said.
Laurie Roth Bartlett, a long-time friend of the Rose family and now marketer for The Store, was growing up in the Mad River Valley when it opened. Back then, she recalled, the only place to find kitchen goods in Vermont was the hardware store. "It was very limited," she said. Rose agreed: "When I came here," she said, "There wasn't really a way to get a glass without taking the jelly out of it first."
A well-traveled former New Yorker — she spent many years as singer Rosemary Clooney's traveling companion and publicist — Rose knew there was a bigger world of useful and classy kitchen items out there. And she suspected chic skiers might snap up such products for the second homes they were buying in droves.
The Roses had arrived in the Valley in 1961. "They came here, like a lot of people who moved to Vermont, to lead the quiet life and not stand out," said Rose's daughter Kathy. "My father kind of became a farmer. We did sheep, and he brought Belted Galloway [cattle] into Waitsfield." Despite their city roots, Kathy said, her parents "made it very clear as we were growing up that we were growing up as Vermonters."
With a small initial investment, Rose opened a tiny store in Sugarbush Village, "right above Chez Henri," said Bartlett. Sometimes, she recalled, Rose would pop downstairs during business hours to eat cheese fondue and drink wine. When customers showed up, she could hear them through the ceiling.
In the city, Rose had attended cooking classes. In Vermont, she spent her spare time in the kitchen. "My dad would call the store 'my wife's therapy,' but for her it was much more than a hobby," Kathy related. Savvy cooks found their way up those stairs, but Rose was also contracted to equip ski condos en masse. At the time, cookware and antiques were both big parts of the business.
Rose ordered unusual doodads that enthralled the locals. (Back in those pre-cable days, she pointed out, the only place to see such things was on PBS cooking shows.) Bartlett, who was 5 at the time, recalled how she used to "stand in front of the gadget wall and invent stories about what each [item] might do." Today, that wall is packed with zesters, Microplane graters, sieves and odder stuff that invites shoppers to play Bartlett's game.
By 1985, Rose had an inkling that locals were ready to start buying upscale cookware, mixers and dishes en masse. So she purchased and renovated an old Methodist meeting house on Route 100 and relocated her business. The much larger selection attracted more customers, and the bottom line improved.
As it grew, Rose worked hard to give the store a personal feel. Today, customers are warmly greeted and asked if they'd like tea or coffee to sip while they browse. At the front of the 6000-foot space, specialty products in snazzy packages whet the appetite. There are jellies and jams, flavored mustards, crackers and fragrant oils. "I'm always really proud when we get new Vermont products, like Lake Champlain Chocolates or cranberries," said Kathy, who has taken over the ordering job from her mother.
Although The Store is clearly divided into sections — cookbooks to the right, cutlery to the left — there's a lot of intuitive organization, too. As Kathy pointed out, a less common item, such as a grill pan, might be displayed alongside a book on cooking in such pans and a snazzy spatula.
"Careful attention is paid to getting things that support each other," Bartlett agreed. "If we have a cookbook, you should be able to find the cookware needed to make the cuisine." And if you can't? "We'll bend over backwards to get things for people," she claimed. With 15 full- and part-time staffers — from college kids looking to learn about food to retirees eager for a hobby — there are many hands to help out.
Although Rose no longer purchases the products personally, the overall look and feel of the store are still subject to her desires. "She'll walk in and ask, 'Who ordered that?' and people will cower behind chairs," said Kathy. "She has a lot to say." Mother and daughter attend trade shows together in search of new products, and Rose still meets and greets customers at The Store during special functions, such as Proietti's demo.
That happened in the teaching kitchen that Rose added to The Store in 2007, in a space that once served as a playroom for her grandchildren. Now cooking demos — such as Proietti's — and hands-on classes with staffer Jackie Sainsbury are on the monthly agenda.
With just a handful of tables and lots of seats at the bar, the kitchen feels cozy and intimate. Although cooks use All-Clad and Le Creuset for the lessons, an array of antique copper pots makes one feel as if Julia Child could appear at any moment and start whipping up some boeuf bourguignon. "It's always been my joy to have copper in here," said Rose.
Proietti's main course — slow-braised ribs with roasted winter vegetables — would have been to Child's liking, but he actually aspires to be a "male version of Ina Garten." As he sliced raw butternut squash for an anisette-accented slaw and prepared scallops for a sizzling pan by dabbing the ends in chai spices, he told stories about being on reality TV. "We didn't have cellphones. We couldn't call our families. No iPods. Everybody gets really emotional," he said. "I would never do it again."
Asked how he felt about his competitors' cooking abilities, he responded candidly: "I think a lot of other people on the show cooked garbage." Other observations? Tyler Florence of "Tyler's Ultimate" is "evil," past show winner Guy Fieri actually took the time to get to know contestants, and Bobby Flay "is adorable, but he needs more iron in his diet. He's so pasty."
The shop was closed by the time guests finished snacking on Proietti's dessert — deep-fried apple spring rolls served with cups of foamy spiced eggnog — but it was hard not to linger on the way out.
Outside the kitchen, The Store was a testament to Rose's aesthetic ideal that, around the holidays, every nook and cranny should reflect the season. Wreaths made from gourds, fir boughs and dried flowers abounded. Sparkling lights, ornaments and sprays of berries peeked from among the products. A colorful Thanksgiving display featured orange Vance Kitira candles, intricate silver flatware, a pair of roasting pans and a tome entitled How to Cook a Turkey. Every nook held another dish, utensil or stocking stuffer that suddenly seemed both irresistible and necessary.
For those who live outside the Valley, The Store has enough cooking classes and demos scheduled between now and Christmas to provide ample excuse for a drive. On November 28, there's a $55 hands-on session on knife skills and making stir-fry. On December 3, three hours are devoted to "traditional French Christmas food." A week later, participants can learn how to create edible gifts.
During the winter, Bartlett guessed, the Store's customer base is evenly split between locals who "don't want to drive to Burlington to get a muffin tin"; tourists; and in-the-know Vermonters who head into the Valley to seek out goodies they can't find elsewhere.
"We have a copper line, Mauviel, that's really beautiful," Bartlett noted. Priced at hundreds of dollars per piece, though, it may not go quickly. "Check with me after Christmas," Rose said with a chuckle. Then there's old-fashioned ribbon candy, April Cornell linens and an intricate porcelain soup tureen that looks like Cinderella's pumpkin.
The Store's library is as well curated as its cookware selection. "We take a lot of time and effort researching the newest, most fun cookbooks," said Bartlett. Thomas Keller's new Ad Hoc at Home is prominently displayed. So is local writer Gesine Bullock-Prado's tell-all baking book. Perhaps the volume Proietti says he's in the process of writing will end up among them.
A week after the demo, the store celebrated its annual holiday season kickoff with 20 percent discounts. Customers packed the narrow aisles, checking out fancy scented kitchen soaps, bottles of port wine vinegar and sparkling holiday ornaments. In the teaching kitchen, there was wine to be tasted and samples of cranberry-almond tart.
But perhaps the biggest attraction was Rose herself. Perched in a chair, sipping a sample of ice wine, she bantered with patrons who stopped to greet her. Nearly a half-century after she turned her "hobby" into a business, Waitsfield's queen of the kitchen is still going strong.