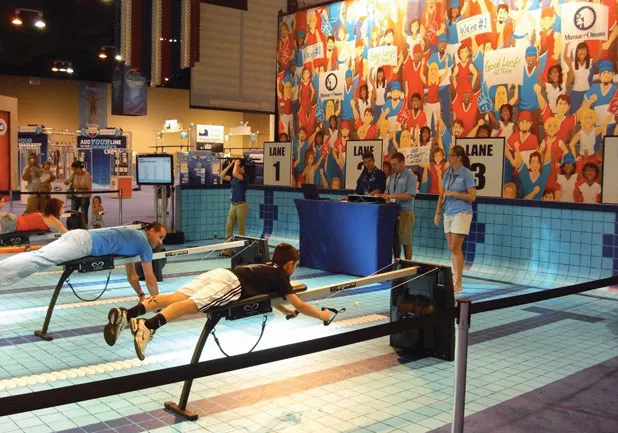 Swim fans try Vasa trainers at the Olympic trials in Omaha
When the Olympics begin in London this week, swim fans no doubt will witness the fastest times in the history of the world. And as unlikely as it may sound, some of that speed comes from training on a machine created right here in Vermont — originally for cross-country skiers. Pretty crazy, huh?
Well, swimming is a crazy sport. Pulling and kicking for miles and miles at a time, two to four hours a day, six days a week, year after year, is not normal. It's lonely, mind-numbing, solitary work for an athlete, even when surrounded by teammates and coaches. Boredom just comes with the territory — you can't see, hear or speak for the majority of a water-based workout. A lot of would-be swimmers simply can't take the monotony. I know, because I endured that tedium for 20 years.
In fact, I qualified for the Olympic Trials in 1988. But, alas, my shoulders didn't survive the training. I needed major surgery just to keep the right one in its socket. Suddenly, faster than anyone could say, "That sucks," my swimming career was a total wash.
If only there had been other ways to train for my site-specific sport — a way in which I could have had my head above the water to rest a weary body and mind. Or, perhaps more importantly, a way in which weaknesses in my stroke could have been assessed and corrected before I was permanently injured.
These days, thanks to Essex-based sports physiologist Rob Sleamaker, swimmers have a means for training their physiques, and resting their minds, on dry land. Equally as important, his invention provides coaches with an up-close-and-personal view for monitoring technique.
Initially, Sleamaker's invention was geared toward another sport entirely. Back in the early 1980s, working with elite Nordic skiers and biathletes (the kind who do cross-country skiing and rifle shooting), he sought ways to improve and rehabilitate their upper-body strength off the slopes.
The "freestyle" cross-country skiing motion — arms pumping separately — inspired Sleamaker to create an action-duplicating, dry-land machine. The option to train indoors on a flywheel-based resistance apparatus offered skiers mental and physical relief from poles and snow. Yet it still provided one heck of a workout. Sleamaker dubbed his invention the Vasa Nordic Trainer as an ode to a famous Swedish marathon cross-country race called the Vasaloppet, which covers 85 grueling kilometers.
"That event was named for the 16th-century Swede Gustavus Vasa, who showed strength, stamina and courage by leading the Swedish defeat of the Danes in the 1520s," explains Sleamaker.
A self-described "inventor and chief connector of dots," Sleamaker soon realized the potential value of this mechanism for swimmers. By adding a full-body bench and some paddles, the Vasa Trainer for swimming was born. In 1989, Sleamaker introduced the contraption at the American Swim Coaches Association World Clinic. Some of the biggest names in the sport, such as coach Richard Quick of swimming powerhouse Stanford University, purchased multiple machines.
Quick, who was the head coach of three American Olympic swim teams (Seoul in 1988, Atlanta in 1996 and Sydney in 2000) prior to his death in 2009, swore by the Vasa for his champions, who included Rowdy Gaines, Matt Biondi, Dara Torres and Janet Evans.
"It is important to do an exercise whereby the hands stay in one position and the body moves past that position," Quick wrote to Sleamaker. "Your trainer does exactly that and it is having a profound positive effect on the specific strength, power and endurance development needed by our swimmers that are striving for national and international excellence."
The machine's design has been refined over the years. These days, the Vasa Ergometer is comparable to a treadmill for swimmers, complete with variable settings and intensities and an electronic monitor to measure performance. The company estimates that more than 75 percent of the swimmers in the Atlanta and Sydney Games trained on a Vasa. My pal Carol Capitani, who is the head coach of women's swimming at the University of Texas, confirms that the equipment is indeed a staple training device for most teams.
Sleamaker has a picture hanging in his office of a 15-year-old Michael Phelps using one. The Russian National Swim Team has at least a dozen. The Asian continent is swimming in them. Triathletes also appreciate the opportunity to work on their strokes and upper-body strength out of the humdrum natatorium.
Michelle Obama recently got in on the Vasa action as part of her "Let's Move" initiative to improve the fitness of American children. When she hosted a mini-Olympics at the American University Bender Arena in Washington, D.C, last spring, Vasa Ergometers were on hand to simulate the swimming events. These particular "games" required a format that would allow all participants to compete in all events in one fell swoop. A swimming pool and lots of race heats weren't a realistic option. Vasa fit the bill.
"She was very engaging and seemed impressed," Sleamaker says of the First Lady. "She smiled and remarked at 'how hard' the erg seemed."
But not as hard — or boring — as swimming laps in a pool, day in and day out. The Vasa seems to bring fun to an otherwise serious sport. At the Olympic Trials in Omaha last month, fans were treated to the use of four ergs as part of a "swim-u-lator" in the Aqua Zone. More than 6000 people either "raced" each other on the equipment or tested their skills against the preset times of their favorite competitor.
As the London Games begin this week, elite swimmers from across the world will have access to Vermont's homegrown Vasa Trainers at the training center in the Olympic Village. A coalition of head coaches actually requested the equipment — more as a recovery tool than a training device in this scenario.
"We're thrilled to be part of the Olympic excitement," says Sleamaker, who uses the machines himself to stay in shape. "It's very fulfilling seeing the athletes and coaches who have supported Vasa through the years succeed. And it's even better knowing that we have helped make it happen."