More than 1.6 million people worldwide have died of COVID-19 so far this year; more than 300,000 of them were in the United States, and 100 were in Vermont. The coronavirus pandemic continues to wreak havoc on the U.S. economy. It's driving up rates of depression, anxiety and overdose deaths, and causing record numbers of parents, mostly women, to leave the workforce to care for their kids. And the pandemic has isolated us from friends and family when we need them the most.
All of this has been taking place amid a bitter partisan battle for control of the federal government. Consequently, crucial relief measures that thousands of Vermonters rely on are scheduled to expire at the end of this month.
The long-lasting physical, mental and emotional toll of our national nightmare has yet to be assessed. The only certainty about 2020: None of us who have lived through it will ever forget it. The December 14 issue of Time magazine hyperbolically declared 2020 "the worst year ever."
And yet, the past nine months of pandemic life have included numerous examples of Vermonters banding together to overcome challenges, doing their best with available resources and finding a way forward. Their kindness and creativity is beautiful to behold and gives us hope. As poet Wendell Berry wrote in "The Real Work," "the impeded stream is the one that sings."
We've gathered some of these stories here, organized into five categories, along with tips, anecdotes and reflections of gratitude from our own lives and those of other Vermonters. May this compilation bolster you for the cold, dark weeks ahead as we wait for spring — and doses of vaccine.
---
Food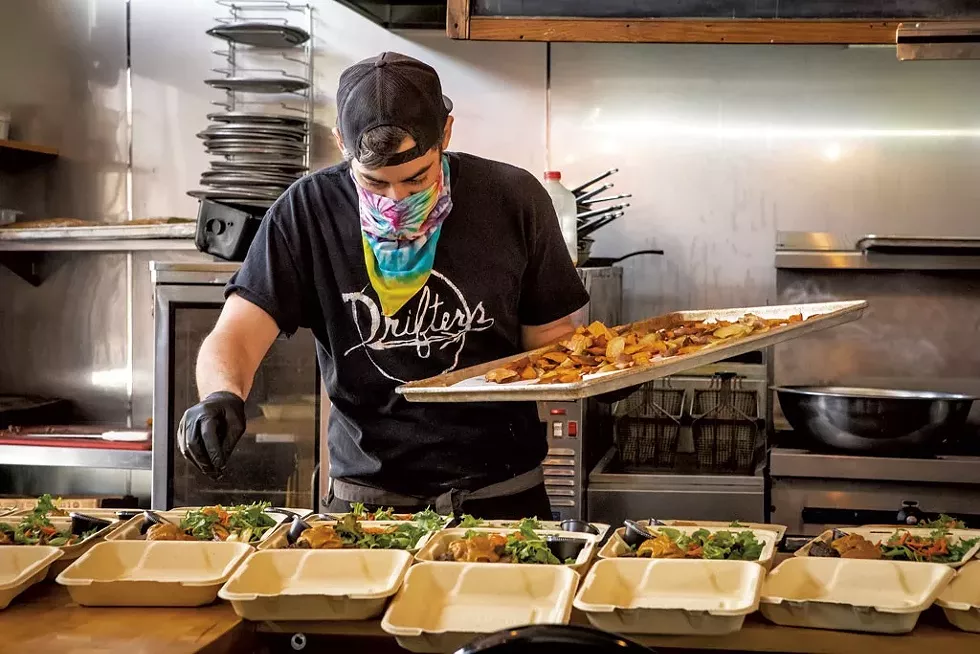 File: Luke Awtry
Andrew Ryan preparing meals for hospital workers at Drifters
There's been no shortage of food news in 2020, most of it bad. Vermont's once-vibrant dining scene faces a bleak winter. Hunger and food insecurity are at record levels. In a study examining food system security published in November, researchers at the University of Vermont found that, between March and September, one in three Vermonters were food insecure — meaning they sought help from food shelves; bought cheaper, less nutritious food; or skipped meals to save money. Long lines of cars at food distribution centers are an iconic image of this year. We still found a few silver linings to serve up.
A surprising number of new restaurants opened, increasing options for Dominican fusion, poke, Indian, tacos, sandwiches, creemees and breweries.
Local meat, CSA and farmstand sales are booming.
Many local nurseries and garden centers also reported increased demand this year. The recent UVM food security study found that 42 percent of respondents reported hunting, gardening, foraging or preserving this year, many for the first time.
People receiving food assistance spent more of those dollars on locally grown food. The Northeast Organic Farming Association of Vermont reported an increase in shoppers using 3SquaresVT/SNAP benefits at farmers markets around the state. The nonprofit tripled the spending power of Vermonters using those benefits at farmers markets from August through October, when it doubled its Crop Cash match, according to Emmet Moseley, NOFA-VT's Community Food Access programs coordinator.
New efforts such as ShiftMeals, Frontline Foods and Vermont Everyone Eats have put local restaurant employees to work feeding frontline workers and hungry Vermonters.
File: Sally Pollak
A "little free pantry"
Some of the little free libraries that have popped up around the state have become "little free pantries" stocked with food and toiletries. People can take what they need or leave donated supplies. Former Seven Days political columnist Shay Totten hosts one at his North Avenue home in Burlington. "People are filling it," he told WCAX-TV in August. "I still get a few extra things every time we go shopping every couple weeks. It is just getting consistently filled." Find all Burlington locations at onegooddeedfund.org.
The United Methodist Church in White River Junction is home to a food pantry that includes a refrigerator. It's out by the street, easy to use and accessible 24 hours a day. Anyone can take perishable and nonperishable items, as well as pet food and personal care supplies. A May 30 post on the church's Facebook page heralded its opening: "We are thrilled to announce that some very kind, selfless volunteers have been diligently working this week in the high heat to build our new food pantry! This will allow us to continue the Sharing & Caring Food Program permanently."
Still Cooking at the Community Kitchen Academy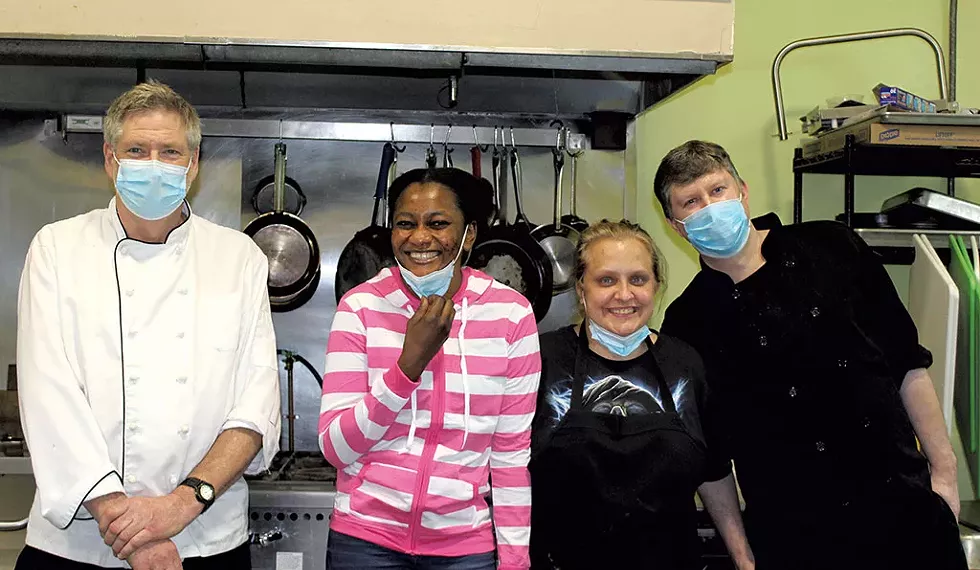 Courtesy Of Adelaide Szczesiul
From left: chef Jim Logan, Roumanatao Hassane, Jessica Lamonda and Jason Upton
An intimate, in-person graduation ceremony took place at Feeding Chittenden in Burlington's Old North End on November 20. It honored three adult students who had completed their studies at the Community Kitchen Academy.
The seven-week culinary job-training program, funded by the Vermont Foodbank, is run by experienced chefs who offer instruction in meal planning, food safety and work habits. COVID-19 has disrupted it a bit — the sessions have been shortened, classes downsized, and there are few food-service jobs to be had right now. But both staff and students are determined to continue.
The graduation took place in a spacious room where Feeding Chittenden normally serves communal meals. Those aren't happening because of the pandemic. The handful of attendees all wore masks and sat or stood six feet apart. The graduates pulled down their masks briefly for photos.
"I just want to say congratulations," began chef Jim Logan. He then read a letter from John Sayles, executive director of the Vermont Foodbank, who commended them for staying the course when "the world is literally and figuratively on fire."
As part of their training, the graduates helped operate Feeding Chittenden's food truck, parked outside of the building; it feeds roughly 70 people every Friday. Customers can leave tips, but they're not charged for their meals; getting free food from a truck feels more normal than waiting in a line outside the front door.
All told, the students prepared 3,000 pounds of food during the term. In their final week, they ran the truck themselves, planning a meal, buying the components and demonstrating good food sanitation. When Logan asked at graduation about favorite dishes they prepared, two of them mentioned their food truck meals.
Jessica Lamonda loved making chicken pot pie. Ruomanatao Hassane fondly recalled her Asian peanut soup. "You fed a lot of people with that soup," Logan said. "It was pretty amazing."
And, Hassane added, the homemade pasta. They all laughed remembering how the kitchen was covered in flour that day.
Jason Upton's favorite? A coconut curry chickpea soup. He enrolled in the course to learn to cook dishes like that, he said afterward. He saw a flyer for the Community Kitchen Academy after being laid off from his job in a kitchen at UVM. He wanted to learn to cook with spices and fresh, seasonal vegetables.
Now, Upton is cleaning office buildings at night and taking classes during the day. "I cook for myself, my friends and family," he said. "It's a big joy for the day, [to] have a good meal."
The graduates each got parting gifts, including a professional knife set, and all three expressed a desire to give back by volunteering at Feeding Chittenden. Lamonda has started already; Hassane is working on her schedule. In a follow-up email, Logan said she had "just stopped in to tell us she just passed her driving test, and Chef Dave [Francis] helped out by driving around Burlington with her!"
The program is now accepting applications for the next session.
— Cathy Resmer
---
Essential Workers and Volunteers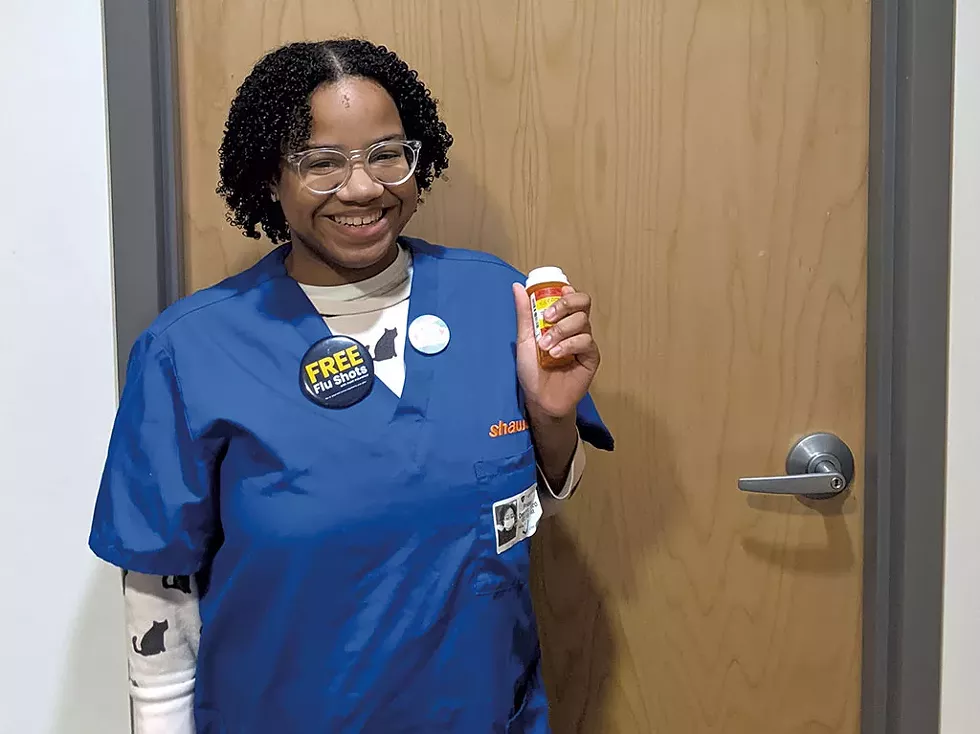 Courtesy
Violet Bell
Many new concepts and terms entered our lexicon in 2020, including "flatten the curve" and "social distancing," and we developed a new understanding of the word "essential." This year, it has defined health care workers, teachers, grocery store cashiers, postal carriers, librarians — even reporters and newspaper delivery drivers. Also essential: volunteers. So many Vermonters have pitched in with help where it was needed. Here are just a few examples of how Vermonters have stepped up.
Vermont's Republican governor, Phil Scott, prioritized public health above politics in this election year. He led the way in masking and encouraging Vermonters to take precautions to stop the spread of COVID-19.
Former Seven Days intern Violet Bell, a senior at Champlain College, got a job as an essential worker. "I was pretty bummed out with virtual classes and quarantining," she wrote. "I felt like I wasn't doing enough with COVID-19, so I became a pharmacy technician. It was a pleasant change of pace from my journalism major. It's very satisfying, helping the people of Burlington outside of just social distancing. Being on the other side of the counter made me appreciate pharmacists so much more."
In the early days of the pandemic, dozens of grassroots mutual aid groups sprang up around the state to help people meet their immediate needs — for groceries, for extra cash to cover utility bills, for a friendly voice in a time of uncertainty and isolation. Many of these groups are still active, performing spontaneous acts of neighborly assistance that most established nonprofits and charities aren't nimble enough to pull off. For example, in Burlington's Old North End, ONE Mutual Aid has been fundraising to help residents with rent, car payments and food. Earlier this month, volunteers with Winooski Mutual Aid and Burlington nonprofit the Janet S. Munt Family Room delivered food and diapers to more than 25 families. There's no formal registry of Vermont's mutual aid networks, but you can find a list, along with contact information for the organizers, at sevendaysvt.com/mutual-aid.
Numerous volunteers and textile businesses have stepped up to provide free or low-cost cloth face masks.
In the spring, when Meals on Wheels lost 100 volunteers who had to step down because of the pandemic, Age Well, in partnership with the United Way of Northwest Vermont, recruited 300 new volunteers to help manage the increase in demand for services.
A recent UVM food security study found that more than 40 percent of Vermonters had delivered food to someone in their community in recent months.
Neighbors and customers of Mawuhi African Market in Burlington's Old North End mobilized to help owner Patience Bannerman move her store after her landlord declined to renew her month-to-month lease. A GoFundMe campaign raised more than $25,000 to help transition the African diaspora community hub to the ground floor at North End Studios on North Winooski Avenue. "Thank you to the whole neighborhood," Bannerman told Seven Days reporter Sally Pollak in November. "The way the neighborhood people support [me] and show kindness, it's overwhelming."
Sr. Pat Delivers Compassion and Goodies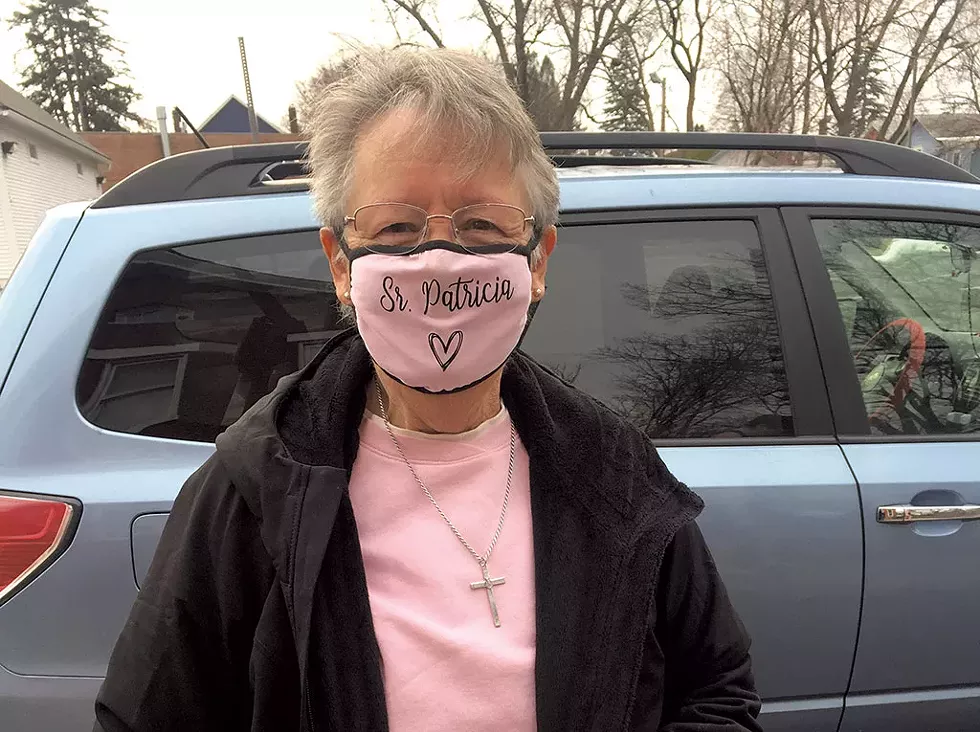 Courtesy Of Sharan Deep
Sr. Patricia McKittrick
Sister Patricia McKittrick loves her work. The gregarious Catholic nun and registered nurse is a community health improvement coordinator for the UVM Medical Center. She connects people in need with the help they require and facilitates connections among volunteers and organizations.
It's not a desk job. Sr. Pat, as she's known, drives around in her Subaru station wagon, checking in on people and making deliveries — to aid groups, to families she knows, to people who need a winter hat. When she stops for coffee, she gets four cups and gives the others away.
Her car is always packed with stuff. On a mid-December morning, she opened her back passenger door to reveal boxes full of donated cloth masks, a bag of pastries, some knitted sweaters, hats, scarves and mittens, a few donated winter coats, and a bag full of stocking stuffers. "There's a lamp in there somewhere," she said.
Sr. Pat gathers these items from a variety of sources; after 26 years, she knows people. She works with a "wonderful, solid group of volunteers" through the hospital's Health Ministries/Faith in Action initiative and through the Winooski Peace Initiative.
She regularly stops at Papa Frank's to pick up donated food. She gets coffee, pastries and sandwiches from the Starbucks on Williston Road. "They put up a giving tree for us at the Starbucks in Essex," she noted. She collects money from anonymous donors who ask her, "Do all your people have what they need?" — a tough question to answer in 2020.
Sr. Pat doesn't just distribute material goods; she wants the recipients to feel important, "because they are," and to know that they haven't been forgotten. Her religious order emphasizes showing compassion for all. She tries to keep that in mind and encourages others to do the same. "Kindness: It's not just for nuns; it's for everybody," she said. Beneath her mask, it looked like she was smiling.
Courtesy Of Sharan Deep
Drive-by baby shower in Winooski
Sr. Pat is a bit more cautious than she used to be, because of the virus. As a cancer survivor, she's at higher risk for COVID-19; she's also over 65, though she won't reveal her age. She now asks donors to load their own items into her trunk.
But she's found ways around many limitations. In September, she and a group of well-wishers surprised Winooski resident Sharan Deep with a drive-by baby shower; Sr. Pat had gotten to know Deep and her family after they arrived in the U.S. from India in 2010 and thought they'd appreciate the gesture.
"It was great!" Deep said of the shower. A line of several cars pulled up to her house, where she lives with her daughter, her husband, her parents and her brother. Sr. Pat and the crew dropped off a box of diapers, a few onesies, books, toys, a handmade hat and socks. Deep said she was speechless; she never imagined that someone would do this for her.
When the group planned another baby shower for her sister-in-law, Deep and her family picked up coffee and doughnuts to serve. "It's our culture," she said. "We don't let anybody go without treats."
As a Winooski police car drove past the gathering, Sr. Pat flagged down the officer, who stopped to join them and pose for photos with Deep's daughter and nephew. They offered the officer coffee, too. "It was so special he stopped by," Deep said.
If Sr. Pat has a superpower, it's creating moments like these. She believes they're good for us all. Her own connections with friends, family and acquaintances help her fight off the sadness and loneliness of this time — even when she can only communicate through Zoom. "There's strength in community," she said. "That's really important."
— Cathy Resmer
---
Rituals and Events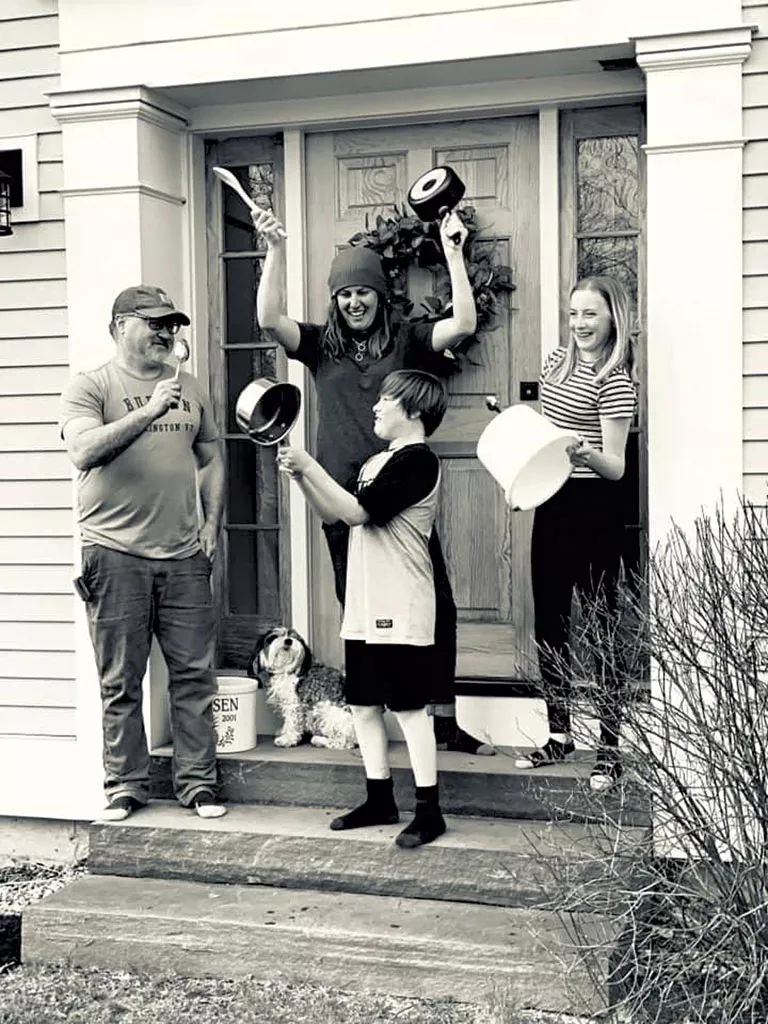 Courtesy Of Jamie Cudney
The Friesen family
Weddings, funerals, graduations, religious holidays and other gatherings of all kinds were postponed, downsized or canceled in 2020. But people found new ways to mark milestones, from drive-by birthday parties to drive-in menorah lighting services. This time also gave rise to new traditions that helped us feel connected.
Some Hinesburg residents started a nightly ritual in early April called "Front Porch Noise" to show appreciation for health care workers in their Buck Hill neighborhood. One of them — Jamie Cudney, a pediatric nurse at the UVM Medical Center — began photographing families on their porches. Cudney said the gatherings ended in mid-June, but new traditions have taken their place. A "mystery rocker" started leaving brightly painted rocks on trails and along streets near mailboxes. Another neighbor put up a sandwich-board sign and changes the messages frequently to reflect local happenings. In an email, Cudney wrote, "We remain connected, for the better, since March!"
Seven Days contributing editor Candace Page has had a similar experience: "My husband and I were new residents of Wake Robin when the stay-at-home order ended communal meals and activities. We didn't know our neighbors on the street, so we were doubly isolated. Then a neighbor up the hill suggested the nearby residents of six homes go out at six every night, stand in the street and bang pots in honor of frontline workers. Seven months later, we were still at it. When winter intervened, we moved our gathering to twice a week on Zoom. We don't bang pots anymore, but we exchange news, encourage one another and even organized a virtual Thanksgiving potluck. I have new friends and a tight little community I would otherwise probably not have found."
Food writer Melissa Pasanen contributes this anecdote about Thanksgiving dinner: "A member of the painting crew working on my house, Sean Quinn, mentioned that his Thanksgiving was really different and special this year. His wife has been across the lake in New York caring for her elderly parents. Normally, the couple and their grown daughter, Caroline, head over to family in Saratoga Springs for a gathering of up to 16. This year, Sean and Caroline celebrated together — just father and daughter. Neither had ever roasted a whole turkey or made 'the fixins,' as Sean put it, so they joined forces. 'We cooked all day, opened a bottle of wine, told stories, had laughs,' Sean recounted. 'It's a day that I want to put in my pocket and pull out every so often.'"
Giving Teens a Pandemic Prom
Courtesy Of Seth Wise
DJ Craig Mitchell
School dances, those hotbeds of close, physical contact, were canceled in the spring of 2020. High school seniors missed out on the opportunity to shake their groove thangs at prom, a cathartic rite of passage.
Aiming to give this year's graduates the special night of revelry they deserved, a coalition of local entities and personalities put on a virtual prom for Vermont's 12th graders and the state at large. With support from the Vermont Agency of Education, the event, dubbed Prom Goes #VTstrong, was streamed online by music nonprofit Big Heavy World, broadcast live by Vermont Public Radio and hosted by DJ Craig Mitchell.
Between hits from yesterday and today during the May 30 event, local and national celebrities piped in to offer words of encouragement to graduating seniors.
"You've done something that no one else has — graduated during a pandemic," said U.S. Rep. Peter Welch (D-Vt.). "It's unfortunate you couldn't spend the last weeks and months with your friends ... But you're making the best of it. In this virtual prom, you're continuing to do that. I wish you the best of luck. What memories you will have."
Even Ezra Koenig, front person of Brooklyn-based juggernaut Vampire Weekend, chimed in. The band was meant to play a huge show at the Champlain Valley Exposition earlier in May, presented by South Burlington nightclub Higher Ground.
"I want to say congratulations to the graduating Vermont class of 2020," Koenig said. "You guys rule, and the future is better with you in it."
According to Mitchell, the show was trending at No. 4 worldwide on streaming platform Mixcloud during the livestream.
"I got a bunch of emails from high schoolers saying how much they loved it," Mitchell said by phone. He also noted that VPR relayed to him a litany of messages from listeners wanting a breakdown of his playlist.
Perhaps the most moving shout-out during the broadcast came from WPTZ-TV meteorologist Tom Messner.
"This awful period of time that you're living through — this is gonna pay major dividends for you," he said in his trademark cheery tone. "You're becoming prepared for the real world ... When adversity hits again, and it will, you're gonna know how to deal with it ... When little things go wrong, and they will, you'll realize they're little things. And when things go right ... you'll appreciate them."
— Jordan Adams
---
Education
Courtesy
Emma Marden
Parents, caregivers, schools, camps and childcare providers have worked hard to help young Vermonters learn and play safely this year. By most accounts, the transition to remote learning has been difficult. But we uncovered a few positive progress reports.
Numerous students have rallied against racism since the spring, raising Black Lives Matter flags at schools around the state. The movement to fly the flags started in 2018 but intensified this year after the killing of George Floyd sparked protests around the country and here in Vermont. In June, Emma Marden, 14, organized a gathering that drew 300 masked residents to celebrate raising the flag at Shelburne Community School. "Change can happen anywhere, anytime, starting with anyone," she told the crowd. "It's time for us to make a change."
Students in Randolph Union High School's Encore Theater performed a 1930s radio drama this fall — virtually, of course. The production was available to stream for free via the school's website for a week. According to a report on the site, orangesouthwest.org: "When asked why the troupe was performing a work that was exclusively auditory, Senior Ana Turinetti responded, 'Why not? ... By using a computer with a camera and microphone, I still got to hang out with like-minded, zany, and understanding people. We made it work — I enjoyed it.'"
In the spring, while learning remotely, the entire Winooski Middle School participated in a Good Citizen Challenge inspired by Kids VT. Students earned points by doing activities such as keeping a journal of their time in lockdown and writing poems to put in their windows at home to cheer up passersby. They did enough activities to meet their goal, which meant that coprincipal Kate Grodin got a pie in the face.
Courtesy Of Cathy Resmer
Graham Resmer at the grill
Seven Days deputy publisher Cathy Resmer reports that her 14-year-old son, Graham, is honing new skills. "He was heartbroken by the cancellation of sports seasons, his band practices and summer camp," she said, "so he threw himself into becoming our household head chef. Making food for our family of four is something he takes pride in and does really well. It was a role reversal that's helped him as much as it helps the rest of us."
An afterschool club formed at Bellows Free Academy Fairfax to tackle the 2019-20 Good Citizen Challenge, which continued into the spring and summer. Members of the Good Citizen Club baked treats for frontline workers, made a video explaining the importance of proper mask wearing and organized donations to the local food shelf. The group of seventh graders is currently working on a card campaign for local senior citizens, as well as the 2020-21 Good Citizen Challenge. Says team leader and parent Alice Scannell: "The great thing about this virtual lifestyle is, we can have a ton more kids join, and I don't have to worry about finding space!"
Embracing Outdoor Classrooms
Courtesy Of Sally Hayes
Brewster-Pierce Memorial School, Huntington
In early December, Westford School music teacher Becky Nowak posted a short video to Twitter showing her third-grade students playing "Hot Cross Buns" on recorders — outside.
Dressed in colorful ski jackets, snow pants and winter hats, the 13 students stand six feet apart in the snow-dusted woods, the school building visible in the background. Nowak narrates the performance. "This is what teaching music in the time of the pandemic is like," she says.
The music teacher is one of many Vermont educators who transitioned to teaching outdoors this school year to reduce the chance of spreading COVID-19. But the shift has also proven positive in other ways.
"My experiences teaching in the woods this fall have been some of the most magical teaching experiences of my career," wrote Jen Ellis, a second-grade teacher at Westford School. She has been taking her students to learn in an outdoor classroom every day — thanks, in part, to a supportive principal, she said.
Brewster-Pierce Memorial School principal Sally Hayes has championed the cause in Huntington. She said teachers have been using the 245-acre community forest adjacent to the pre-K-4 school for years. Right before the pandemic hit, she applied for a $50,000 grant from L.L.Bean and the Trust for Public Land to expand the school's existing outdoor education program.
The grant funding, which arrived this fall, was perfectly timed. Teachers in all subject areas have taken advantage of multiple outdoor learning spaces scattered around the school, Hayes said. In PE, students hike and play Frisbee golf. In Spanish, they sing songs outdoors. Even the guidance counselor has been holding his classes in a tin-roofed, timber-frame pavilion on campus.
"I feel like when teachers are given an opportunity to try something new, like being outside, it broadens their scope for how they offer instruction," Hayes said.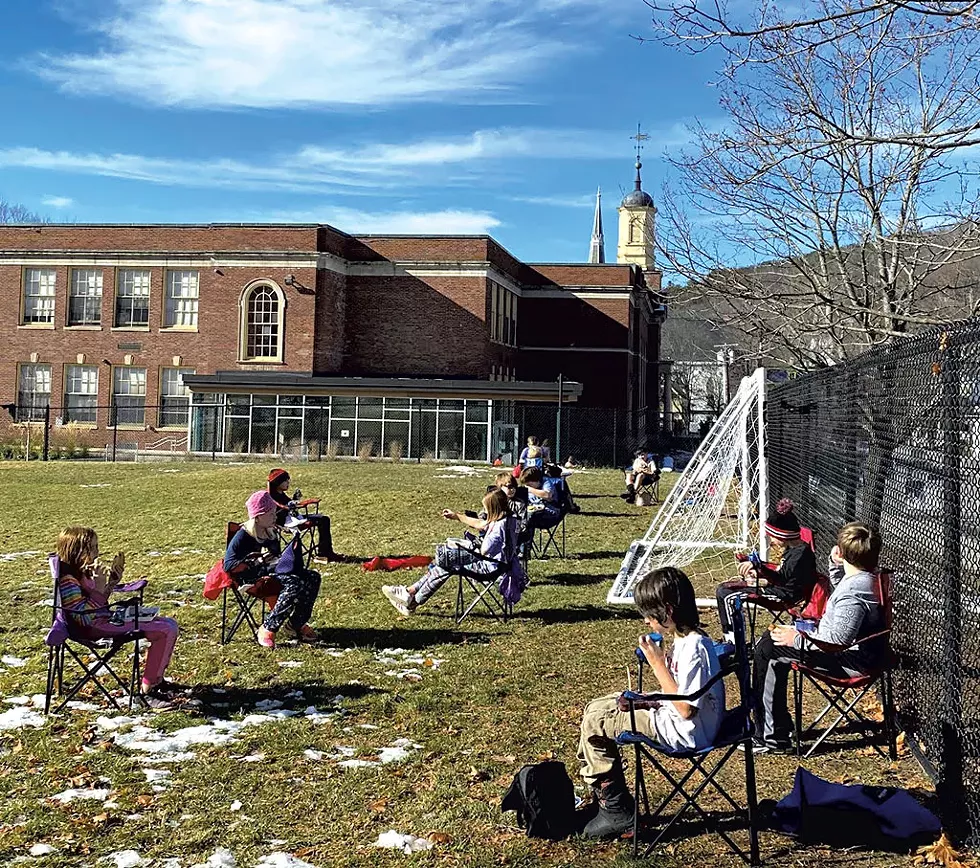 Courtesy Of Melissa Pierce
Union Elementary School, Montpelier
At Thetford Elementary School, also situated next to a forest, every class has its own outdoor classroom. Many were built this summer with the help of parent volunteers, said principal Chance Lindsley. This fall, one class even managed to procure two goats and build a pen, complete with a seesaw for the pair to play on. The teacher of the class has been in awe of the learning the project elicited, giving students the opportunity to do everything from measuring perimeter and area to making a budget, Lindsley said.
He anticipates that students will continue to go outside regularly through the winter. "They're getting incredibly resilient, and so are the teachers," Lindsley observed.
At Union Elementary School in Montpelier, first-grade teachers built five outdoor classrooms, and other classes have been visiting nearby parks and preserves, said fourth-grade teacher Melissa Pierce.
She and several colleagues used online platform DonorsChoose to crowdfund the purchase of camp chairs for their students this year. National Life Group bought chairs for all remaining classes.
Pierce is hopeful that outdoor learning is here to stay. "Kids really want to be outside," she said. And, usually, the ones who grump the most about bundling up to face the elements "are the ones who have the most fun."
— Alison Novak
---
Stuff to Do
File: Luke Awtry
Sunset Drive-In, Colchester
To make it through 2020, Vermonters have had to find new ways to pass the time. To help Seven Days readers rediscover the Green Mountain State, we created a feature called "Vermonting" and a monthly publication, Staytripper. Both focused on exciting in-state adventures. Staytripper originally was going to end in October, but we got such great feedback about it that it's now extended at least until spring. Here are a few things we hadn't planned on doing in 2020 but which turned out to be fun.
Instead of traveling around Vermont, Bernie Paquette and Maeve Kim have been exploring their hometown of Jericho. In April, the couple set out to walk all of the town's dirt roads. They've posted photos of their strolls and observations at jerichovermont.blogspot.com. Paquette has lived in Jericho for just five years, but Kim has been there since 1986. "This project just introduced me to my community in a whole new way," she said in a phone interview. Paquette described the importance of traveling familiar routes at a slower pace and meeting and talking with neighbors. "The more you observe," he said, "the more you realize what you're missing."
Many Vermonters streamed films and live music and theater performances for the first time this year — and, in some cases, that actually improved the experience. The Vermont International Film Festival offered online screenings of its films for the first time and got great feedback from attendees who appreciated being able to watch them at whatever time in the week was convenient. "I hate to say that having to become a virtual film organization is positive," wrote VTIFF executive director Orly Yadin. But, she said, future festivals will likely move to a hybrid in-person and virtual model.
Burlington's South End Arts + Business Association has long wanted to offer an e-commerce option for art sales, but it was hard to invest the time and money to make it happen — until COVID-19. Executive director Christy Mitchell said the organization "needed that push." SEABA broke sales records during this year's South End Art Hop, and is still selling local art online at seaba.com.
As Margot Harrison wrote in an August cover story: "After months of streaming movies from the couch, a stir-crazy nation rediscovered the drive-in." In addition to Vermont's three existing drive-in theaters in Colchester, Bethel and Fairlee, temporary outdoor screens popped up around the state over the summer, including in Barton, Lyndonville, Rutland and Stowe.
Seven Days staff writer Margaret Grayson appreciated having to rethink social plans: "This summer, my friends and I became regulars at local beaches and parks instead of bars — meaning we could cap off every hangout with a swim. Earlier, during lockdown, we also discovered the nerdy joy of solving crosswords together over Zoom."
Select Design isn't throwing its big holiday party this year; instead, the Burlington design firm has recruited local bands to play a livestream fundraiser on Friday, December 18, at selectdesign.com/2020. The event will benefit the Vermont National Guard Charitable Foundation, which supports families of Guard members during deployments. Viewers can tune in and "buy" a song from the bands to help determine the set list in real time.
Publisher and coeditor Paula Routly is grateful for mandatory changes to her exercise routine: "Swimming laps keeps me sane, but I don't like sharing a lane. To avoid it, pre-pandemic, I rarely ventured to the pool before 8 p.m., when most people are calling it a night. And when Vermont pools reopened in June, with a one-swimmer-per-lane rule, I was quietly, guiltily thrilled. The gyms also introduced online reservations. For a place in the pool, you to have to book a lane for a specific time three days in advance. I don't like getting up at 5 a.m. to sign up, but making that date gives me something to look forward to: an hourlong solo swim, in the daytime, with my thoughts — the best kind of isolation."
Walking Away
File Photos: Sally Pollak
Mount Independence
Late last winter, in the early days of the pandemic, the places in and around Burlington where my daughter and I walk our dogs started to become more crowded. That trend accelerated as the weather got warmer.
And why not? Walking is healthy, safe, accessible, free and easy. Walking outside is good for body and soul.
As our regular spots attracted more people, we began traveling farther afield. On weekends, I'd put the dogs in the car and drive to the Mad River Valley to walk in the lovely Warren Town Forest.
One day in mid-October, I went for a dirt-road ramble around Sodom Pond in Adamant. I hadn't gone far when I saw a man walking toward me, dressed in camouflage and carrying a rifle. As we approached each other, he told me it was the first day of waterfowl season.
"Are there a lot of hunters stalking the bush by the pond?" I asked him.
"No," he said. "You should be fine."
The finest times I've had since March have been outside taking walks, discovering or rediscovering the beauty and history of Vermont.
While reporting a "Vermonting" story, I walked on the interpretive trails at Mount Independence in Orwell. On July 28, 1776, on this site near the narrows of Lake Champlain, thousands of Continental Army troops assembled to hear a colonel read the Declaration of Independence.
At the Marsh-Billings-Rockefeller National Historical Park in Woodstock, I hiked up Mount Tom. The path cuts through one of the oldest planned and managed forests in the country, possibly the oldest. The pioneering land-stewardship project, which dates back to 1880, was initiated by a railroad magnate who grew up in Woodstock.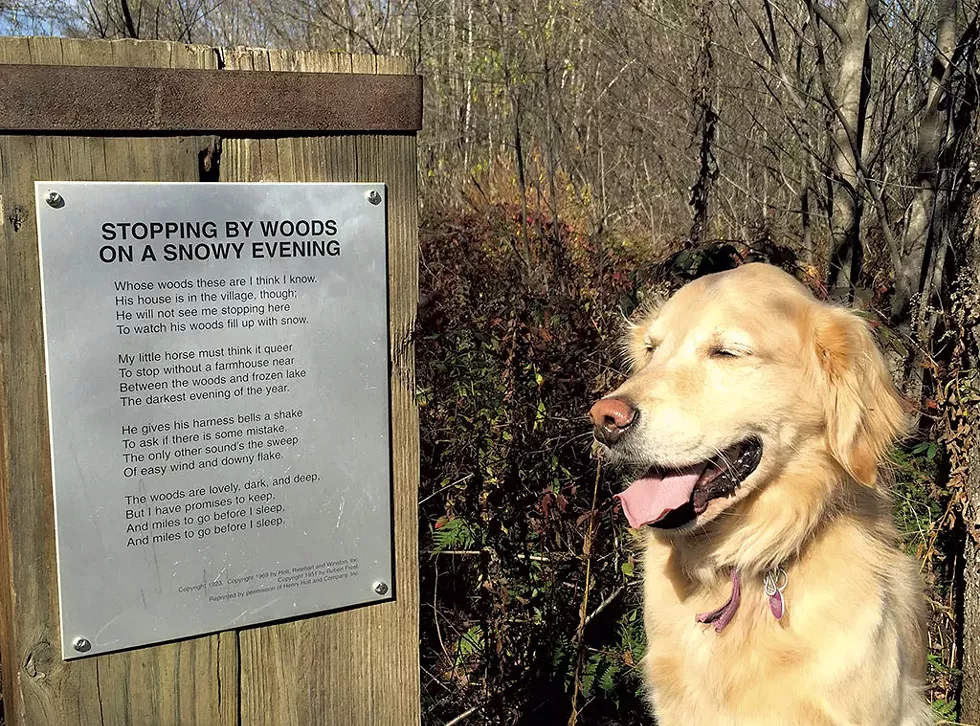 File Photos: Sally Pollak
Johnny at the Robert Frost Interpretive Trail
Perhaps the best place in Vermont to walk and learn something about the state is on the Robert Frost Interpretive Trail in Ripton. The one-mile path meanders through the woods, along a river and past a meadow. Posted along the route are Frost's poems.
The trail is "a treasure," according to Frost scholar Jay Parini, a professor of English and creative writing at Middlebury College.
"I've always said there is no better field guide to Vermont than The Collected Poems of Robert Frost," Parini wrote in an email to Seven Days. "He knew the trees, the flowers, the birds, the animals. He knew the seasons, which were imprinted on his soul. And there's a poem for every season and then some: He registers the gradations of each season with a brilliance not matched by any other poet. I walk this trail every year several times, in different seasons; it always speaks to me."
— Sally Pollak
Vermonters Are Buying Local
File: Luke Awtry
David Sisco at Designers' Circle & Vintage Jewelers
Many small businesses are struggling right now, especially hotels, restaurants and retailers. They generally have smaller profit margins and cash reserves than big corporations, which makes it harder for them to survive a downturn.
The Paycheck Protection Program funneled $1.2 billion to 12,000 Vermont businesses, including Seven Days. Other federal and state relief funds have helped, too.
Chambers of commerce, regional development corporations and downtown business associations have provided technical and promotional assistance. Seven Days has aided restaurants by creating Good To-Go Vermont, a directory of restaurants offering takeout service, and the Register, a directory of local retailers that offer online shopping.
But crucial financial support has also come from another source: loyal customers. People all across the state are acting to save the businesses they love and encouraging others to do the same. "We need to support and sustain our local economy, our friends and neighbors," Kat Patterson told Seven Days during the Gift Local Giveaway contest. "Gifting local keeps folks here in business. I feel that there has never been a better time to buy as local as you can whenever possible!"
The state has encouraged this trend through its Buy Local Vermont program, funded by $425,000 in CARES Act dollars, which gave Vermonters money to purchase items from approved local vendors. The Burlington Business Association has run #SaveLocalVT auctions to help downtown businesses.
And customer enthusiasm has been a theme of business stories in Seven Days since the start of the pandemic. Many of those featured have mentioned it.
In an October "Retail Therapy" column on Burlington boutique Designers' Circle & Vintage Jewelers, co-owner David Sisco told Seven Days he'd been hearing from customers wanting to buy something to give his 45-year-old store a boost. "This is the strength of a community," he said. "It was, wow, such a blessing that occurred."
'802 Nice' Guy
Courtesy
From left: Logan, Eric and Devin Axelrod
When Seven Days started the weekly "802 Much" column three years ago, we wanted to highlight fun and weird stories only found in Vermont. But by the middle of March 2020, there weren't many of those wacky stories to tell.
We quickly saw something else worth highlighting: neighbors helping neighbors with food, clothes, shelter, books and games — even providing moments of pure joy and human connection. The newly rechristened "802 Nice" covers "what's kind in Vermont" every week on page 5.
We've written about Wood for Good, a father-and-sons team in Jericho that collected firewood and donated it to people who needed help heating their homes; a Barre college student who spearheaded a donation drive of electronic devices that Vermonters could use for telehealth appointments; and a woman who recovered from COVID-19 and donated her plasma to help those battling severe infections.
These stories are everywhere in our community.
Each week, when I set up interviews for the piece, I tell the subjects how much I look forward to the chance to discuss something happy when so much of the news is grim. They often say they feel the same. We talk, laugh and sometimes even cry during conversations that go on for much longer than we expected.
It brightens my day when a source writes a note of appreciation for the work we do. The steering committee of 100 Women Who Care Chittenden County let us know that their membership doubled in the weeks after we covered the organization's unique method of donating to nonprofits.
"Because of 7 Days and its credibility we received many new members who were delighted to join our small but mighty group," they wrote, adding, "You are the rock of our community."
Not hard to be nice, is it?
— Sasha Goldstein
Find previous "802 Nice" stories at sevendaysvt.com/802nice and email story ideas to sasha@sevendaysvt.com.
A+ Adaptations
Vermonters were forced to make many changes this year. Here are a few we'd like to keep.
Cocktails to-go: Memo to the Scott administration: Make this change permanent, please.
Flexibility to work from home: Many of us who are lucky enough to work from home miss our coworkers and a dedicated workspace but love the chance to spend more time with our families — when we want to.
More mail-in voting: Vermont had a record voter turnout — and few glitches — in both the primary and general elections this year. Good news for democracy.
Telehealth appointments: Virtual face time with the doctor is much more convenient, and sometimes it's all you need.
A virtual option for those who can't attend meetings in person: This helps make meetings more accessible for people with disabilities and those who live far away or lack transportation. We've shown we can do it; now let's keep doing it.
People moving to Vermont from other states: Keep 'em coming. Take that, shrinking population and aging demographic!
Homemade sourdough bread: Labor-intensive but totally worth it. Love listening to it crackle when it comes out of the oven.
Want More Upbeat News?
Check out St. Albans-based website Ever Widening Circles, which promises "good news, no politics and a better life online."
Get uplifting links, poems and nature photos from Gaye Symington, former speaker of the Vermont House of Representatives and Democratic candidate for governor — and current president of the High Meadows Fund — by subscribing to her Morning Messages emails at stayingconnectedwhiledistancing.org.
See photos of local holiday light displays by searching the hashtag #VTLightsTheWay on social media, and submit your own stories of random acts of kindness at governor.vermont.gov/rays-of-kindness.