Courtesy Of Chris Goeppner
Riverbank Church
Diarra Raymond is 21 and deeply Christian, with short pink-and-gold ombré hair and an almost inaudible voice. She recently moved to South Royalton from Denton, Texas, in the Dallas-Fort Worth megalopolis, to start her first year at Vermont Law School.
Before Raymond left Texas, she did what any devout Christian would do: She prayed about which church she should attend in her new home state. One day, as she was singing in her choir in Denton, a word in the hymn made her pause: "cornerstone." She did some internet sleuthing, and lo and behold, there was a Cornerstone Church in South Royalton, just a few miles from the law school.
Why might a devout Christian from Texas choose to attend Vermont Law School? Funny you should ask: One day in October 2018, a month before she took the LSAT, Raymond was sitting in her room at Texas Woman's University when, unbidden, the phrase "Vermont Law School" bubbled up in her brain.
Raymond knew the Holy Spirit was speaking to her. "I had never even heard of Vermont Law School, so I looked it up online to make sure it was a real place," she said. "And then I was like, 'OK, God, I guess that's where you want me to go.'"
Over the next six months, Raymond grappled with bouts of uncertainty, which were always soothed by apparent gestures of cosmic reassurance — a random mention of Vermont, a stumbled-upon Bible verse reminding her to surrender her anxieties to God. Her family urged her to have a backup school in case she didn't get in, but Raymond didn't apply anywhere else: "It was as if God was telling me that whole time, 'Is it really so bad to put all your eggs in one basket if it's my basket?'"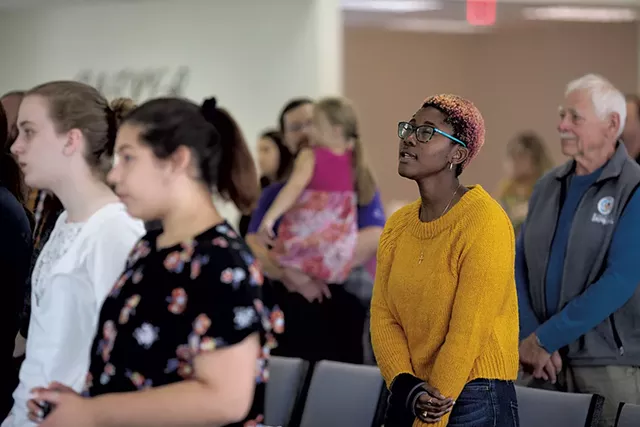 Ben Deflorio
Diarra Raymond
The Jesus who cares about where you go to law school is the Jesus that Cornerstone Church wants people to know. From the outside, Cornerstone doesn't look remotely churchy, at least not in the traditional, white-steepled New England sense. The building, located on a mostly commercial stretch of Route 107, formerly housed a power and telephone supply company; it could be anywhere or nowhere. The logo isn't a cross, or a fish, or any of the symbols associated with Christianity, but the shape of Vermont. The visual messaging is subtle, but the subliminal effect is profound: This is a place that wants you to forget everything you thought you knew about what going to church is like.
Eighty-two-year-old Neal Fox, who lives in Bethel, has been going to Cornerstone every Sunday since it opened on Easter 2017. He'd sort of gone to church before, in the way that a lot of people sort of floss, but he found those churches lifeless and uninspiring, more preoccupied with the correct preparation of squash for potluck dinners than the ultimate meaning of life. At Cornerstone, Fox said, he felt a genuine warmth and openness he hadn't encountered anywhere else, which he attributes to Marty Bascom, Cornerstone's pastor.
Bascom grew up in Springfield, the son of a dairy farmer from New Hampshire and a coal miner's daughter from central Kentucky. A boyish-looking 46, he delivers his sermons in khakis and plaid button-downs. He's an everyman, the kind of guy who spent his teenage years carousing on back roads in a pickup truck. He likes Jim Gaffigan and Chris Farley; he sometimes watches wrestling videos on YouTube late at night.
Bascom loves Vermont, and it breaks his heart to see so many people living without the hope that, he believes, only Jesus can offer.
"We're all looking for refuge and hope," he said. "I'm not trying to be doom and gloom, but hopelessness is more pervasive than ever. I think the church has the greatest message, which is that hope is found in Christ. I know not everybody believes that, but that's what I want to give my life to, and I want to share it with as many people as possible."
Ben Deflorio
Neal Fox
Cornerstone is one of a growing number of new evangelical churches in Vermont seeking to reach the state's spiritually homeless multitudes. "Evangelical" stems from the Greek word euangelion, meaning "good news" — a reference to the belief that the death of Jesus Christ offered humanity a means of salvation from sin. Evangelicals are by no means a monolithic group, but those who profess to be evangelical — about a quarter of the U.S. population, according to the Pew Research Center's 2014 Religious Landscape Study — tend to believe that the Bible is the literal word of God, and that only those who follow Jesus can be saved from eternal punishment.
That same Pew study found that 11 percent of Vermonters attend evangelical churches, a category that includes more than 10 Protestant denominations. Of these sects, Southern Baptists, in particular, have been quietly establishing, or "planting," new churches throughout Vermont — a practice that exists at the peculiar intersection of analytics-driven entrepreneurship and low-tech disciple-making.
Church planting is as old as Christianity itself; in the first century AD, the Apostle Paul traveled from city to city, preaching in public squares and assembling makeshift congregations in people's homes. In the two millennia since, evangelical church planting, especially in the Southern Baptist world, has evolved into a sophisticated apparatus, with a well-heeled bureaucracy and a vast network of spiritual and financial support in the form of the Southern Baptist Convention, which includes some 47,000 churches worldwide.
Over the past two decades, Southern evangelicals have become increasingly freaked out by the godlessness of New England, spawning a movement so big that parallel organizations have sprung up along its periphery. Phil Waldrep Ministries, a nonprofit based in Decatur, Ala., holds two all-expenses-paid retreats each year for pastors and their wives at luxury hotels around New England. Thomas Schwindling, the nonprofit's creative director, told me that the retreats are designed as vacations from the hardships of ministering in a gospel-resistant region: "We want to put them in hotels they dream of going to," he said. The most recent retreat, in early September, took place at the Equinox in Manchester; the program included a game show with a $5,000 jackpot. At one of last year's retreats, every attendee received a pair of L.L.Bean boots.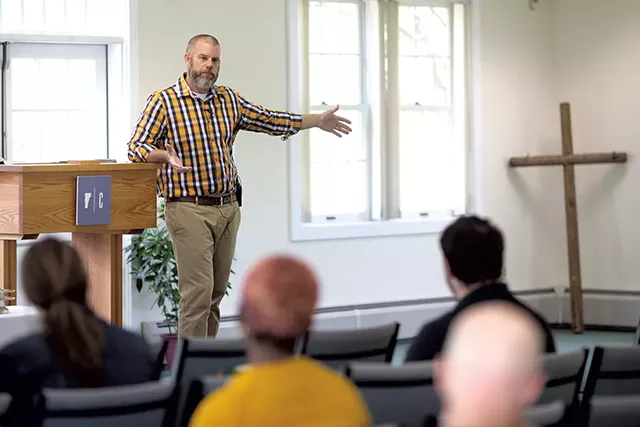 Ben Deflorio
Cornerstone Church Pastor Marty Bascom
If New England as a whole needs religious defibrillation, Vermont would seem to represent the extreme case. The state has earned the distinction of being the least religious in the country almost every year since Gallup began conducting its annual religious attitudes survey in 2008. (The one exception was 2015, when New Hampshire claimed victory by two points.) A 2018 article in the Biblical Recorder, a North Carolina evangelical newspaper, offered this bleak synopsis of Vermont's Jesus situation: "The state has proportionately fewer Bible-believing churches and Christians than any other state. Scores of villages in Vermont have had no Bible-believing [evangelical or fundamentalist] church for decades. Thousands of families have had no Christian members in five generations. Vermont is not just lost; it is hardcore lost and gospel-resistant."
Through a plexus of national and regional organizations, mission-minded evangelicals have been coming to Vermont to search for the chinks in its gospel-proof armor. According to the Baptist Convention of New England, one of the major evangelical Christian networks in the region, at least 28 Baptist-affiliated churches have launched in Vermont since 2011, more than double the number of churches planted in New Hampshire over that same period.
Twenty-eight new churches might not seem extraordinary, but in Vermont's religious landscape, even modest expansion is an anomaly: Many other major denominations in the state have seen worship spaces close and attendance decline or stagnate in recent years.
The rate at which many of these newly planted churches have grown is equally atypical. Riverbank Church in White River Junction, which started in 2010, now has more than 1,000 members between two campuses. Cornerstone routinely brings in as many as 70 worshippers each week; less than three miles away, the more theologically liberal United Church of Bethel averages just 35 people on any given Sunday.
David Jackson, who oversees church planting strategy for the Baptist Convention of New England, thinks these numbers signal a major shift in the state's spiritual constitution. "There seems to be something happening in Vermont, and I can't describe it just in physical terms," he said. "I think it's the work of God."
The Planter
In 2009, the Baptist Press, the official news service of the Southern Baptist Convention, ran a story titled "Vermont's 'Quiet Revival.'" The author, Terry Dorsett, now the executive director of the Baptist Convention of New England, trumpeted the slow but steady progress of the church-planting movement in his state: "In 1999 less than 600 people worshipped in a Vermont Southern Baptist church ... In 2008 that number had grown to nearly 1,900 ... Even many Vermonters don't realize just how rapid the growth of evangelicalism is escalating."
Dorsett is correct: The spread of evangelicalism in Vermont has attracted little attention outside Christian circles, which seems symptomatic of the state's general indifference to religion. But it hasn't gone entirely unnoticed. In 2012, Emily Heath, then the pastor of West Dover's United Church of Christ, one of the more socially progressive Protestant denominations, published a vitriolic open letter to evangelical Christians in the Huffington Post:
They've sent you, and a bunch of money, and told you to start new "evangelical churches." ... You quote statistics about the very few (usually only a few percentage points of the population) who are 'real Christians' here, and you bemoan our embrace of all people. And you will save us. You are going to save our souls and bring us Jesus. Except here's the thing: Jesus is already here. He has been for a very long time, and we already knew him, long before you came.
Despite these pockets of resistance, the missionaries have been going about their work. Among them is Lyandon Warren, who started coming to Vermont in 2003 on summer trips through his Southern Baptist church in Rutherfordton, N.C. Around that time, Warren attended a talk at Fruitland Baptist Bible Institute in Hendersonville, N.C., in which Dorsett made the case for ministering in Vermont.
Warren was sold. In 2006, he and his family moved to West Pawlet to start Mettowee Valley Church in the former United Church of West Pawlet, which had closed, like many of the state's small-town religious institutions, because of declining attendance.
Church planting is a bit like dating, except the goal is to woo the soul of an entire town. When Warren arrived, he immediately started "blessing the community," his evangelical way of saying that he became one of West Pawlet's most engaged citizens. He led afterschool homework and Bible study sessions for youth, spruced up local playgrounds, and served as a chaplain and volunteer for the town fire department.
When Mettowee Valley held its first service, in spring 2007, 35 people showed up; within a few years, its pews were filled with 50 to 80 people each Sunday. Five years later, Warren installed new leadership and left to plant another church, in Poultney. When the Poultney congregation reached the 100-member mark, Warren sent a contingent from that church to help shore up a plant in Castleton. In 2016, the Poultney and Castleton congregations merged into what is now Mission City Church in Rutland, which has 350 members and a satellite location in Bennington.
In 2012, Warren founded Vermont Church Planting, a support network for evangelical pastors seeking to put down roots in Vermont. A six-minute video on the organization's website opens with a "Game of Thrones"-esque shot of an old Vermont map, dotted with green-roofed Monopoly houses representing churches. The next frame shows a godless youth on a bicycle, hanging out in front of Ridin' High in Burlington. (He's wearing a backwards baseball cap, so you know he must be godless.) The message: If you feel the slightest inkling that Jesus might be calling you to start a church in Vermont, just do it.
Warren has a languorous drawl and a habit of speaking in gospel sound bites, peppered with the occasional MBA catchphrase. In early-stage church plants, he explained, pastors often work "bivocationally, because they gotta diversify their portfolio." Warren, who was a tool-and-die maker in a factory in Asheville, N.C., before he came to Vermont, has been filling in on dairy farms and making fly-fishing rods for Orvis to supplement his pastoral income.
From 2012 until the end of last month, when he took a job as an associate pastor in Whitehall, N.Y., Warren was also a "church-planting catalyst" — essentially, the man on the ground in Vermont for the Baptist Convention of New England. Part of his role entailed scouting a territory of 16 towns for signs that a community might be ripe for an evangelical church; the other part involved soliciting sponsorship for fledgling Vermont congregations from well-established evangelical churches, generally located in the Bible Belt.
The scouting part came easily to Warren. "I go into a store, and right away, I'll usually get some questions about my accent, where I'm from, what I'm doing here," he said. "I just tell people that I've come to New England to help people find hope, purpose and meaning in their lives through Jesus. I know it sounds strange, but I don't shy away from sharing that right out of the gate. I've been given a command from my Lord that I'm to make disciples of all people. That's why I live and breathe."
Warren's scouting approach is less random than it sounds. The 16-town focus area is at least partially determined by demographic studies, according to David Jackson at the Baptist Convention of New England, who declined to share the name of the market research company that conducts those surveys or the precise data points it collects. This year, Warren's turf included Poultney, Fair Haven, Fairfax, Newport, Derby, Morrisville and Richford. Four other towns in Warren's survey area this year — Topsham, Waitsfield, Plainfield and Williamstown — currently have church plants under way. The goal is always to multiply — churches, followers, pastoral leadership — so that each plant can effectively seed itself.
In the near future, Warren said, the Baptist Convention of New England aims to develop more churches in the greater Burlington area by cultivating a "leadership pipeline" of pastors in established plants, including Crosspoint Church and Christ Memorial Church in Williston and New King Church in South Burlington.
What's Warren's endgame? "Well, there are 251 towns in Vermont," he said. "We'd like to see a church in every one of them."
The Convert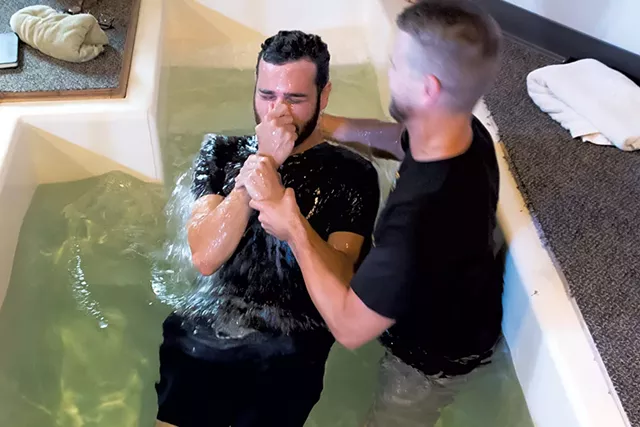 COURTESY OF NEW KING CHURCH
Baptism at New King Church
Any pastor at a new evangelical church will tell you that Sunday attendance is nice, but baptisms are the real currency of commitment. The baptismal apparatus at New King Church in South Burlington is a hot tub discreetly concealed beneath the stage floor. Somehow, this conveys the entire vibe of the place, which is equal parts young, fun and tasteful.
Each service begins with music — not traditional hymns, but rock ballads that sound like something you might hear at a decent open-mic night, if you ignore the fact that the lyrics are about freedom from condemnation. New King's performers look like hipsters in an indie-folk band; the Sunday I visited in early September, the guy playing guitar wore a beanie and skinny pants of indeterminate but very alt genus, and the girl on percussion sported ripped jeans and Birkenstocks.
About 140 people attend New King Church, and a shocking number of them, based on my quick eyeball survey, are years away from collecting Social Security. This statistical aberration — people under 40 are the least likely demographic to belong to a church, according to Pew — is at least partly due to Ben Presten, New King's pastor and de facto brand ambassador.
Presten, 36, is from Atlanta, and he has the blond coiffure of a Southern gentleman who knows exactly what you're supposed to do with pomade. His skin is poreless; his teeth are disconcertingly white. His sermons frequently use a biblical lens to address topics of millennial concern — burnout, technology-induced isolation, the virtues of software that limits your social media use. Sometimes, when he talks about these things, he wears chambray, which only enhances the message.
It was Presten's impeccable style that first caught Lucy Clark's eye. In October 2017, they happened to be seated side by side on a plane from Burlington to Philadelphia. Clark, who works at Charlotte-based EatingWell, was on her way to report a story on a farmer; Presten was heading to India for a church-planting conference. Clark complimented Presten on his leather wallet. The two started talking about Chip and Joanna Gaines, the Christian duo behind HGTV's enormously popular "Fixer Upper," whose white-shiplap-and-distressed-wood aesthetic has lately crept into practically every dish towel in Target's inventory.
At some point, Presten mentioned that he was the pastor of New King Church and asked Clark if she believed in God. Clark told him she did.
When I met Clark for our interview at Village Wine and Coffee in Shelburne, she gave me a giant hug, which, as I discovered while reporting this piece, is a thing that people who feel personally connected to Jesus often do. She told me she had always vaguely thought of herself as a Christian, but the label didn't mean much to her. She grew up in Northampton, Mass., where she and her family haphazardly attended various churches, mostly Episcopalian and Congregational. She doodled on a lot of worship bulletins. The most devout thing she did as a child was to pray for her stuffed animals before she went to bed.
After she graduated from college in 2013, Clark bounced around different publishing-industry jobs and internships before moving to Vermont, in 2015, to work for EatingWell. The transition was hard: She lived by herself in a room in North Ferrisburgh, and she didn't know anyone. When a coworker invited her to the Church at the Well, an evangelical congregation in Burlington, she figured she might make some friends. But things didn't quite pan out that way.
"I started going to find community, but I would always show up late and then leave right before social hour," Clark said. "It was weird." Something wasn't clicking. In hindsight, she now believes she was just going through the motions, waiting for something to jolt her out of complacency.
When she met Presten on the plane, a couple of years later, their encounter didn't register as especially portentous. Then, the shit started hitting the fan.
Around the time of the Philadelphia trip, Clark bought a condo in foreclosure in Hinesburg, high on Pinterest daydreams of "making it all Joanna Gaines." One night in January 2018, she returned home to find her boiler kaput. That same week, she got unsettling medical news, and her iPhone mysteriously stopped working. Phoneless, heatless and potentially facing a daunting health issue, Clark collapsed on the floor and sobbed, asking Jesus to help her.
What happened next might sound familiar, crazy, totally unremarkable or all of the above, depending on your degree of cynicism and how many recently professed Christians you know. After Clark spent three weeks surviving on space heaters and showering at Planet Fitness, a neighbor installed a new boiler for her on the cheap. Nationwide reimbursed her for the replacement boiler; on top of that, Vermont Gas gave her an energy-efficiency rebate, which she used to buy a new iPhone. Minutes after she activated the phone at the Verizon store, it rang with a call from her doctor, who had her test results: She was in the clear.
None of these occurrences felt remotely random to Clark. "I was like, Whoa. God is real. You can't tell me that wasn't God." In the days that followed, she recalled, she thought of her conversation with Presten on the plane. A month later, she decided to check out New King Church.
Back then, New King was meeting in a classroom at St. Joseph School in the Old North End, a former Catholic school that closed in 2010. The first Sunday that Clark attended a service, she was astounded, even perplexed, by how genuinely kind everyone seemed. "That's the thing about real Christians — they're so friendly!" she said. "It hurt my face to smile that much."
On a deeper level, she was beginning to feel something she'd never experienced before — a real, almost tangible connection with God. For her whole life, God had been an abstraction, an impersonal entity whose existence she'd assumed rather than perceived. Suddenly Clark found herself wanting to talk to him, to learn everything about him, as if he were a middle-school heartthrob who'd finally added her on instant messenger.
"When you're romantically interested in someone, you're so curious about them and ask them so many questions," she said. "I felt that way with God."
And God would answer. Once, while Clark was driving, she asked him why things happened in threes. She turned on the radio, and a pastor was on the air, explaining the phenomenon of things happening in threes. Another morning, when she woke up feeling unmotivated to go to work, she opened the Bible to a random page and lighted on Proverbs 26:13: "The lazy man says, 'There is a lion in the road! A fierce lion is in the streets!'" She started going to church every single week, filled with a new, strange energy.
Slowly, she began to change in bigger ways. Clark had been dating someone before she joined New King Church, but as her connection with God deepened, she and her partner, who wasn't a Christian, started to grow apart. The rift between what Clark felt Jesus was calling her to do and what she was actually doing became too much for her to bear. Finally, after three consecutive sermons in which Presten referred to ending a relationship — Clark insists he had no idea what was happening in her personal life — she broke up with her boyfriend.
"I was devastated," she said. "But I wanted to choose Jesus, because he'd saved me before." The night she called off her relationship — July 3, 2018 — she emailed Presten: "I've just given my life to Jesus. What do I do now?" A few weeks later, she wrote in her prayer journal that she wanted to be engaged by that time the following year.
That December, after New King moved into its current South Burlington location, Clark took the hot-tub plunge for Christ. (The water heater wasn't working on the day of her ceremony, so it was more of a tepid immersion.) Not long afterward, she started dating Luke Clark, who had moved up from Georgia to help out at New King. This past August, they got married. Presten, of course, officiated the ceremony.
The Outsider
James Buck
New King Church Pastor Ben Presten
There are probably a million levels to the experience of attending a worship service at an evangelical church plant as an outsider, but for simplicity's sake, I'll limit my analysis to two. The first layer is a baffling warm fuzziness, a disorienting feeling that everyone has been expecting you, and they're just so thrilled you came. People clasp your hand and look you in the eye, remember your name and use it frequently. If you're wired the way I am, you will start to feel a creeping sense of guilt, which will metastasize into a feature-length documentary of every single instance in your life when you were unfriendly to anyone, from stealing a crayon in kindergarten to forgetting to tip the barista the day before.
When the sermon starts, that guilt will deliver you to the second tier of the experience: a vertiginous sense of human fucked-upness, brought on by the relentless theological emphasis on sin. We are all very bad people in the eyes of the evangelical church, debased and debauched and irredeemable by any means except complete surrender to Jesus Christ, through whom we can attain the salvation we don't deserve. Then we have to follow a bunch of rules, or else we go to that supremely unfun place, hell.
Some of what the church considers sinful — say, premarital sex and using the Lord's name in vain — is mere day-to-day living for most people in modern America; to give up those things seems like a matter of willpower rather than a soul metamorphosis. Other sins feel more deeply inscribed. The evangelical belief in the incontrovertible authority of the Bible means that no matter how welcoming the people in church are, no matter how much they profess to embrace the broken and imperfect, as Jesus did, there are certain things that God can't abide. Being gay, or gender-nonconforming, is still one of them.
I grew up in a liberal Protestant church, the kind of institution that would be broadly considered "not Bible-believing" by southern evangelicals. Two of my congregation's pastors were lesbian. The first time I went to Catholic mass with a friend in elementary school, I remember being confused about why there were no women with short gray hair in clerical robes. (I also identify as queer, and being around a bunch of happy, nice Christians whose belief system precludes me from entering their idea of heaven made for some existentially bizarre moments.)
Even in a place as progressive as Burlington, Presten holds fast to the notion that to follow Jesus and avoid damnation, we must give up every kind of sin, including the alleged sin of engaging in relationships that aren't strictly, binarily heterosexual.
The Bible, in Presten's view, accords nonheterosexuality the same weight as watching pornography, committing adultery or any other carnal transgression. That people generally experience their sexual and gender orientation as intrinsic to their identity, as opposed to a behavioral tendency or an addiction, doesn't change his view of the issue. He believes the things we view as integral to our sense of self are, in fact, constructs that alienate us from God.
"The message of the Bible is at odds with all of our identities," Presten said. "I don't look at people in a liberal city and think that they're going to be more at odds with the Bible. I think that helps make New King hospitable — every person here knows that we're all at odds with the Bible. I don't look at anybody and think it's 'us and them,' because we're all sinners. We all have identities that we've created for ourselves apart from God, and if we're not willing to lay those down in order to take up the identity he gives us as his child — whether you're a successful businessperson, or whatever that identity is — we will not enter the kingdom of heaven.
"Jesus asks us to give up really hard things," he continued. "The call to follow him is basically the call to die. And dying is never easy."
In this particular brand of Christianity, the metaphorical death of your earthly self is the price of guaranteed, albeit deferred, relief from the human condition. To people who feel adrift, captive to the worst versions of themselves, that can sound like a pretty great deal.
Jay Parini, a professor of English and creative writing at Middlebury College and an expert on Christianity, affirms that the appeal of the evangelical tradition lies partly in its absolutism. "If anyone is drawn to this, it's probably because their life is chaotic, and they're looking for an organizing principle," he said. "The downside is that it's very literal and safe. It reassures you that you're going to have eternal life — sign on the dotted line, and bingo, you're in heaven. But the upside is that they're good people, and a real sense of community evolves. We are a very secular state, and I think people are desperate for a spiritual experience of some kind — and for community."
Before 23-year-old Caroline Trevarrow became a member of New King Church in February 2018, she went through a period of what the evangelical church would call "acute lostness." Trevarrow grew up attending a United Church of Christ church in Ipswich, Mass., but religion wasn't a significant part of her life. Then she went to the University of Vermont, where she did what a lot of UVM students do: smoke weed, drink, party, smoke more weed. She dated women and practiced yoga. She was, in sum, maybe the least likely candidate to join an evangelical Christian church.
But underneath it all, Trevarrow struggled with intense depression and anxiety, and the weed was a coping mechanism. In the fall of her senior year, she decided to take a hiatus from sex, because she felt it was destroying her relationships. One night not long after she made that vow to herself, she went home, drunk, with a woman she knew. The woman became sexually aggressive and ignored Trevarrow's pleas for her to stop; the next day, Trevarrow said, her face was so swollen and covered in bite marks that she couldn't go out in public.
The assault plunged her even deeper into depression. Trevarrow began reciting the Lord's Prayer several times a week, grasping for anything that might bring her solace. Over winter break that year, a friend invited her along on an InterVarsity Christian Fellowship hurricane relief trip to Texas. Trevarrow went, mainly because she wanted to hang out with her friend. The experience wasn't entirely comfortable: "It was anxiety-provoking for me to spend that much time with Christians," she said.
On that trip, she met Luke Clark's brother, Aaron, who serves on the leadership team at New King Church. The two kept in touch, and he eventually suggested that Trevarrow attend a worship service. Trevarrow agreed, but the night before, she got cold feet and canceled. The next morning, Aaron showed up at her house and offered her a ride to New King. Reluctantly, she got into his car.
At first, Trevarrow felt out of her element. "But in reality," she said, "people were kind and wanted to know me."
She spent the next few months going to New King on Sundays, studying the Bible on her own and wrestling with the idea of being a Christian. The Prestens lived down the street from her in the Old North End, and Trevarrow sometimes hung out at the neighborhood park with Ben's wife, Tiffany. The two would have long, intense conversations about faith and God and what it all meant.
Trevarrow thought it was weird. She said her friends thought it was weird, too; as Trevarrow put it, "I was a 21-year-old stoner, hanging out with a pastor's wife. I guess you could say I was having an identity crisis."
In June 2018, she decided to get baptized. Since then, she hasn't dated women — "but my dating life in general looks different," she said. "Do I think that you can have a same-sex relationship and love God? Yes. Is that what the Bible says? No. But a relationship with God is so much bigger than any romantic relationship. I am so relieved that sex is not an important part of my life anymore, because I can have deep connections with people without complicating them."
Trevarrow acknowledged that her friends have had a hard time understanding her transformation. "They feel like I'm killing a part of myself," she said. "But I don't feel like I'm killing a part of myself."
The New Church in Town
Jeb Wallace-brodeur
New Creation Fellowship founders Bill and Jan Smith
Even in a town as small as Chelsea, a new church can hide in plain sight. Tracy Penfield, founder and director of the nonprofit SafeArt, looked a bit stunned when I told her there was an evangelical church across the street from her office, led by a couple who had moved up to Chelsea from Texas. That church, New Creation Fellowship, took up residence in 2016 in what used to be the Chelsea Country Store, across the town green from the 200-year-old United Church of Chelsea, designed by Asher Benjamin.
"I'm not a church person at all, so I haven't really been paying attention," Penfield said. "But I guess it's better for the town to have something there than nothing at all."
Penfield told me she also hasn't had anything to do with the United Church of Chelsea, which is a stone's throw from SafeArt — not for any particular reason, but because she doesn't go to church, and it's easier to keep not going to church.
Penfield's attitude represents precisely the kind of firewall against religion that Bill and Jan Smith, the founders of New Creation Fellowship, seek to dismantle.
The couple came to Vermont from Breckenridge, Texas, where Bill was an associate pastor at a Southern Baptist church. The Smiths, who are both in their early sixties and, it must be said, would make a superb Santa and Mrs. Claus, were aware of the evangelical focus on New England. They had been to Vermont several times on mission trips, but they never thought they'd plant a church of their own until Bill attended a 2013 conference at Prestonwood Baptist Church in Plano, Texas. (Prestonwood's pastor, Jack Graham, was a member of Donald Trump's Evangelical Executive Advisory Board during his 2016 campaign for president.) At the conference, Smith said, he knew that God was calling him to New England, and Vermont was percolating in his mind.
Later that year, the Smiths went north for a location-scouting trip. During that visit, they met with Lyandon Warren at a Ninety Nine Restaurant & Pub in West Lebanon, N.H. Warren, in typical fashion, asked their waiter if he needed prayer; over the course of their conversation, the waiter mentioned that he had gone to high school in Chelsea.
That afternoon, Smith said, the couple's GPS routed them through Chelsea on the way to their host's place in Washington. (There's a through-line in most of the stories you hear about how Christians became Christians, or about how church planters ended up where they ended up, which often comes down to a certain reverence for metaphor in real life.) It was a gorgeous late September afternoon, and the Chelsea Farmers Market was happening on the green, and everything was so perfect and Norman Rockwell that the Smiths decided they had to stay.
In May 2014, they relocated to Vermont, sponsored by funds from their church in Texas and the North American Mission Board, which works with the Baptist Convention of New England to aid regional missionary efforts. Smith said those donations amounted to about $36,000, or roughly half of what they needed to get going.
To support themselves, the Smiths got jobs in the Chelsea school system — Bill as a bus driver and substitute middle and high school teacher, Jan as a substitute in the elementary school. Bill organized a Bible study group, which met weekly in a one-bedroom efficiency above the now-shuttered Dixie's II restaurant. Gradually, they gathered enough interest to hold Sunday evening services in the diner.
Jeb Wallace-Brodeur
New Creation Fellowship
In 2016, the Smiths began renting the former Chelsea Country Store, which had closed two years before. Now the church owns the building; on Sundays, the Smiths usually see 30 to 40 people, although attendance sometimes spikes above 50.
New Creation Fellowship isn't the only religious body in Chelsea that has grown over the past few years. Errol Hinton, who preaches both a United Church of Christ and a Pentecostal service — odd theological bedfellows, he admits — in the historic Chelsea church, said attendance has risen at both of his congregations since the Smiths arrived.
"It's crazy, really," Hinton said. "Two of the most conservative churches in America" — meaning the Pentecostal church, another evangelical denomination, and the Southern Baptist Church — "seem to be doing as well as, if not better than, the more liberal churches in the Chelsea area." Before Hinton assumed the pastorship at the United Church of Chelsea last year, he said, the typical Sunday turnout was often fewer than 10 people. Now, he gets 30 to 40 worshippers each week at both services.
Could this be an example of the rising-tide-lifts-all-boats phenomenon? Hinton thinks yes, probably. But in Chelsea, the increase in church attendance might also be a manifestation of a different, but related, phenomenon — an acute need for a community gathering place, which is itself a spiritual hunger.
In the years since the Smiths arrived, Chelsea lost both its local high school, where people once came out for athletic events, and its country store, a sort of railway depot for the spontaneous interactions that offer an antidote to isolation. In the absence of those touchstones, a church can provide a reliable, consistent backdrop for human connection. When the message is about love and salvation, there seems to be little downside to showing up.
Hinton has another theory about the appeal of evangelical churches: a long-standing schism in the state's identity. He sees tendencies that undercut Vermont's hyper-mediated public image as a uniformly liberal place — the home of Sen. Bernie Sanders (I-Vt.) and the first state in the union to legalize gay marriage through its legislature.
"I think Vermont is a little more conservative than people let on," Hinton said. "We have a Republican governor not because he's a Republican, but because he's honest and consistent." And consistency, he believes, is what draws people to a theologically conservative, fundamentalist church.
Like all of the church planters I interviewed, Smith said he doesn't use his pulpit as a soapbox for discussing politics. That seems like good business sense in Vermont, where Trump captured less than a third of the vote. On the national level, evangelism and Trump support have become inextricably linked: In the 2016 presidential election, according to the Public Religion Research Institute, four out of five white evangelical voters cast their ballots for Trump.
Smith noted that even as he's witnessed growing receptivity to the evangelical message, he's also seen mounting backlash, specifically around doctrinal beliefs regarding abortion. He cited the presence of pro-choice protesters at the Rally for Life in Montpelier last January, when several hundred anti-abortion activists marched in opposition to the Vermont legislature's introduction of a bill that would recognize reproductive choice as a fundamental right.
"People have the right to protest, but we also have the right to express what we believe the scripture says when Psalm 139 tells us about how God created us uniquely and formed us in the womb, from the very beginning, with a purpose and with a plan," Smith said. "And so when man chooses to end that purpose and that plan, we feel very strongly about that."
It's funny, Penfield told me, but she just can't see herself going across the street to knock on New Creation Fellowship's door.
"Many people in this town have different political views than I do. How many conservatives have I sought out? None. That's what we're supposed to be doing, as a country, and I haven't done it," she said. "I believe what I believe. I guess I just don't want anyone telling me to change."
The Creamsicle Fortress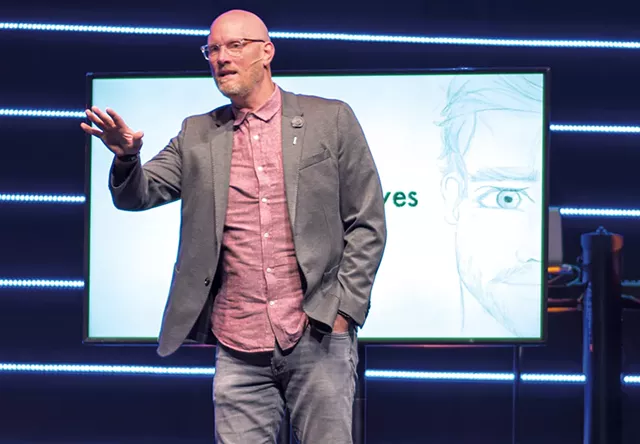 Courtesy Of Chris Goeppner
Riverbank Church Pastor Chris Goeppner
Patricia Hart, the new interim minister of the First Unitarian Universalist Society of Burlington, thinks the evangelicals are on to something. Hart has been in Vermont only a few months, but she wasn't surprised to learn that church planters have been finding an audience here, particularly among the millennial and Gen Z crowd.
"If you walk into a religious community where people are really happy to see you, and they're filled with peace and joy and love, why would you not want to spend time there?" she said. "Younger people care more about the authenticity of the experience than about all the specific ideas. And since religion hasn't already been a powerful force in this state, that makes their job easier." The less ecclesiastical baggage people carry, in other words, the easier it is to get them into a church.
As technology has flooded even the most private corners of our psyches with a barrage of dead-end stimuli and upsetting news, religion can offer both a sanctuary and a sense of permanence, no more or less unreal than the countless virtually mapped spaces we already inhabit. In its best iteration, a church can also provide a conduit for moral outrage, a structure to effect change. The Unitarian Universalist congregation that Hart previously led, in an affluent, predominantly white Cleveland suburb, grew by almost 60 people after the 2016 election.
But, while political realities might move certain liberal subsets of the population to join progressive, action-oriented faith groups, those denominations don't typically go out and canvass for new members.
"We've been working for many years to hide our light under a bushel, which makes it really hard for people to find us," Hart said, borrowing a phrase from the Sermon on the Mount, in which Jesus instructed his disciples not to conceal their faith.
Evangelical Christians, by definition, want the world to know what they stand for. Most missionaries go about it fairly quietly, proselytizing one-on-one in chance encounters at coffee shops and other equalizing spaces. Riverbank Church in White River Junction, on the other hand, announces itself by means of a 20-foot-tall orange air puppet on the side of the road.
Riverbank, which launched less than 10 years ago, has more than 800 regular attendees. Every aspect of its existence is engineered to circumvent any potentially negative associations with church: The worship services have been rebranded as "experiences," the congregation as "community."
The building, a former Holiday Inn, has a light gray façade with Creamsicle-colored accents; according to Riverbank's pastor, Chris Goeppner, a marketing team picked that shade of orange to convey fun, excitement and warmth. The pavilion by the entrance is strung with festive outdoor lights, like a cool microbrewery or the office of a tech startup with a free kombucha happy hour.
These aesthetic choices, Goeppner explained, are merely good financial stewardship: "What if, in 10 years, we grow to the point we have to sell? Anybody can buy it — a car dealership, a bank." Riverbank is fundraising to build an addition for a larger auditorium, he noted, because current attendance levels are pushing the limits of the 400-seat space. He wouldn't say how much that project might cost, except that it's "over a million dollars" and will be funded entirely by donations from church members.
When I pulled up to Riverbank one Sunday morning in early September, the main lot was already full, even though the service — excuse me, experience — wasn't starting for another half hour. An attendant in a Creamsicle T-shirt waved me into an overflow parking area near a fabric store.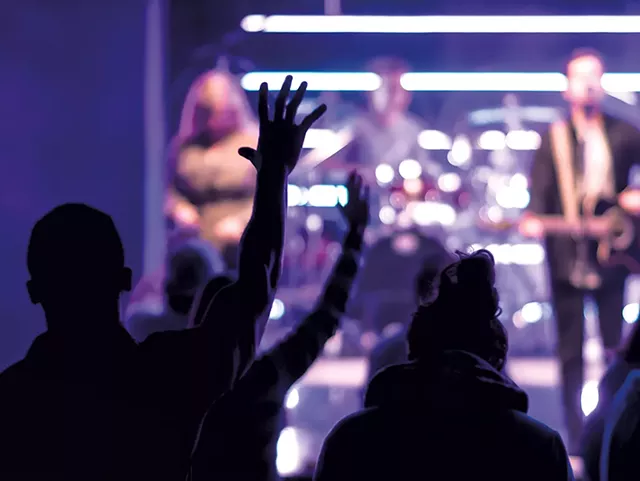 Courtesy Of Chris Goeppner
Riverbank Church
I attached myself to a small throng walking toward the front doors, hoping to slip unnoticed past the greeters. No dice. If anyone deserves a free kombucha, it's the dude who somehow identified me as a newcomer, despite the literally 800 people who go to this church.
The greeter directed me to the first-time visitor tent, where a torrentially nice man named Bob Partridge offered me a choice of two welcome gifts: an orange ceramic Riverbank-branded mug or a beige canvas Riverbank-branded tote. I opted for the mug, which came with a bonus giveaway: earplugs. "People don't realize it can get pretty loud in there," Partridge said with a chuckle.
Swag in hand, I meandered into the café-slash-bookshop off the foyer, where I perused the titles available for purchase: Vice Grip: A Woman's Look at the Seven Deadly Sins, The Total Money Makeover: A Proven Plan for Financial Fitness, The Battle for Eve: Biblical Combat Training for Women in Spiritual Warfare. At some point, I realized that I was being filmed by a bearded millennial with a handheld camera. When I asked him, nicely, what the hell he was doing, he informed me that he was Riverbank's staff videographer, on the prowl for future promotional content.
I could feel the experience vibrating through the floor before I even entered the auditorium. Inside, an actual rock concert was happening. People of all ages bobbed up and down, eyes closed, hands raised heavenward. Onstage, a woman with long red hair pranced around, belting out lyrics that rhymed words like "celebration" and "condemnation" over orgasmically intense guitar riffs. It was 9:07 a.m. I felt inexplicably hungover.
That morning, I planned to be in Chelsea to attend a service at New Creation Fellowship, so I snuck out a few minutes before the start of the "message," not to be confused with a sermon. I'd exited the church and made it halfway across the parking lot when another guy in a Creamsicle T-shirt flagged me down.
"Hey!" he called, jogging in my direction. "Is everything OK? Do you need to talk?"
I told him that everything was fine, but I had somewhere else to be.
"OK, just making sure," he said. "I know it can get pretty intense in there. If you're going through a rough time, it can be kind of emotional."
I thanked him for his concern and walked back to my car. As I drove away, I caught one final glimpse of that big-ass air puppet, flailing in ecstasy.