According to Middlebury College student Mohammed Babeker, "In Sudan, we idealize the democracy of the U.S., the freedom of speech in America." But for several days recently, the Sudanese national said, he found himself afraid to share his thoughts publicly. The reason: On January 27, President Donald Trump signed an executive order that closed the U.S. to refugees and nationals of seven predominantly Muslim countries, including Babeker's.
With one stroke of the pen, tens of thousands of lives were disrupted. They included those of refugees seeking a new beginning in the U.S. and academics returning from visiting their families abroad. The State Department estimated that as many as 60,000 visas were revoked; the Justice Department put the number at 100,000.
On February 3, U.S. District Judge James Robart in Seattle, Wash., blocked Trump's temporary order and lifted the ban nationwide. Refugee resettlement agencies rushed to rebook flights for families and individuals cleared to be resettled in the U.S., including some bound for the Green Mountain State.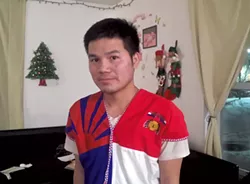 Although the U.S. Court of Appeals for the Ninth Circuit upheld Robart's ruling on February 9, uncertainty and anxiety persist. Former refugees and current Vermont residents Abshiro Ali and Ni Doh Htoo, whose spouses remain in refugee camps, are desperate to get them to the U.S. For his part, Babeker said he won't leave the country to visit his family, even if the ban is lifted. He doesn't want to take any chances.
Amid these stories of separation, one refugee family recently found a happy ending: Seven Days watched as Santa Rai's family welcomed his sister and her children at Burlington International Airport last Saturday.
These Vermonters shared their stories with Seven Days.
Uncertain Wait
Abshiro Ali, 23, calls her 7-month-old daughter, Yasmin, the spitting image of her husband, Ali Ali. He gave Yasmin her name. But the child and her father have never met, and Abshiro fears they never will.
Two months after the Somali couple married at Dadaab refugee camp in Kenya, they had to part ways. In October 2015, six weeks pregnant, Abshiro joined her family as they left to resettle in Vermont. It was too good an opportunity to lose, but because her family had applied for resettlement prior to the marriage, Ali couldn't accompany his wife. The pair promised to call each other every day.
Newly arrived in Vermont, Abshiro filed a petition for Ali to join her through a family reunification program. After Yasmin's birth, occupancy restrictions at her family's apartment forced Abshiro to move into a COTS family shelter.
Now, however, she has her own place, which she has been preparing for Ali's arrival. All she needs is a bed. For now, Abshiro sleeps on a twin mattress on the floor. She's looking for a job and learning to drive.
Ali, 24, was scheduled to meet with U.S. Citizenship and Immigration Services officials in Nairobi in early March. Abshiro hoped they would be reunited in Vermont by June.
After the executive order, however, Ali's meeting was canceled, and it's unclear whether his appointment will be rescheduled. Abshiro said her husband recounts his sleepless nights to her. "Yasmin needs to see her father," she said. "I miss my husband ... [It's] sad to be a single mum."
Like Abshiro, Ni Doh Htoo is waiting for his spouse to join him in Vermont. The 27-year-old Burmese man resettled in the U.S. in 2013. He returned to his refugee camp in Thailand last year to get married, and he wants to visit his wife, Paw, in April. But he's anxious about her application and fearful that he'll be denied reentry into the U.S., where he has a green card but is not yet a citizen.
"This new president will decide not to take immigrants anymore ... I worry," said Ni Doh Htoo through an interpreter.
Like many of his fellow Burmese, Ni Doh Htoo is concerned that he may not be able to contact an immigration lawyer if he's detained at the airport. He's only taken English lessons for a year and still faces a formidable language barrier. "I want to go [for more lessons]," he said, "but if I don't work, how am I going to live?"
Ni Doh Htoo's jobs at the Farmhouse Tap & Grill and Tiny Thai Restaurant keep him busy, making it difficult for him to place calls and inquire about his wife's application during business hours. That causes him stress, he said, while his wife faces a crushing lack of opportunities in the refugee camp. "No job. She wants to go to English class [in the U.S.]," Ni Doh Htoo explained. He calls her every week.
To critics of the resettlement program, Ni Doh Htoo had this to say: "Don't look down on refugees, because we're humans, too. And we should be treated like everyone else. We all work hard."
Staying in School
Sudanese student Mohammed Babeker's country is one of seven whose nationals the executive order prevented from entering the U.S. Since the ban's initial imposition, he said, the massive outpouring of support from its opponents has given him hope and made him feel more optimistic.
"The rejection of this order by a big number of people made me really happy," said Babeker.
Now 20, Babeker left his family home in Khartoum four years ago to attend boarding school in India. He graduated with an international baccalaureate diploma. He's currently a sophomore at Middlebury, where he plans to double-major in economics and computer science.
Even before the travel ban was inked, Babeker read a draft of the executive order, which became available on the internet after it was leaked to several news organizations. "I was very concerned and tried to reach out to as many legal people as I know, including the [International Student and Scholars Services]," he said.
His parents have assured him they aren't concerned about the travel ban. But Babeker thinks they're "hiding their worry," he said. And for now, they've postponed plans to visit him in Vermont. It would have been their first time in the U.S, he said.
Even if the executive order is permanently repealed, Babeker said, he'll stay in the U.S. until he completes his education.
"I'm too skeptical ... I don't want to risk it," he said. "My future is here."
Safe Landing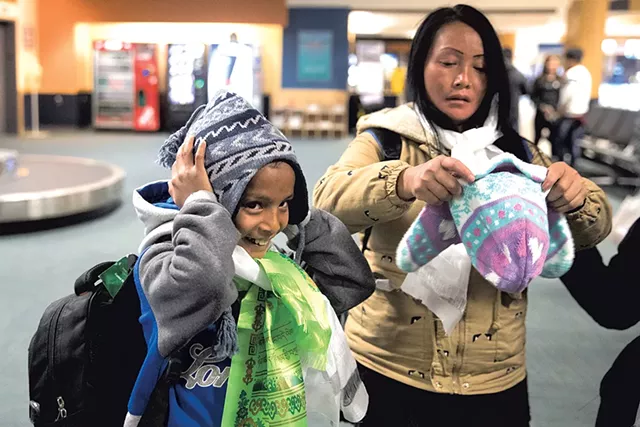 James Buck
Binod Sharma and Ganga Maya Rai trying on their new winter hats
When Santa Rai left his refugee camp in Nepal in 2008, he was the first member of his Bhutanese family to be resettled in the U.S. "There was no one to welcome me [at the airport] when I first came," he recalled.
Fast-forward to 2017. Last Saturday, Santa, 42, and his younger brother, Laxman, 34, came to Burlington International Airport to welcome their youngest sister, Ganga Maya Rai, and her two children. The brothers carried a big bag stuffed with jackets, gloves and hats.
"I am thinking that they may feel very cold because they have never been in cold, snowing places," Santa explained.
The bag also contained several pieces of khata, ceremonial scarves intended to bring the recipients good luck, which the family had bought from local Nepali markets.
Ganga Maya and her 9-year-old son and 7-year-old daughter had been scheduled to arrive on February 7, but their travel plans were canceled after Trump's executive order was signed. When the travel ban was suspended, they were rebooked on new flights.
Santa's elderly parents waited at his house in Winooski for the reunion with Ganga Maya, whom they hadn't seen in five years. They were "so excited," Santa said. But arguably the most excited was Laxman. Ganga Maya is his twin — younger by just two minutes.
"I'm very excited. I'm very, very, very happy," Laxman said at the airport, beaming.
After he arrived in the U.S. in 2012, Laxman encouraged his sister to leave the refugee camp, too. Like Ganga Maya, Laxman has two children. One of them, 18-year-old Abinash, is a senior at Burlington High School and plans to attend Castleton University in the fall. Laxman wants his niece and nephew to have the same opportunities.
"Come here; you can make a future. Come, come, come," he remembered telling Ganga Maya.
The brothers are realistic about what awaits their sister in Vermont. She will have to learn English and find a job to support her family.
"I think she will have to struggle," Santa said. "But after struggling, she will have a better life."
At close to 11 a.m., the brothers spotted other Bhutanese Vermonters who, like them, were welcoming arriving family members. Anil Karki of Burlington noted wryly that his mother had had a headache the night before, until his aunt's imminent arrival cured her. He admitted that the travel ban had made him pessimistic about seeing his relatives again.
Near the brothers stood a Bhutanese neighbor of theirs, Sagar Rai. Although they've known one another for just a year, Santa described their relationship as "very close."
"Last year, I was in the same spot," explained Sagar when asked why he decided to join the welcoming party. "It feels nice, when we come here as a refugee, and then people welcome us."
Just after 11, a large group of incoming passengers approached the baggage carousel. They might have passed for ordinary passengers if they hadn't carried white plastic bags bearing the logo of the International Organization for Migration. Staffers from the Vermont Refugee Resettlement Program accompanied the group. Phub Lama from VRRP led an elderly woman to a chair to rest while she waited for her luggage. Santa asked a passenger about his sister and received an affirmative answer.
Finally Ganga Maya arrived and greeted her twin with a smile. Laxman tied a white khata around her neck. He did the same for his nephew, Binod Sharma, and niece, Puja Sharma. All three seemed overwhelmed and exhausted. Asked how she felt about arriving in Burlington, Ganga Maya said simply, "Happy." Her children stayed close to her side.
Before leaving the airport, Santa fitted a gray woolen hat on his niece's head, then replaced it with a bright blue one. She appeared delighted with her uncle's choice, as did Binod, who got the gray hat. Then, just as they had landed in Vermont with little fanfare, the Bhutanese arrivals were whisked off quietly to start their lives anew.