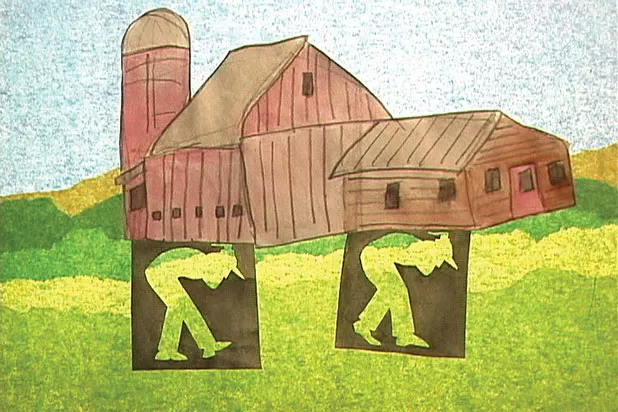 One day while walking in the Northeast Kingdom, Meredith Holch noticed one of her dairy farmer neighbors was building a new barn. "A light went off in my head, and I thought, Oh, they must be getting migrant workers," recalls Holch. She looked out for the workers on her daily walks for several months, but never saw any. Then an ESL teacher of her acquaintance confirmed that the farm had been employing migrants for a year and a half. "I was floored by the fact that, even if you're looking for them, they're still invisible," Holch says.
That observation became the basis of Holch's 14-minute animated film "Neighbors," which tied for the James Goldstone Award at last month's Vermont International Film Festival and screens at Morrisville's River Arts Center this Saturday. In it, quotes from anonymous farmers and workers unveil the cloistered lives such laborers often lead.
Using watercolored cutouts and stop-motion animation, Holch found a striking visual technique to illustrate the workers' unseen presence in the Vermont landscape. When they relax in their trailers, watching Spanish-language TV through static, they're depicted as nuanced figures. But when they venture outside, they become negative space: human silhouettes in a dark box that floats over the vibrant green countryside.
Holch says she places her watercolor objects on glass shelves, painstakingly lit through layers of tissue paper, to give them that sun-washed look. Then she moves them "a couple of frames at a time," rather than creating the illusion of motion with software. "It's the physical handmade-ness that I really enjoy," says the former Bread and Puppeteer.
Holch has been making films since 1989; her work has screened on PBS and at the Museum of Modern Art. Since returning to Vermont in 2001 from New York, where she taught at the New School, she has used animation to address various local issues, such as land development and the living conditions of Burlington's refugee population.
Since she first learned about her new neighbors, Holch has gotten involved. She accompanied accordionist Tomas Kalmar to some local farms, where they both joined the workers in making music. Now Holch is mustering volunteers to offer rides and other services to migrant workers in the northeast part of the state.
Approaching neighbors who may be concerned about a visit from the feds isn't easy — "Do you just go over to their house and bring them a pie?" Holch asks, with the same gentle humor she shows in the film. But in a state renowned for its neighborliness, she suggests, no one should be completely invisible.