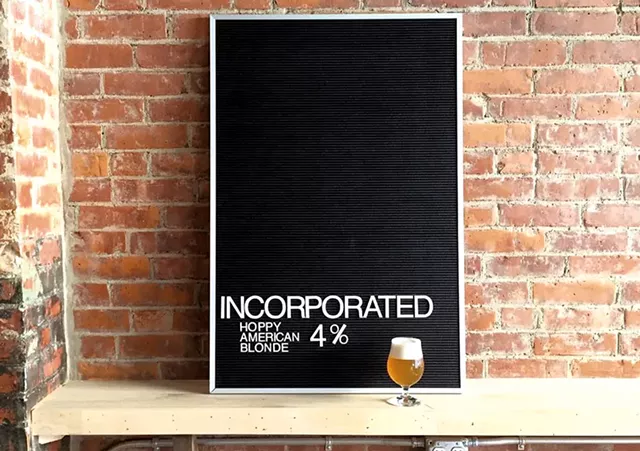 Another week, another new brewery. After nine months of construction, plumbing, equipment installation and testing, Northfield's Good Measure Brewing tiptoed into the Vermont beer market last week.
Last Wednesday, September 21, Good Measure's Incorporated — a crisp and bitter blond ale — hit draft lines at Farmhouse Tap & Grill's New Kids on the Block tasting event in Burlington, along with fresh brews from Goodwater Brewery, River Roost Brewery and Upper Pass Beer.
"It was kind of a test batch," says Good Measure co-owner Scott Kerner. With various partners, Kerner co-owns Montpelier's Three Penny Taproom, Northfield-based coffee roaster Carrier Roasting, and Winooski's Mule Bar, where GMB co-owner and head brewer Andrew Leichthammer used to be general manager.
In their gutted and renovated brewery in the former Paine Mountain Brewing Co. space at 17 East Street in Northfield, Leichthammer and Kerner plan to produce easy-drinking, balanced beers that are low in alcohol and delicate in flavor. Toward that end, Leichthammer is developing a pale-yellow, old-timey cream ale using organic flint corn grown by Jack Lazor at Butterworks Farm in Westfield.
Cream ale was popularized by Genesee Brewing in the 1960s. Cheap and widely available in bars and convenience stores, it was (and remains) a populist brew. "Everyone's family knows that beer," Kerner says. "We think of [cream ale] as our 'Northeastern pub beer.'" Following Genesee's lead, Kerner plans to make Good Measure's cream ale affordable and available beyond Vermont's usual craft beer outlets.
"As a bartender, you get a lot of people who ask for 'whatever [beer]'s lightest,' and they don't care what it is," Kerner says. Good Measure's goal is to bring those drinkers into the fold and make them feel proud to drink an American pub beer made with local grain.
The brewery is also working on a British-style ESB, a dry-hopped Belgian-style table beer and a milk-oatmeal stout flavored with coffee beans from Carrier Roasting. For now, find Incorporated at Farmhouse in Burlington, Cornerstone Burger Co. in Northfield and Beverage Warehouse's growler bar in Winooski.