File: Matthew Thorsen
Stephanie Zuppo
Burlington has a bustling arts scene, something you'll notice on a single stroll through South End artist studios or the weekly downtown Artist Market. Thanks to the city's supportive creative atmosphere, a wide range of artistic practices thrive here, from multimedia performance art to indie comics and just about everything in between.
Find our guide to galleries and other art spaces on page 61. And keep reading for seven local artists we recommend you keep an eye (or two) on. While they represent just a fraction of the Queen City's artistic bounty, each is worthy of an Instagram follow and will help lead you to more discoveries.
Stephanie Zuppo
Zuppo is a major mover and shaker in the surprisingly robust Vermont comics scene. A graduate of White River Junction's Center for Cartoon Studies, the Burlington cartoonist is the muscle behind the relatively new — and free — femme/nonbinary publication the Ladybroad Ledger. Zuppo also recently helped launch Words & Pictures, a community print studio and art space in Essex Junction.
Lydia Kern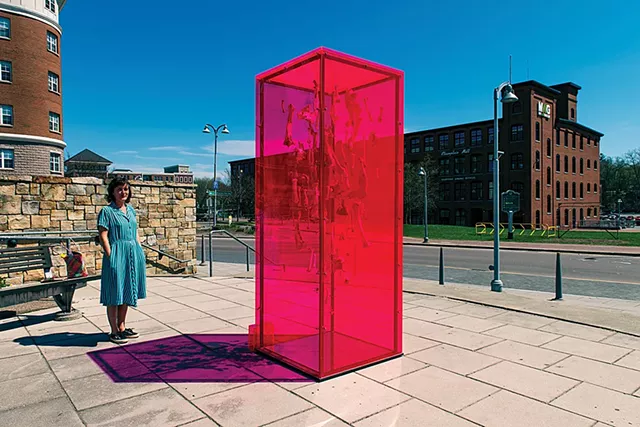 From her creaky-floored South End studio, the interdisciplinary artist (and University of Vermont grad) uses scavenged bones, light and empty space to conjure simple, poetic meditations on loss and continuance. Since losing her younger sister, Kern has thrown herself into her work, rapidly expanding her practice to include installation, printmaking and public sculpture — including the glowing "Perpetual Light," featured at the 2018 Waking Windows music festival.
Scottie Raymond
Mural by Anthill Collective/Scottie Raymond
A founding member of Burlington street art team Anthill Collective, Raymond is a tireless proponent of bringing the urban form to our largely rural state. Last year, he helped organize Above the Radar, Vermont's first street art festival, which convened more than 30 graffiti artists to deck out a lakeside wall at the King Street Ferry Dock.
Jeffrey Robbins
"Children of God" by Jeffrey Robbins
The Burlington painter quietly made his debut at the 2017 South End Art Hop — and his trippy, drippy work "Cellar Dwellers" ended up taking first place in the festival's juried exhibition. Inspired by schlocky VHS horror and skateboarding graphics, Robbins employs the somewhat unexpected medium of watercolor to make fun, deliciously campy works.
Jabari Jones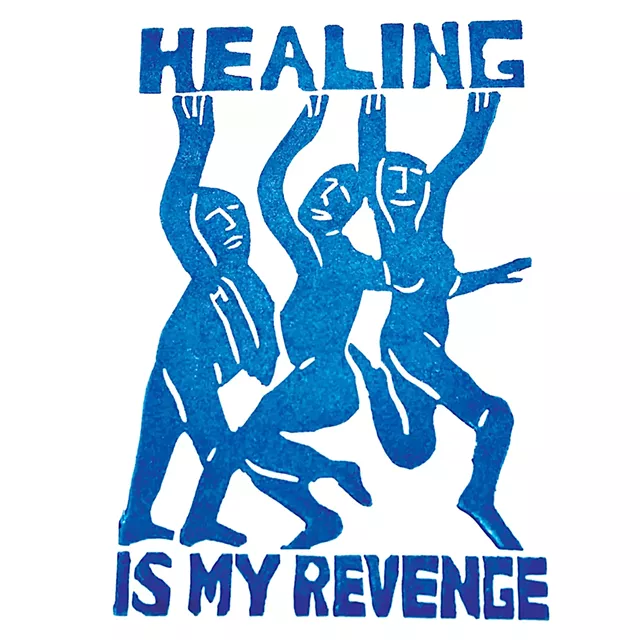 A veteran of Glover's Bread and Puppet Theater, Jones is a printmaker whose style is clearly influenced by the radical circus' visual vocabulary and philosophy of cheap art. He recently launched Radiant Black Press, which, he writes, "disseminates art of unapologetically political, social and spiritual value."
Erika Senft Miller
File: Oliver Parini
Erika Senft Miller
This sprightly German artist is not the easiest to classify. In the last several years, Miller has conceived and orchestrated several site-reactive performances that include live music and dozens of dancers pulled from the ranks of local artists and other creative types. Her recent "Sleeping Babies / Social Sculptures" was a one-night-only tribute to fellow Burlington artist Clark Derbes and involved a troupe of skateboarders rolling along an abandoned section of highway.
Mary Zompetti
From Mary Zompetti's 45 Degrees North
Though she makes her home on the Lake Champlain island of Grand Isle, Zompetti is the director of Burlington City Arts' photography program, which makes her integral to the local scene. Zompetti's experimental image-making practice consistently yields entrancing investigations of both the built and natural environments that surround her. In fall 2017, she debuted her seasonally published artist book, 45 Degrees North, and we always look forward to more from her.
Correction, November 6, 2018: This article has been updated to reflect that Erika Senft Miller is German.