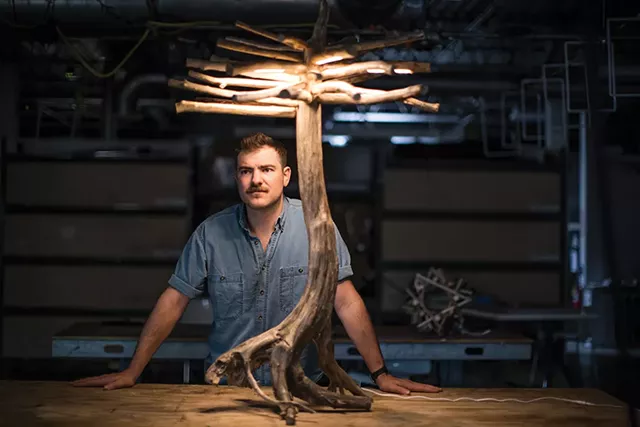 File: Luke Awtry
Clay Mohrman
The Queen City is a hub of creativity in Vermont. Indeed, it's hard not to encounter work by local artists, whether you're roaming the South End Arts District or getting a bite to eat at City Market, Onion River Co-op. Here are seven artistic movers and shakers dedicated to making things happen in Burlington and beyond. Whether you're looking for innovative ceramics or art-as-activism, we've got you covered. Read on, and find our guide to galleries and other art spaces on page 64.
Jen Berger
As a painter and printmaker, Jen Berger is a visual artist firmly rooted in the Burlington community. As part of her goal to use art as a tool "to see things differently" and envision a better future for everyone, this spring she launched small business At the Root. Headquartered at Berger's studio in the South End's Hive, At the Root merges art and social justice through events like a climate justice-themed diorama exhibition and fundraiser with 350Vermont.
Kristian Brevik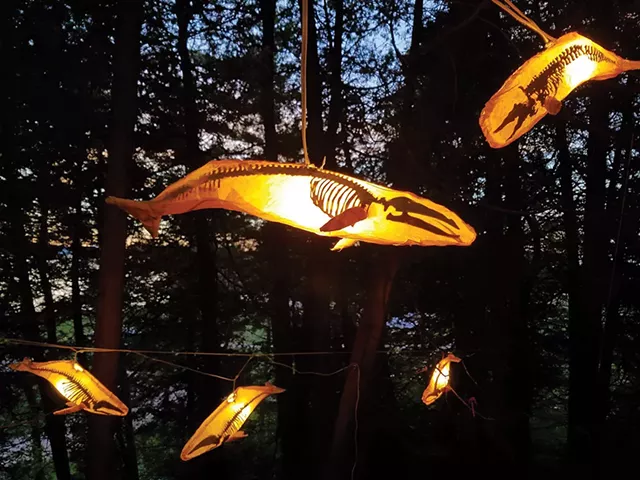 Courtesy Of Lindsay Barbieri
A PhD candidate in the University of Vermont's Department of Plant and Soil Science, Kristian Brevik is equal parts artist, scientist and environmental activist whose practice is invigoratingly interdisciplinary. Brevik's intricate, handcrafted "Whalefall" lanterns are beautifully eerie and, as he puts it, meant to "emphasize contemplation of our complicated relationships with the other beings with whom we share the world."
Tina Escaja
Also known by her alter ego Alm@ Pérez, Tina Escaja works at the intersection of poetry, technology and feminist scholarship. Her "Robopoems," created during a residency at the Generator maker space, are hybrid entities featuring bilingual poetry engraved on their wooden appendages that raise questions of authorship and embodiment. By day, Escaja is director of the Gender, Sexuality and Women's Studies program at UVM. In addition to writing and creating poetic robots, she has been known to agitate in the street with local activist group Feminists Against Bullshit.
Alex Kovacs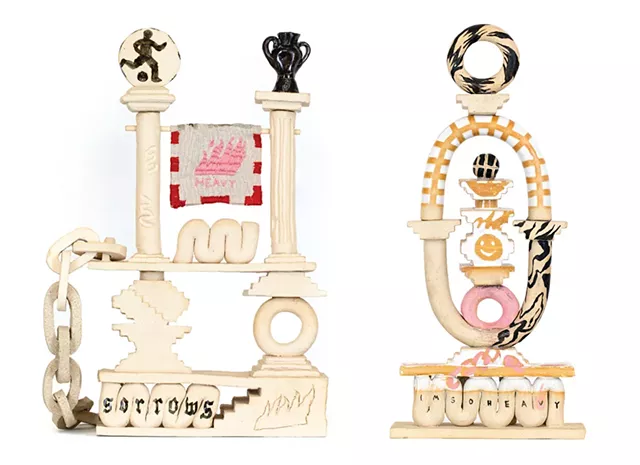 Making his studio in the South End's relatively new Form Collective, Alex Kovacs — the "boi" of Boi Ceramics — models clay into formidable trophy sculptures. Kovacs combines basic shapes, architectural elements and ample geometric sgraffito work with wry humor and a meme aesthetic, generating pieces that are youthful and original. The boi's work can be found at Winooski's Scout & Co., and he was recently picked up by newcomer gallery Soapbox Arts.
Clay Mohrman
Based out of the South End's Generator maker space, designer Clay Mohrman creates sculptural lamps that transform interior spaces with natural materials and light. Each piece in his Clay Mohr line is crafted from locally sourced wood, either from the shores of Lake Champlain or a nearby hiking trail — and each design is aptly named for a Green Mountains peak.
Susan Smereka
Artist and assistant curator at downtown's New City Galerie, Susan Smereka is a quiet force of art in the Queen City. As a working artist, her practice is contemplative and highly tactile, with an emphasis on books, stitching and fiber techniques, and monoprinting. In spring 2019, she showed new works alongside fellow Vermont artists Ali Palin and Misoo in New City Galerie's "Pangs," and she recently began hosting an informal weekly artists' salon open to all.
Corrine Yonce
Courtesy Of Montgomery Sheridan
Figurative painter Corrine Yonce formally launched her career in 2016 with "Voices of Home," a community storytelling project that combined portraiture and audio to create a dialogue around residents' experience of low-income housing. Since arriving in Burlington by way of AmeriCorps, Yonce has become an integral part of the local art scene — not only as a dedicated painter, but also as host of the Budding Artists Support Group and leader of regional grant workshops for artists.