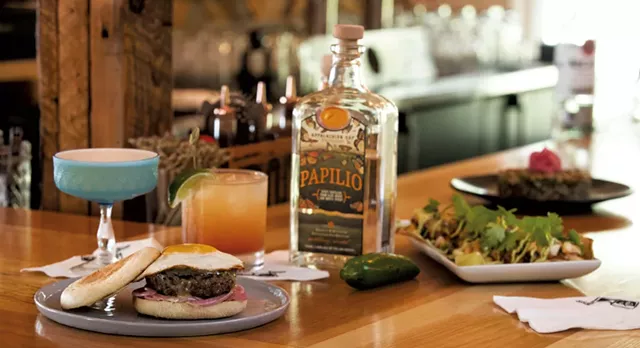 James Buck
Amy's Wild Hart cocktail, Spicy Paloma Sunrise cocktail, P&T Burger, cajun shrimp tacos, and pearl pesto couscous
We had only traveled to Shelburne from Montpelier and Burlington, but my friends and I felt like we were on vacation. Our destination was Peg & Ter's, the casual, upbeat restaurant that opened in late June in the building that was home to Café Shelburne for 25 years.
The space has been transformed into a bright and airy dining room with walls in natural wood and white. Tables ring an L-shaped bar in the center. On the south side of the building, a homey lounge with a blue couch, cushioned chairs and a brass-topped table provides additional seating.
We found three spots at the end of a high-top communal table near the bar. From this vantage, we could share the tapas-style plates that came from the kitchen, talk among ourselves and chitchat with people in the neighboring party.
James Buck
Interior lounge at Peg & Ter's
The vacation vibe at Peg & Ter's flows, I think, from its easy matching of food, feel and menu design: All three are straightforward and good-looking, with a dash of panache. The masterstroke here is the food, which is all of the above plus good and reasonably priced. By selecting à la carte items from a varied but cohesive menu, diners can chow down on creative, fresh fare and have more dishes to choose from on a subsequent visit.
The menu — both the food it describes and the physical object — was conceived and designed by executive chef Cory Perkins. It's divided into four sections: Graze, Devour, Share and Indulge. The first two sections are broadly organized by themes — veggie, Mexican, meat and sides — that represent pairing suggestions from the kitchen. Pickled vegetables (Graze, $4) might go well with kale Caesar salad ($10) or pearl pesto couscous (Devour, $10). Street corn (Graze, $7) could start a meal that includes chorizo tacos (Devour, $10). Fingerling potatoes (Graze, $7) are lined up with the house burger (Devour, $11).
We enjoyed (and devoured) an ensemble of shared plates. The corn-on-the-cob came with chile-lime crème and cilantro, while a refreshing — and refreshingly simple — watermelon-and-feta salad was flavored with mint and lime. A touch of heat and sweet (think pineapple salsa) gave spark to shrimp tacos, and a cheeseburger came served on an English muffin and topped with a runny sunny-side-up egg. Out of habit, I put ketchup on my half of the burger only to find I didn't need it: The sandwich was packed with its own juice and flavor.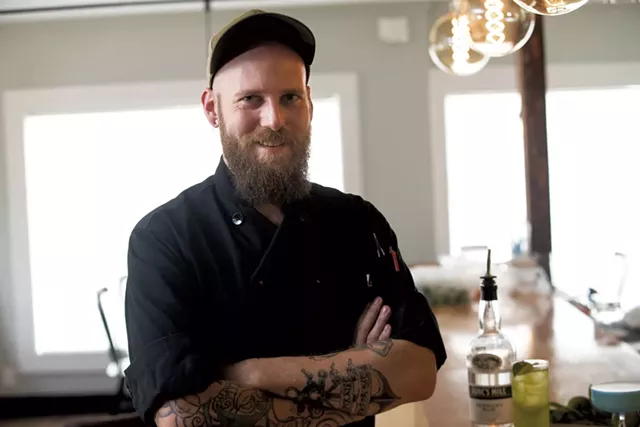 James Buck
Executive chef Cory Perkins
Perkins, 33, moved to Vermont a year ago from Somerville, Mass., where he had lived for about six years and cooked in Boston-area restaurants. Last summer, on vacation from his job as sous chef at True Bistro, a vegan restaurant in Somerville, Perkins hiked the Long Trail. On his 21-day walk, he ate oatmeal with dehydrated berries for breakfast, wraps with hummus and cheese for lunch, and couscous or quinoa with dehydrated vegetables for dinner.
Walking the length of Vermont across its highest peaks, Perkins fell in love with the state, he recalled, and decided to move here. On his return to Somerville, he gave two weeks' notice at True Bistro, a place he praised for its "influential" chef and co-owner, Stuart Reiter.
In Vermont, Perkins applied for a dozen cooking jobs that he found on Craiglist and heard back quickly from almost all of them. After interviewing at the three restaurants that most interested him, he accepted a cooking job at Twin Farms, an upscale resort in Barnard. Within a month of his Long Trail hike, he had moved to Randolph.
"I chose to work at Twin Farms because I knew I would grow and learn there," Perkins said. "I had never worked high-end before. As soon as I walked into the kitchen, I knew I was going to learn a lot there."
James Buck
Pearl pesto couscous
In May, he left that job to open Peg & Ter's, the fourth restaurant he has helped launch, but his first executive chef position. He's also working as the prep cook and line cook. "It's a really cool place," Perkins said. "I like it a lot."
The restaurant is named for Peggy and Terry Thatcher, late parents of Tina Helzer, who owns the restaurant with her husband, Charlotte native Johnny Helzer. Peg & Ter's aims to capture the ambience of the dinner parties the Thatchers loved, Johnny told Seven Days in May.
Johnny has a background in wine sales, and the wine list here is small but well rounded, with choices in red and white starting at $8 a glass. We had noteworthy cocktails to start our meal, mixed with local spirits: a cucumber gimlet and a house special called Amy's Wild Hart ($14) that features gin from the Shelburne distillery for which the drink is named. Its froth comes from egg white, its zing from the booze, with a hit of grapefruit and elderflower. In keeping with the vacation theme, I topped off dinner with a generous pour of La Farra Prosecco.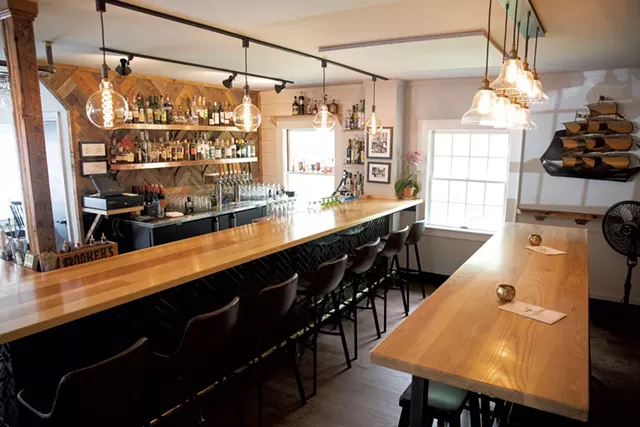 Perkins, who has a degree in baking from Southern New Hampshire University, said he designed the menu to complement the "community-based feel" of Peg & Ter's. The food also fits the way he likes to eat when he goes out: sharing plates and interacting with fellow diners.
"I like going out and trying a few dishes, not getting one full plate," Perkins said. "I was a vegetarian for nine years. I garden a lot. And I'm very, very into fresh, organic local food."
Our party of three shared everything we ordered, even though we skipped the section of the menu titled Share. That category consists of cheese and charcuterie boards, and we were more interested in exploring new things. I especially liked Perkins' couscous salad, a hockey-puck-size mound of pesto-dressed pearl couscous studded with veggies.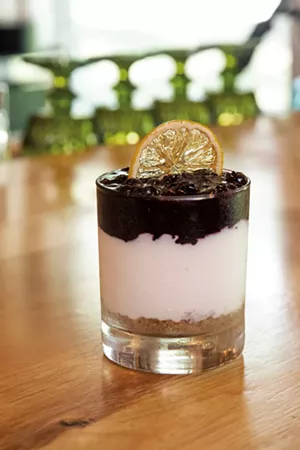 James Buck
Cheesecake
Toward the end of our meal, a second party filled the seats of the big table where we were eating at one end. While I like to think my friends and I are good company at a barroom meal, I'm pretty sure we were not what attracted the attention of our dining neighbors. Rather, it was our cheesecake.
Perkins' version is served in a glass, parfait-style, with a disc of graham cracker crust at the bottom, a rich cream cheese/condensed milk filling as the middle layer, and blueberry compote spiced with cinnamon and clove on top. I hit the Peg & Ter's jackpot when an orange slice in the compote got stuck on my spoon and delivered to me more than my share of cheesecake.
Still, my friend Diane managed to eat enough to make this pronouncement: "This is the best dessert I've ever had."