Looking to escape the campus cafeteria? You've got plenty of alternatives close by. Whether you need a breakfast sandwich to quell that hangover or killer coffee to fuel a study spree, we've compiled the best college-student eats here. For much more, pick up a copy of 7 Nights: The Seven Days Guide to Vermont Restaurants & Bars, or check out the listings and reader reviews online at sevendaysvt.com. Just beware of packing on the freshman 15 — it's all too easy in this foodie-friendly town. wg
What's Good...for the Morning After
File: John James
The Skeggs at Nunyun's Bakery & Café
Handy's Lunch
This mom-and-pop lunch counter serves up diner fare on the cheap — often with a side of sports or political talk. Whatever you get, get it with tots!
Lucky Next Door
Can't wait for a table at Penny Cluse? This sister restaurant, just next door, serves espressos, banana bread, tacos and burritos.
Parkway Diner
1696 Williston Rd., South Burlington, 652-1155
This Worcester Lunch Car has been parked here since the 1950s, and it serves breakfast all day. Don't miss the crispy-on-the-outside, buttery-on-the-inside home fries.
Penny Cluse Café
The long lines are a testament to this café's eternal popularity. Try the Zydeco breakfast — two eggs any style, black beans, corn muffins and andouille sausage.
Sneakers Bistro
Weekend brunch at this retro café is legendary, and the daily specials are always eclectic. The classic eggs Benedict is a home run.
The Swingin' Pinwheel Café and Bakery
Grab a stuffed popover or wafflini — that's a waffle sandwich — at this Western-themed bakery. The cowboy coffee is strong enough to bring you back to life.
Nunyun's Bakery & Café
Last night was awesome. This morning is ... rough. Need the room to stop spinning? This bright Old North End café is your spot. It feels like hanging out in someone's living room, and just happens to have hearty breakfasts to soak up all the beer in your belly. The Skeggs — potato skins stuffed with eggs and other fixings — are a hit. So are the egg sandwiches, breakfast burritos and buttery French toast, all made with fresh ingredients from local farms. It's like eating at Grandma's — without having to pretend you're not hungover.
What's Good...for Getting Buzzed
Matthew Thorsen
A Cappuccino at Maglianero Café
August First Bakery & Café
Laptops and tablets are off limits at this screen-free café — so you'll have to actually strike up a conversation with someone over a delicious mocha and fresh-made pastry.
Dobrá Tea
80 Church St. (entrance on Bank St.), Burlington, dobrateavt.com
The tea menu is the size and weight of your psychology textbook, and you ring a bell when you're ready to order. Lounge on floor cushions with your pot of oolong.
Muddy Waters
This funky coffeehouse serves organic and fair-trade roasts, plus smoothies and baked goods. The Muddy's Shake, a blend of espresso and ice cream, is addictive.
Scout & Co.
237 North Ave., Burlington; 1 E. Allen St., Winooski, scoutandcompanyvt.com
Get your artisan coffee roast with a side of small-batch ice cream. The wacky flavors range from Beet Chocolate to Smoked Maple & Sea Salt.
Speeder & Earl's Coffee
104 Church St. and 412 Pine St., Burlington, speederandearls.com
The Clockwork Orange — a specialty mocha with orange zest and almonds — is a big seller at this java joint.
Uncommon Grounds
42 Church St., Burlington, ugvermont.com
Skip Starbucks — this locally owned café across the Church Street Marketplace has great coffee, free Wi-Fi and yummy treats in the dessert case.
Maglianero Café
It's Thursday, and your 30-page paper — "An Analysis of the Repression of Physical Movement Through the Lens of Parkour" — is due Friday at 9 a.m. And you haven't started it yet. Time for a serious caffeine boost. The direct-sourced coffees and teas are tops at this industrial-chic café, located in the Karma Bird House's huge, quiet, light-filled gallery. It's the ideal place to spend an afternoon clackety-clacking away on your laptop. Plus, food trucks park out back in summer.
What's Good...for the Freshman 15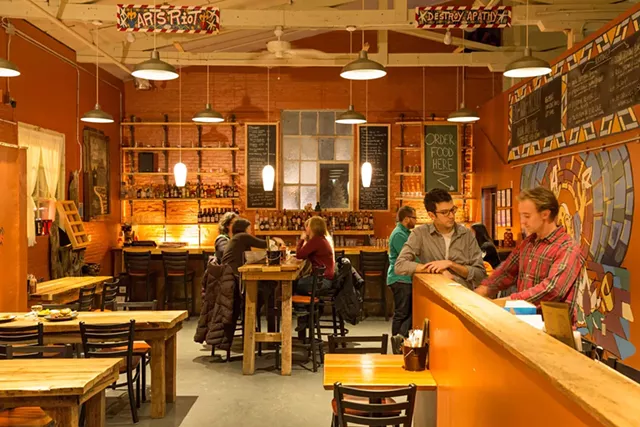 FIle: Oliver Parini
Artsriot Kitchen
Al's French Frys
1251 Williston Rd., South Burlington, alsfrenchfrys.com
Even the hand-cut fries here are a throwback to the '50s. This retro space also sells chili dogs, cheeseburgers and, in season, creemees.
Bluebird Barbecue
317 Riverside Ave., Burlington, bluebirdbbq.com
The down-home regional barbecue here includes smoked brisket, pulled pork, ribs and traditional sides.
Citizen Cider
316 Pine St., Suite 114, Burlington, citizencider.com
Order at the bar, then sit at one of the long communal tables at this lively South End cidery. Two words: corn dogs. The cider ain't bad, either.
The Farmhouse Tap & Grill
Look for local burgers, homemade charcuterie, comfort food and innovative specials at this gastropub. There's a speakeasy-style basement parlor, too.
Our House Bistro
The "twisted comfort food" here ranges from frickles (fried pickles) to mac and cheese with lobster or pulled-pork add-ons.
Vermont Pub & Brewery
Vermont's first brewpub was founded by the late Greg Noonan, a microbrewing legend. The patio is packed on sunny days, and the taps always pour interesting flavors.
ArtsRiot Kitchen
400 Pine St., Burlington, artsriot.com
Missing Mom's home cooking? The food at this neighborhood café is like hers — on steroids. Go here to snack on a burger with "'Merican" cheese and special sauce, popcorn chicken, or a rotating array of more exotic specials, including "mystery meat" bahn mi. It's all served against a backdrop of community events and live music. On summer Fridays, swing by for the weekly Truck Stop — a gathering of the area's finest food trucks.
What's Good...for Going Global
Asiana Noodle Shop
Here you'll find comfort food from across Asia. Pick your own broth, noodles and meat to create a huge bowl of soup, or try dumplings and sushi.
Central Market: Taste of Asia
242 N. Winooski St., Burlington, 495-5966
Grab a banh mi, hit the buffet, or sit down for Nepali, Indian and Vietnamese entrées. Feeling ambitious? Pick up Asian ingredients to make your own meal in the dorm microwave.
El Cortijo Taqueria y Cantina
This taqueria serves locally inspired tacos, burritos and entrées, along with "wicked fly" margaritas.
Pho Nguyen
1130 North Ave., Burlington, 658-4148
Noodle around at this New North End slurp shop. It serves Southeast Asian bites, from pho to pad Thai, inside a former convenience store.
Sherpa Kitchen Restaurant
The Nepalese co-owners cook up family recipes for Himalayan classics such as momos, mild curries, thukpas and stews.
Tiny Thai Restaurant
Adventurous eaters know to ask for the authentic Thai menu at this always-packed, BYOB eatery, which takes its cues from that country's food carts and family tables.
Bento
197 College St., Burlington, 497-2494
This Japanese market and sushi shop specializes in the eponymous segmented lunch boxes. Get them filled with tofu teriyaki or a hamachi collar for that three-hour night class, or take a seat by the window for made-to-order sushi or onigiri. The super-fresh ingredients are all prepared by a chef who spent the last decade apprenticing under a sushi master. In the evening, kick back and let that chef — also a musician — serenade you with homespun tunes.
What's Good...for Date Night
Matthew Thorsen
Light Club Lamp Shop
Hen of the Wood
Your date will be seriously impressed with the locavore cuisine at this rustic Hotel Vermont resto. On a budget? Snuggle up by the fireplace and share small plates.
Misery Loves Co.
Need a conversation starter? Talk about the open kitchen's seriously imaginative food, ranging from matzo brei and veal tartare to sea-urchin panna cotta.
Mule Bar
Let this petite bar's bright and lively mood set the vibe for a shared dinner of creative pub dishes and craft cocktails, local ciders or hard-to-find brews.
Pascolo Ristorante
83 Church St., Burlington, pascolovt.com
This atmospheric basement spot has a classic date-night menu of fresh pastas, antipasti and wood-fired pizzas, all crafted in-house with Vermont ingredients.
Pizzeria Verità
Whisk your date away to Italy — kinda, sorta — at this dimly lit restaurant serving thin-crust, Neapolitan-style pies and craft cocktails.
Tilt Classic Arcade and Ale House
7 Fayette Dr., South Burlington, tiltvt.com
The locavore burgers and tacos are tasty, but the main attractions here are the vintage pinball and cabinet games — which mean you can still score even if the date's a flop.
Light Club Lamp Shop
12 N. Winooski Ave., Burlington, radiobean.com
The lights are low and the music is live at this ambient lamp shop — yep, they sell lamps here — adjacent to ¡Duino! (Duende) and Radio Bean. Eat dinner next door, then alight to this cozy joint for swanky desserts and sumptuous cocktails served until 2 a.m. nightly. Or meet here after spending most of your evening somewhere else — in the library, perhaps, cramming for finals.
What's Good...for Parents' Weekend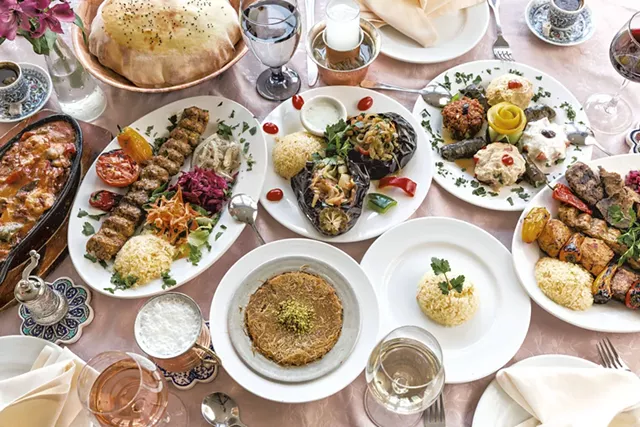 file: Oliver Parini
Istanbul Kebab House
A Single Pebble
Dining here is an experience: Everyone's dish is placed on a lazy Susan in the center of the table for easy sharing. Try the mock eel; the Food Network's Alton Brown loves it.
American Flatbread Burlington Hearth
The flatbreads here are topped with local, organic ingredients and cook before your eyes in an open, wood-fired oven. Order a few for the whole family to share.
Barkeaters Restaurant
This Adirondack-themed eatery just south of Burlington offers affordable food without the typical downtown wait for a table. Try lamb lollipops or espresso-crusted pork.
New Moon Café
150 Cherry St., Burlington, newmoonvt.com
In a rush? This cavernous counter-service spot has a warm, funky elegance, and there are always plenty of tables. Munch on sandwiches, salads and baked goods.
San Sai Japanese Restaurant
112 Lake St., Burlington, sansaivt.com
The unusual, authentic Chef's Choice tasting menu is $35 — and worth it — but you can also order sushi and small plates here for a satisfying meal on the cheap.
Waterworks Food + Drink
20 Winooski Falls Way, Winooski, waterworksvt.com
At this former textile mill, impress your visitors with a view of the river rapids. The kitchen turns out whole fish, veggie pot pie and flatbreads, along with creative drinks.
Istanbul Kebab House
You know what Parents' Weekend is really about, right? Getting Mom and Dad to foot the bill at one of those nice restaurants you've been dying to try since they dropped you off at orientation. So bring your folks to this authentic Turkish restaurant for a whiff of the Near East. You'll all enjoy the sizzling kebabs, savory casseroles and apple-maple baklava — not to mention Turkish Delights. Ask for a table on the rooftop patio for the best outdoor dining in town.
What's Good...for Night Owls
St. Paul Street Gastrogrub
Ahli Baba's Kabob Shop
163 Main St., Burlington, 862-5752
Falafel and gyros until 3 a.m. at the bottom of Church Street. Need we say more?
!Duino! (Duende)
10 N. Winooski Ave., Burlington, duinoduende.com
This international-street-food spot is open 'til 1 a.m. on weekends. Dishes range from fish tacos to chicken-and-waffles to poutine.
Junior's Downtown
Sometimes, nothing beats a simple slice of New York-style pizza in the moonlight. This pizzeria cranks them out until 3 a.m. Thursday through Saturday.
Kountry Kart Deli
In the mood for a Rise & Shiner (see "Vermont A-to-Z," page 16) at breakfast — or bedtime? This deli serves its full menu from 7 a.m. to 3 a.m.
Manhattan Pizza & Pub
With cheap nightly specials (see "What's the Deal?" page 33), pool and live music, this is a consummate college hangout.
Smitty's Pub
This New North End eatery has all the gravy fries, onion rings and wings you could want — served late.
St. Paul Street Gastrogrub
Studying — or partying — so hard you forgot to eat? The kitchen's open late at this pint-size South End pub. The waitstaff are fast and friendly, and the eats are simple but well crafted and affordable. Think double-decker burgers, fish tacos and baskets of fries. You can also belly up to a board game — who doesn't love a quick round or 10 of Connect Four? — or snack on $2 corn dogs until the doors close at 2 a.m.