Jeb Wallace-brodeur
Cauliflower salad
At both the Waterbury and Burlington locations of upscale Hen of the Wood, the $29 hanger steak is a major attraction. At Doc Ponds, the beer bar that Hen of the Wood's owners opened in August, the bavette steak is blanketed in garlicky chimichurri and cooked to an ideal medium rare. There's little difference between it and the version served at HOTW, except that, at $17, it's little more than half the price.
Such is the genius of Doc Ponds. Think of it as the food equivalent of a "diffusion line," the less expensive line of clothing for a high-end fashion house. (Doc Ponds is to Hen of the Wood what Miu Miu is to Prada or CK is to Calvin Klein.) But the lower prices and eminently approachable food don't mean a drop in quality.
Last Wednesday night, Doc served up Hill Farmstead Brewery favorite Edward for $4 a pour. Chef Justin Wright says other specials from local breweries will soon become regular affairs. And that steak didn't rumble off the Sysco truck, either. It grew up on a New England farm, though suppliers are still changing regularly as Wright nails down the best fit for his menu.
None of this is anything new. Brand-name restaurateurs have been following a similar path for years. San Francisco icon Hubert Keller is known for opulent Fleur de Lys, but Burger Bar is keeping his career alive more than a year after closing his famous restaurant. "Top Chef" fans can taste a sandwich with Tom Colicchio's name attached at any of the nine 'wichcraft locations in New York City without going near his $95 rib eye at Craft.
But, like most culinary trends, Vermont's culture of chef-as-personality was slow to erupt and is still fairly new. Eric Warnstedt, who owns Hen of the Wood with William McNeil, is inarguably the scene's biggest star. Despite his seven James Beard Foundation Award nominations, he can be found many nights personally spinning the Stones on the record player in Doc's entryway.
Jeb Wallace-brodeur
Eric Warnstedt
Warnstedt, of course, did not invent the downscale wheel in Vermont, either. Fellow Beard nominees Steve and Lara Atkins of Richmond's Kitchen Table Bistro opened bakery and café Parkside Kitchen in late 2014. Michael's on the Hill chef/co-owner Michael Kloeti and his wife, Laura, took over Crop Bistro & Brewery in Stowe last summer.
But with his culinary street cred and youthful, energetic aesthetic, Warnstedt and his team have made it cool to eat in Stowe.
The former Vermont Ale House's library room is now filled with leather couches and woodwork. A mural by Lance Violette is outside the loos. Once inside the ladies' room, the many faces of Lon Chaney bring hipster horror to sitting on the toilet. All the while, the records spin.
Whether Warnstedt or a staffer plays DJ, the sound of a needle hitting vinyl conjures times spent in the basement of a slightly older, and cooler, teenage friend. But the friendly service at Doc Ponds makes you feel welcome, even as you hear the first side of David Bowie's Heroes for what feels like the first time.
Then there's the excellent comfort food. I started my first for-review meal at Doc with Bayley Blue Balls, a $5 bowl of three tiny arancini that, when penetrated, oozed Bayley Hazen Blue cheese. Honey rested at the bottom of the bowl for a dip that contrasted sweetly with the salty, fatty treats.
A sophisticated cauliflower-salad starter arrived with the balls. For $8, the crisp brassica and cucumbers were served tumbled in a horseradish-flavored yogurt dressing, then topped with crunchy and aggressively spiced chickpeas, pepitas and shaved radishes. It would have made perfect sense at an upscale Middle Eastern spot; at a beer bar, it was a disarming delight.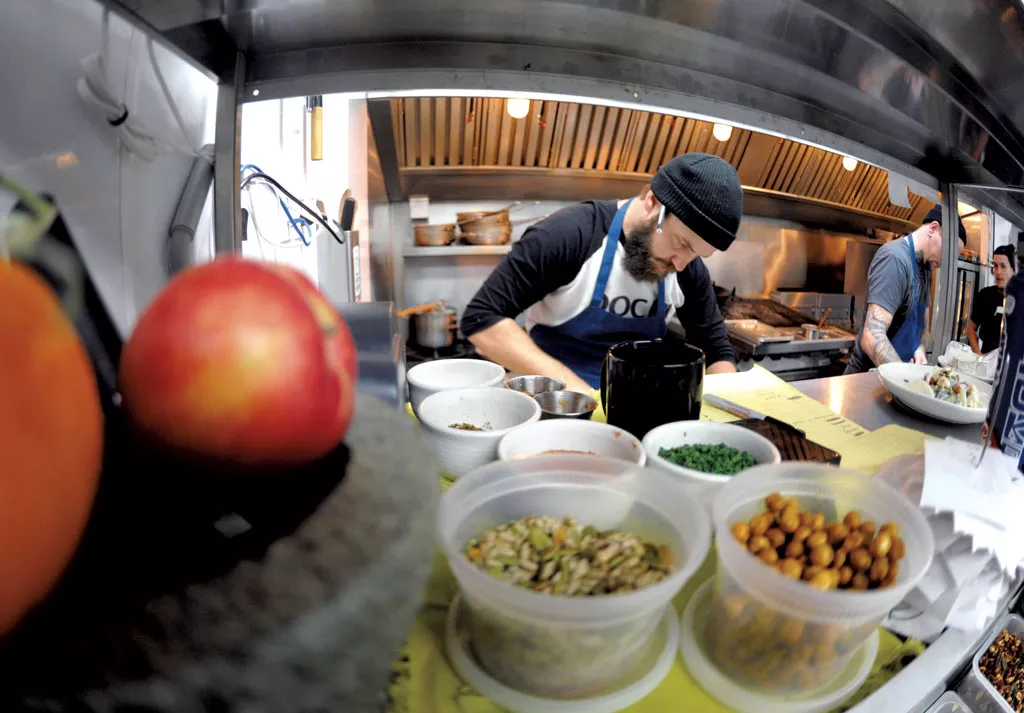 Jeb Wallace-brodeur
Justin Wright
About those beers: There are 24 on tap, extending from $3 Schlitz to uncommonly flavored cult brews such as Dieu du Ciel's Rosée d'Hibiscus and Femme Fatale Yuzu Pale from New York's Evil Twin Brewing. The bar boasts nearly 60 choices between bottles and cans, with a focus on Vermont and Québec breweries.
Seven Daysies 2014 Best Bartender winner Kate Wise mixes up cocktails, too. We tried the Barr Thyme Collins, which combined Barr Hill Gin, thyme simple syrup and lemon for a light, refreshing finish.
It paired well with the deep bowl of house hummus. The smooth dip had a higher tahini-to-lemon ratio than I prefer, but the salty, oil-brushed homemade pita accompanying it won my heart. If Warnstedt and McNeil ever decide to manufacture the zatar-flavored triangles of bread, I would stock up — and fatten up very quickly.
One app sounded so bad that it had to be good: the Hoagie Salad. It was exactly what it sounded like: basically the contents of an Italian sub. For $10, capicola, salami, pepperoncini and provolone came diced with lettuce and radicchio in vinaigrette, finished with chunks of grilled bread. Wright later told me that the meats change regularly based on what Hen of the Wood butcher Calvin Hayes is turning out in Burlington.
Main courses are divided into sandwiches and full-plate meals. The former come without sides, which helps to explain their low prices. The burger, for example, is a 6-ounce patty that rings up at just $7. But adding crisp, extravagantly salted fries with ketchup and aioli adds another $5 to the tab.
I'd go up another dollar and get the mac and cheese. The creamy, tangy pasta I tried was studded with bacon and topped in bread crumbs for a delectable double crunch.
Sadly, though, the lauded burger fell flat for me. The patty I ordered medium rare would have still been mooing had it not drowned in Russian dressing.
But the bigger entrées I sampled represented an inarguable victory lap. There was the steak, served with tender peppers and onions. And a $14 special of three skinny rabbit sausages could have retailed for $10 more, and I wouldn't have blinked. The encased bunny was as fluffy as one could imagine. Yet the dish's greatest delights lay in the rich pile of bean cassoulet made deliriously smoky with a rash of rashers.
Jeb Wallace-brodeur
Half chicken
Still, when I recount my meals at Doc to friends, the chicken looms largest. Maybe it was the ambient strains of Bowie's "Sons of the Silent Age" and "Joe the Lion," but biting into the almost magically moist bird felt somehow momentous.
The half chicken was grilled and roasted, its crisp skin singing with the lime and chile of its two-day adobo marinade, a recipe Wright learned from a Cuban chef. That liquid kept even the breast admirably moist, not just during my first taste but when I ate the reheated leftovers at work. The thick carpet of slaw on which the meat rested added a pleasant acidity, as did pink circles of pickled onion on top.
Diners with a sweet tooth get some love at Doc in both alcoholic and virgin forms. Milkshakes, blended with or without an alcohol pairing, include chocolate and salted caramel versions. But I couldn't resist the simple vanilla shake with a floater of creamy Left Hand Brewing's Milk Stout Nitro on top. The dark beer only added to the depth of the thick shake, leaving no question that this was a lightly boozy milkshake, not an overindulgent cocktail.
At my first visit to Doc, baker Shiel Worcester's salted-caramel apple pie was sold out. On my next trip, I asked my second-time server, Katie G., to reserve me a slice of pear-sage crumble when I ordered my savory dishes.
It was worth it. Though I've often complained that I just don't "get" pie, the buttery crust required no explanation. The tender pears spoke for themselves, and the crinkly sage only asserted itself at the end of each bite. The herbaceous aftertaste ensured that I would remember the meal favorably, even as I drove back to Burlington stuffed.
I felt kind of good about myself, too. How could I not when a line printed on the check reminded me, "YOU ARE AWESOME!!!"
This would have been a more interesting review if the Hen of the Wood crew had finally stumbled. But that's not the story. I'm ready to return to Doc anytime for some Bowie and brews.