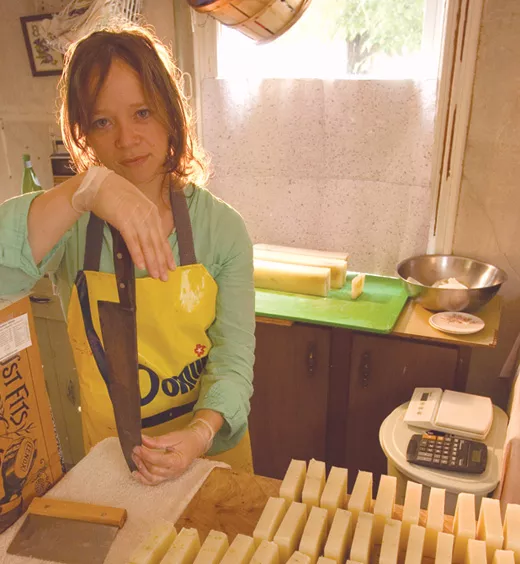 Strong but pleasant aromas fill soap maker Missy Bly's Burlington apartment on a recent weekday. And no wonder: Funneling essential oils into glass bottles, Bly is nearly hemmed in by ceiling-high stacks of freshly cut cakes and long, rectangular troughs of just-poured soap. The oils will soon infuse more batches of her quirkily named bars, including Rake in the Grass — which smells remarkably like a freshly mowed lawn — and Village Green, with its inimitable scent of what Bly calls "a picnic on a blanket in the park in Paris, 1870."
Bly, 35, both works and lives in her studio. Most of the rambling space on North Avenue she shares with musician and recording artist Ryan Power is given over to Clean City Soap. (The moniker is a play on Burlington's nickname, the Queen City.) Bly hand-produces 3000 bars of soap a year and the paper they're wrapped in — a dual operation that has taken over her kitchen sink, bathtub and all available space for drying racks.
Bly's craft is bringing a long-neglected product back to market. As she tells it, the commercial soap industry, intent on devising a harder, longer-lasting bar, sacrificed the humectant properties of handmade soap — those qualities that help skin draw moisture from the air to replace the oils the soap washes away. "Natural soap is not as long-lasting," she explains, "but it is smoother, silkier. This is the real glycerin bar. Those [commercial] 'naturally clear' glycerin bars — to me, it's like going back to eating Wonder Bread."
Apart from Bly's Web-procured essential oils, everything about Clean City Soap is the polar opposite of Wonder Bread. A friend custom-made the wooden molds into which she pours her heated vegetable oil and sodium hydroxide solutions — the ingredients that cause the glycerin-producing reaction called "saponification." A local graphic designer helped create her logo, and Gordon Stamp & Engraving, around the corner on North Street, turned it into a stamp. Bly grows calendula, lavender, rosemary and other soap herbs in pots in her yard and processes them in a coffee grinder she rescued from ReCycle North.
And her handmade "Re-Construction" paper puts the city's recycling methods to shame. Bly feeds a shredder her junk mail and bills, piles of construction paper donated by friends, used wrapping paper and old sewing patterns. After soaking the shredded mass in water, she pulps it into what she calls a "paper smoothie" in three mustard-yellow '70s-era blenders, dumps the stuff in a vat, screens out thin layers one at a time, and press-dries them into sheets. Occasionally, whole words survive the process — like the "yea" and "33" that both appeared on a sheet she made when she turned 33. "Sometimes I think the papermaking vat is an oracle," she jokes, flashing a goofy smile.
A wordsmith at heart, Bly loves a good pun. Hence her kid-friendly "Alphabet Soap," a bag of 26 soap letters made with cookie cutters. In her parallel life as a singer-songwriter with a rock-pop band, Bly just released her third album — which she's calling MB3, combining her initials and the familiar abbreviation for digital-music files.
Born in Rotterdam, New York, Bly vacationed with her family in Poultney as a child and returned to Vermont to earn a degree in art at Castleton State College. When she moved permanently to the state in 1996, she took a job cooking at an organic bakery in Williston. It was run by two women who helped shape her appreciation for Vermont. "And they made me realize you can do what you want to do," Bly adds. She taught herself to make soap about 10 years ago from an instructional article in The Herb Companion; the battered magazine issue still sits on her shelf. Now she concocts homemade cleaning agents and uses them in a house-cleaning side business.
"Every year I learn a little more. I'm not trying to take over the world or anything," Bly says modestly. "I want to give people what they want, but I also want to have fun doing it."
Click a photo above to see the location.