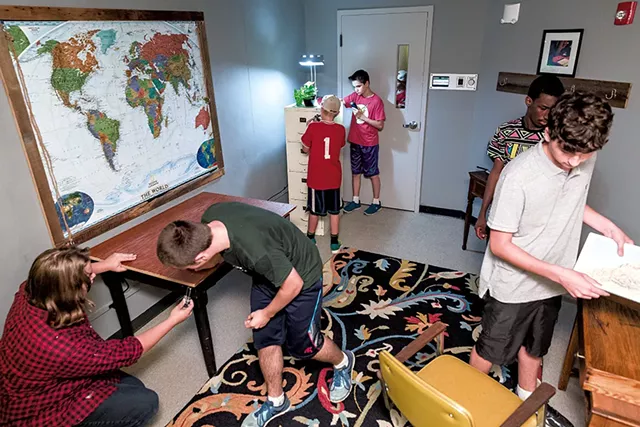 File: oliver parini
Esc4pe
You don't have to belly up to the bar to socialize or unwind in Burlington — there's more to our nightlife than creative cocktails and craft brews. Whether you're straight-edge, sober, underage or just need a night off from the club scene, we think you'll enjoy our recommendations for booze-free hangouts.
GTFO
Escape rooms are all the rage recently, Burlington included. At Esc4pe, you'll get an hour to figure your way out of one of three themed "Esc4pe" rooms by solving a series of physical and mental puzzles — like, for example, why you agreed to be locked in a room with total strangers or what the "4" in "Esc4pe" is all about.
Fore! Play
Navigate the challenging, nautical-themed 18-hole mini-golf course at the Essex Family Fun & Entertainment Center. Iron out the kinks in your real golf swing at the driving range. And let's not forget about the batting cages, which feature baseball and softball pitches at speeds ranging from slow to Chris Sale. When the weather turns, try the elaborate indoor mini links at South Burlington's Pizza Putt. Or check out the immersive golf simulators at SoBu's Gonzo's HD Sports and (virtually) travel to famed real-life courses such as Pebble Beach or St. Andrews. Not a duffer? Gonzo's boasts a variety of sporty sims, from baseball and hockey to rugby, cricket and — wait for it — zombie dodgeball.
Say High
Courtesy Of Get Air Trampoline Park
Get Air Trampoline Park
Everybody had that one friend with a trampoline when they were kids, right? Well, the Get Air Trampoline Park in Williston is what happens when that friend grows up, buys a warehouse and fills it with thousands of square feet of trampolines. You can bounce for hours. But why not also play an elevated game of dodgeball or work on your 360-tomahawk slam dunk on the basketball court?
Reel World
Got a student ID card? Flash it on the regular for discounts at Merrill's Roxy Cinemas. This family-owned downtown theater plays a mix of mainstream and art-house flicks, from Alien: Covenant to Nine Lives — Cats in Istanbul. The screens are smallish, but the popcorn is the best around. For the true blockbuster experience, check out Williston's Majestic 10 or the monstrous T-Rex Theater at Essex Cinemas. And in the warmer months, you can't beat the throwback vibe at Colchester's Sunset Drive-In Theatre.
Rack 'em
Matthew Thorsen
Van Phan Billiards & Bar
One of our favorite bar pastimes is shooting pool. But you don't have to wait until you're 21 to scratch that itch — or the eight ball. Van Phan Billiards & Bar features 14 tables and plenty of room to maneuver so that you're not jostling with other patrons while making shots. Whatever you do, don't get cocky and challenge pool hall owner Van Phan — unless you're a glutton for punishment. She's a former Vermont billiards champion and has competed nationally.
Start Your Engines
Channel your inner Dale Earnhardt Jr. at the Essex Speedway & Action Center, the only indoor go-kart track in Vermont. If the slow lane is more your speed, try the bumper cars, the bounce area or the arcade.
Roll With It
John James
Spare Time Family Fun Center
The dude abides. And so can you at either of the area's two bowling alleys. Spare Time Family Fun Center in Colchester is huge and glitzy (as bowling alleys go), and home to an arcade and sweet laser tag arena. For those who prefer bowling in the kind of joint Jeffrey Lebowski would frequent, Champlain Lanes in Shelburne is a mom-and-pop alley with entertainment on the weekends. You can even roll on Shabbos.