What are the three branches of government? Who is the treasurer of Vermont? What is Vermont's state motto?
The answers to these and other civics-related questions will earn you points in the
Good Citizen Challenge
, a summertime project
Kids VT
and our sister publication,
Seven Days
, launched at the end of May. You'll find a Challenge scorecard inside the June, July, August and September issues of
Kids VT
; you can also download one at
goodcitizenvt.com
.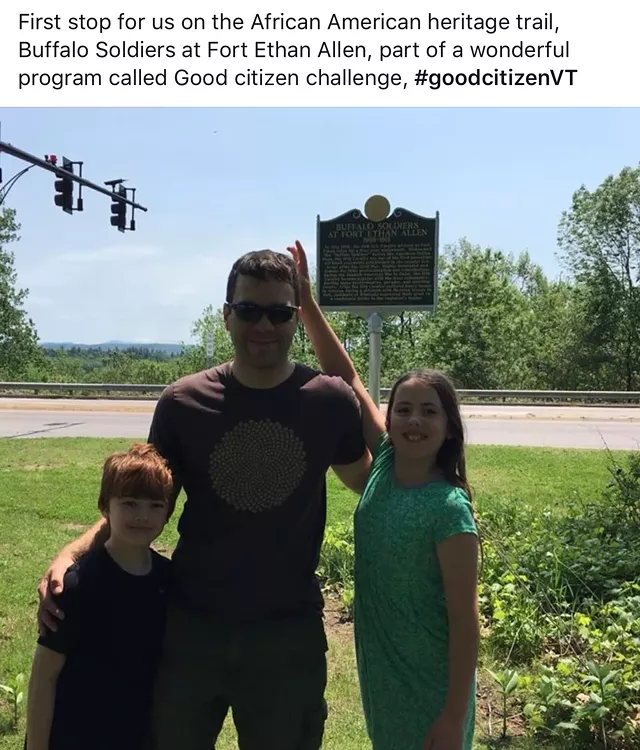 Jill Warrington
Jill Warrington of Shelburne shared this photo of her family at a stop on the African-American Heritage Trail as part of the challenge.
We're inviting K-12 students across the state to take the Challenge, and earn points by visiting historic sites, learning about their communities and answering questions like these. Participants who earn 251 points — the number of towns in Vermont — can send in their scorecards to receive a Good Citizen medal, and an invitation to a reception at the Vermont Statehouse, where they'll meet state officials and be recognized for their work.
The first 100 youth to complete the Challenge will also receive a Good Citizen T-shirt.
To help you in your quest, we'll be posting regular updates here about Good Citizen-related events and bonus opportunities that didn't make it onto the scorecard.
For example, this weekend, June 8 and 9, are
Vermont Days
at all Vermont State Parks and State Historic Sites. That means admission is FREE! A visit to those historic sites will earn you
10 points each
. This is a great opportunity to knock a few of them off your list!
And mark your calendar for the Vermont Humanities Council's
Reading Frederick Douglass events
, which take place in towns all across the state around Independence Day, the Fourth of July.
At these free gatherings, volunteers will read a fiery speech given by abolitionist orator Frederick Douglass in 1852, when he was asked to speak about the signing of the Declaration of Independence. So far,
towns hosting events include
: Jeffersonville, Jamaica, Ferrisburgh (Rokeby Museum), Wallingford, St. Johnsbury, Colchester, Norwich, Montpelier, Wilmington, Barre, Randolph, North Hero and South Hero.
Reading
or
listening to the speech
on your own is worth
10 points
. Attending one of those events is worth
20 points
.
Organizing an event
of your own is worth
40 points
!
Help Us Spread the Word
Kids VT
managing editor Alison Novak and executive editor Cathy Resmer have been visiting classrooms and talking with families across the state about the Challenge, and about ways that students can learn about our shared civic heritage.
We've also been hearing about youth who are doing the Challenge and have already racked up dozens of points. It's so exciting to get those messages! If you're one of those folks who is working on the Challenge, please
send us a note
to let us know, and share evidence of your work. It will help inspire others to give the Challenge a try!