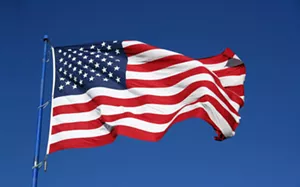 Thursday, June 14, is Flag Day!
In honor of this national holiday celebrating the Stars and Stripes, we're adding a 10-point bonus activity to the
Good Citizen Challenge
, our summertime civics project for Vermont youth.
Here's the Flag Day bonus activity:
Explain what the stars, stripes and colors of the flag represent.
When you send in your Challenge scorecard, be sure to add your response to your other work and note the 10-point activity in your final total. The deadline to complete the Challenge is October 9, but the first 100 students to finish will receive a Good Citizen T-shirt!
Find a Challenge scorecard in the June, July, August and September issues of
Kids VT —
available at more than 700 locations around Vermont — or download a scorecard from goodcitizenvt.com.
Hint
: You can find out more about the flag on the official government site,
usa.gov/flag
. Learn some fun flag facts
here
.