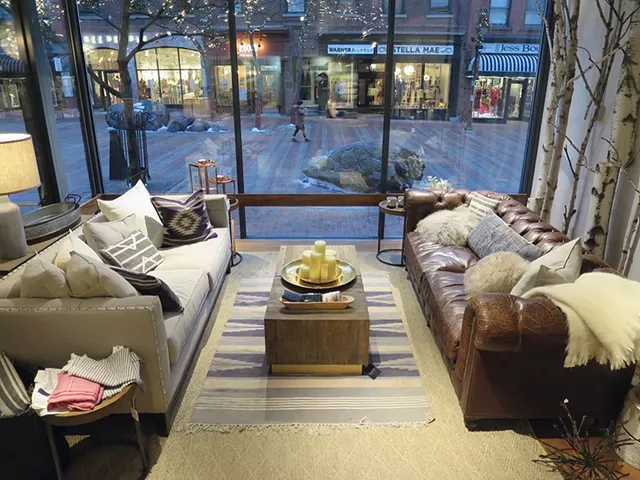 Matthew Thorsen
Slate
SLATE
89 Church St., Burlington, slatehome.co
Stepping into Slate feels like slipping into the pages of an Anthropologie catalog — in a good way. Do your new Burlington digs need some playful flair? This lifestyle and home décor store stocks hip, sustainable options from artisans near and far. Yes, you can splurge on a navy chesterfield sofa here, but you can also scoop up a tiny accent like a handcrafted cribbage board in the shape of Vermont. Or the perfect gold cheese knife. Or a low-maintenance air plant. Or CBD maple syrup...
Good Stuff
21 Church St., Burlington, goodstuff.xxx
"Sex, glass, and rock and roll!" That's the "good stuff" enthusiastically supported at this adult toy store. It stocks hundreds of entertaining items, from lubricants to sexy DVDs to pipes.
Frog Hollow Vermont Craft Gallery
More than 100 local artisans are behind the candy-colored glass vases, hand-carved bird ornaments and airy whale-shaped light sculptures on display at this nonprofit gallery. Bring home something Vermonty!
Homeport
Church Street's four-level home-goods empire has a wide range of products — think dishware, furniture, decorative items, and "any kitchen utensil or doodad ever conceived."
Maven
Less than a mile from the waterfront's Andy A_Dog Williams Skatepark, this hole-in-the-wall skate shop carries everything to outfit skateboarders from head to toe. Sick.
Outdoor Gear Exchange
37 Church St., Burlington, gearx.com
Since 1995, OGE has been the go-to shop for local kayakers, hikers, skiers, climbers and camping enthusiasts. Check the downstairs consignment area for the real scores. Oh, and you can bring your dog!
Trinket
The sister biz of Winooski's Birdfolk Collective, Trinket carries exactly what its name suggests — small notions that'll make you smile. For example, a pineapple-shaped cocktail shaker.