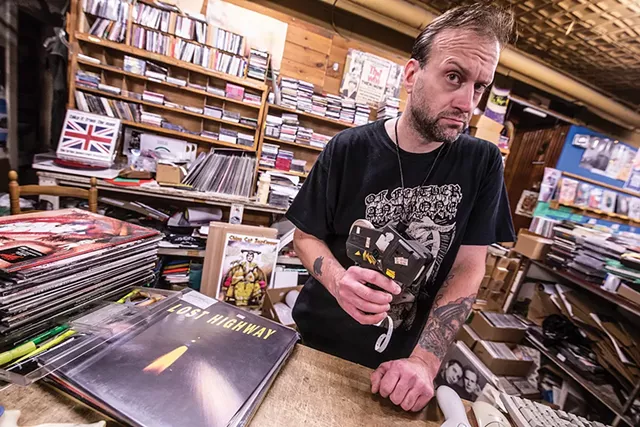 File: Luke Awtry
Pure Pop
Pure Pop
Is your alter ego John Cusack's character in High Fidelity? If yes, you'll want to spend some time digging through the crates at Pure Pop, a blast from the musical past. Just walking down the poster-lined staircase below street level feels a little punk, and the selection of vinyl, CDs, cassettes, DVDs and candy cigarettes doesn't disappoint. While you browse, ponder that age-old question: "Do I listen to pop music because I am miserable? Or am I miserable because I listen to pop music?"
Common Deer
210 College St., Burlington, commondeer.com
The handcrafted American home décor and gift items sold here — from Darn Tough socks to David Bowie Christmas-tree ornaments — are so good, you'll feel the need to commandeer them immediately.
Lunaroma
688 Pine St., Burlington, lunaroma.com
Get a whiff of this: organic hand soaps, essential oils, aromatherapy and skin care products all made in Burlington with high-quality botanicals. 'Cause even handwashing can be local!
Old Gold
151 Cherry St., Burlington, Facebook
A staple of Burlington fashionistas since 1973, Old Gold specializes in vintage sartorial pleasures. It's a destination for everything from prom gowns to paisley pants to pinstripe suits.
Phoenix Books Burlington
Who says bookstores are passé? Owners Mike DeSanto and Renee Reiner have been plying Vermonters with sweet, sweet paper pages for years. They operate stores in Essex, Rutland and Chester, too.
Solid Threads
47 Maple St., Suite 108, Burlington, solidthreads.com
Stock up on clever, retro-inspired tees at Solid Threads' tiny "sneaky boutique" (pronounced boo-TEE-kee), near Maglianero Café. Designs include "Now I Know My CBDs," "Don't Hate, Meditate" and "Less Walls, More Bridges."
Speaking Volumes
With locations on either side of Pine Street, Speaking Volumes is a treasure trove of books, records and vintage stereo equipment. The hours are unpredictable; the merch, eclectic and obscure; the browse through it, always entertaining.