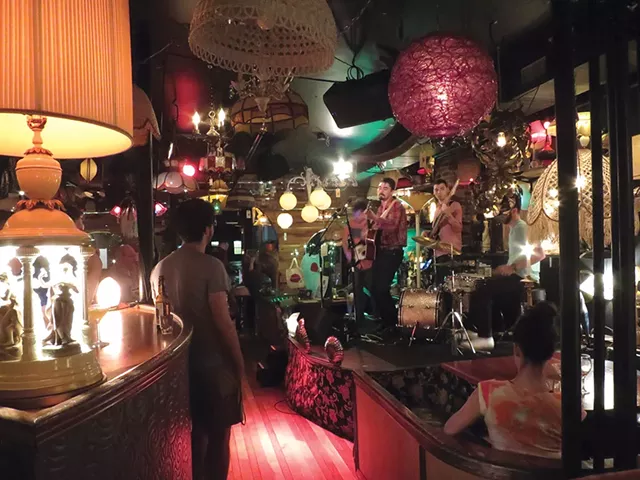 Matthew Thorsen
Light Club Lamp Shop
If you want a comprehensive guide to Burlington's best shopping and services, check out the Seven Daysies readers' picks. Once a year, Vermonters vote on everything from best furniture store to best shoe shop. Those locals' favorites cover a lot of ground. But they don't tell you where to go if you need a lamp and a stiff drink at exactly the same time. That's the kind of explicit and eccentric craving we hope to satisfy with this list, which focuses on some unusual scenarios you might encounter. These quirky establishments are part of Burlington's charm.
When you need a sultry cocktail and a statement lamp.
Light Club Lamp Shop
Part of the hip Radio Bean compound, this bar (21+, please) has a distinctly bohemian-chic vibe and pretty decent adult beverages — all the better to convince you that you need that vintage lacy pendant lamp.
Also try: Goodwill, for lamp only, 1080 Shelburne Rd., South Burlington
When you need a gift that screams "CUTE!"
Birdfolk Collective
Matthew Thorsen
Birdfolk Collective
This Onion City boutique is bursting with a carefully selected array of housewares, jewelry, toys and general whimsy — much of it by Vermont makers. Stationery geeks beware; this is a dangerous place.
Also try: Trinket, 32 ½ Church St., Burlington
When the washing machine eats all your socks.
The Sox Market
This is a no-brainer. For what it's worth, socks by Northfield-based Darn Tough have a lifetime guarantee and will earn you local cred.
Also try: the annual "hunter's widow" sock sale that takes place in November, during deer-hunting season, at Cabot Hosiery Mills in Northfield.
When you need the most obscure deep cuts.
Pure Pop
Courtesy Of Pure Pop
Pure Pop
This basement gem of a record store, in business since 1980, continues to be local favorite. Plus, they'll trade you cash or store credit for that Baha Men CD you don't want anyone to know you own.
Also try: Speaking Volumes, 377 Pine St., Burlington
When you need braids, weaves or hair extensions.
Diversity Salon
94 Pearl St., Burlington, 865-1112
Matthew Thorsen
Diversity Salon
Customers travel from all over Vermont and upstate N.Y. to have Jamaican stylist Jacqueline Gibson braid their hair. To get a bald fade, line up for barber Algenis Garcia.
Also try: Ebony Beauty Supply & Hair Boutique, 325 Main St., Winooski
When you want to make a fashion statement that's also good for the environment.
Dirt Chic
This secondhand shop has a well-curated selection of pre-owned garments at great prices. Need to earn some cash? Put your old clothes up for consignment.
Also try: Battery Street Jeans, 7 Marble Ave., Burlington
When you want a signature smell for your new apartment.
Lunaroma
688 Pine St., Burlington, lunaroma.com
For an essential oil diffuser and a hand-mixed scent customized just for you, head to this high-quality "aromatic apothecary."
Also try: City Market/Onion River Co-op, for calming scented candles, 82 S. Winooski Ave., Burlington
When your home begs for midcentury furniture straight out of "Mad Men."
Barge Canal Market
You could find it on eBay, but this is easier — and you'll feel like Don Draper as you roam past vintage bar carts and walnut credenzas.
Also try: ReSOURCE, 266 Pine St., Burlington, or Junktiques Collective, 324 N. Winooski Ave., Burlington
When you need to bulk up your bookshelf to appear cultured.
Phoenix Books Burlington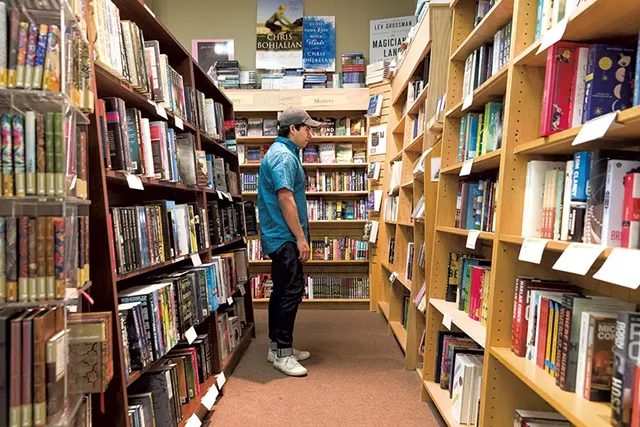 File: Oliver Parini
Phoenix Books Burlington
Browse best-sellers and the most comprehensive selection of books by local authors. The staff picks will never steer you wrong.
Also try: Crow Bookshop, for great used reads on the cheap, 14 Church St., Burlington
When you finally decide to plant that herb garden.
Gardener's Supply
128 Intervale Rd., Burlington, gardeners.com
The super-friendly staff will talk to you at length about which plants will do well in your shady backyard, and how you should definitely invest in that large terracotta pot, and, yes, you need that new trowel.
Also try: checking out gardening tools from the Fletcher Free Library. Really. 235 College St., Burlington
When your dog/cat tires of eating the same damn kibble every day.
Pet Food Warehouse
2500 Williston Rd., South Burlington; 2455 Shelburne Rd., Shelburne, pfwvt.com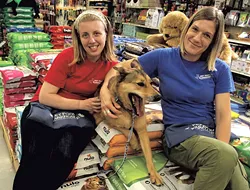 File
Pet Food Warehouse
This locally owned shop features the best selection of pet goodies around — and a staff so aggressively helpful that you'll feel guilty for saying, "Uh, just browsing, thanks."
Also try: Play Dog Play, 'cause Fluffy probably needs a bath, too. 668 Pine St., Burlington
When you've just got to splurge on classy jewels.
Tick Tock Jewelers
In addition to an impressive selection of personal timepieces, there's a small but delicious assortment of estate jewelry. Onyx Victorian ring with rose-cut diamonds, anyone?
Also try: the chic, modern designs of Rackk + Ruin and Haley Fenn of Warren & Fenn, both at 270 Pine St., Burlington
When you need steezy threads for skateboarding — or looking like you skateboard.
Wild Life Shop
Bros, this second-floor Main Street boutique is a hidden gem for your skate-style needs. Think premium hats, custom apparel and socks featuring cats giving you the middle finger.
Also try: Maven, 128 Church St., Burlington
When the soles of your boots are worn down and the leather is salt-stained.
Town Cobbler
27 Taft Corners Shopping Center, Williston, 872-0354
Because leather dies in Vermont without love — damn you, winter! — take your beloved boots to this old-school shoe repair shop.
Also try: Onion River Cobbler, 7 West Canal St., Suite 2, Winooski, 655-2532