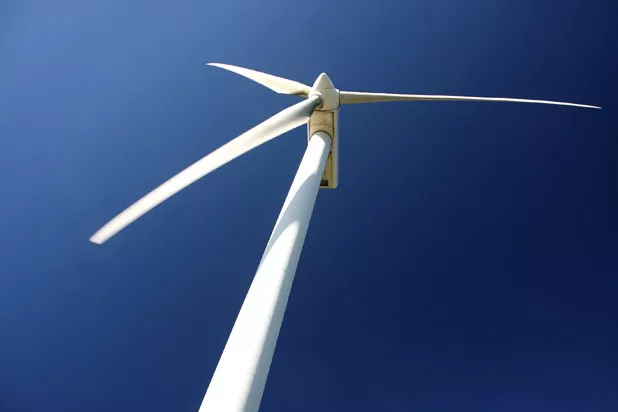 A couple of friends and I hiked up Lowell Mountain on a recent rainy Saturday to get a closer look at Kingdom Community Wind, Green Mountain Power and Vermont Electric Cooperative's wind farm. We turned right off New Street in Albany onto the Bailey Hazen Road, past Don and Shirley Nelson's tidy white farmhouse and their round pond half outlined by a stone wall, like a bright eye with an arched brow. The fields and pastures poured toward the mountains in every direction. And, as the ruts got rockier — part of the Catamount Trail, this section of road is more fit for feet or skis than car tires — we saw the turbines, immense, muscular, their white arms outstretched as if trying to grab the whole landscape.
Then we found our way to the nearly invisible trailhead, marked only by a handmade sign: "When the last tree is cut down."
We followed the pink and green satin ribbon blazes up the goat path, punctuated by more signs:
"When the last fish is caught."
"When the last river is poisoned."
At the top, we scrambled over a house-high berm of rubble, past the signs telling us to keep out, onto the wide dirt road that rolls over the blasted-flat ridgeline for almost four miles. All but a few of the 21 turbines, more than 400 feet high, were complete.
This is no farm. It is a mountaintop-removal strip mine for wind, a wind-smelting factory, a slaughterhouse for butchering breezes into kilowatts of power.
It is also awesome. The turbines' shafts are whiter than ibises, shinier than the inside of any shell, straighter than spruce; their blades are the leaves of wild irises, the fins of sharks — nature pared of burls and scrubbed of decay, like modernism clearing the clutter of Victoriana. The turbines draw the eye upward; the blades seem to stir the sky and spin the clouds. Paradoxically, the clear-cutting and leveling of the summit affords almost 360 degrees of view: awesome.
There was no one around. We walked right up to a tower's base. I wanted to stroke its smooth surface but didn't dare. We kept waiting for an alarm to sound, for video cameras to turn and catch our images. Two white pickup trucks appeared. We walked faster, facing away, but they didn't stop. Then we waited for someone to come and arrest us. No one did.
We joked that these structures might not be wind turbines at all, but some kind of towers for surveillance on a grander scale than we could imagine.
The next day, I talked with a friend who lives in Craftsbury Common, where she grew up. I asked if she'd been up to see the turbines. She said she hadn't and didn't want to. She knows that mountain, has skied the Catamount Trail many times. Now she sees the windmills every day on her way home from work.
I told her that I couldn't help admiring their beauty. She agreed that they are beautiful, then paused. She doesn't care what they look like, she said. It's what they represent that hurts her. She hadn't attended the funeral protesters staged at the end of July, when they knew they had lost. But when the towers started to rise, she grieved, as surely as she had when her father died. Tears came to her eyes as she spoke.
What do these wind turbines represent?
Opportunism, for one. In return for investing in the wind project, GMP will receive $44 million in federal production tax credits over 10 years. Environmentalists pushed hard for those incentives, and you can't blame entrepreneurs for leaping at them. The program, in short, worked the way energy policy is supposed to work in a capitalist economy. But a more or less first-come, first-served program is pot-shot policy, not energy planning.
So they also represent rashness. Yes, the situation is urgent — global warming advancing faster than any model predicted — but claims that Vermont must do everything it can this minute smack of the same kind of breathless impulsiveness that fuels instant consumer gratification. Capitalism's wont is not to deliberate; it's to grow, as fast as possible. Development decisions made essentially by entrepreneurs only sometimes, coincidentally, serve the public good. It may look green, but dollars are green too.
The project represents, most of all, waste. I'm no environmental scientist, but people I trust, such as aquatic biologist and former Fish & Wildlife commissioner Steve Wright, persuade me that this project is unnecessary.
Along with other articulate opponents, such as Irasburg physician Robert Holland, Wright argues that the project is not as cost efficient as proponents claim, especially considering the damage to Vermont's 12th-largest habitat stock of moose, bears, deer, catamounts, coyotes and eagles.
We need to stop global warming at the source, opponents say: that is, improve energy efficiency. There is probably no scientist on any side of these issues who thinks the U.S. — including Vermont, with its "efficiency utility," Efficiency Vermont — has realized more than a fraction of its energy-conservation potential.
For instance, a 2009 report by the management consultant McKinsey & Company estimates that the U.S. could reduce nontransportation energy consumption by almost a quarter by 2020. That would save $1.2 trillion and eliminate 1.1 gigatons of greenhouse-gas emissions annually — "the equivalent of taking the entire U.S. fleet of passenger vehicles and light trucks off the roads," says the report. Think what we could do by driving less.
The report also encourages planning: "Forge greater alignment between utilities, regulators, government agencies, manufacturers and energy consumers." McKinsey is not known as a nest of tree-hugging socialists — nor of Northeast Kingdom NIMBYs.
Kingdom Community Wind represents faux democracy. Like the term "wind farm," which lends the project an illusion of rural hominess, the word "community" is cynically deceptive.
Yes, the town of Lowell voted 3-1 to support the project in 2010. It reaffirmed that support at this year's town meeting.
But did the townspeople make a disinterested decision? GMP will pay them a half-million dollars in tax revenues and other payments annually, an amount that will escalate over time. That's enough to cover Lowell's entire municipal and highway budgets — and eliminate those taxes — an offer that a tiny (population 879) and essentially economy-less town can hardly refuse.
The company is also tossing out $150,000 annually to be shared by the five other towns in the viewshed. It's got a cozy name, too: the Good Neighbor Fund.
The agreement between GMP and Lowell, moreover, makes clear just how much democracy will remain once the blades start turning. The town will be allowed to obtain, on its own dime, company records to check that payments are accurate. But town officials must keep those records confidential, and the company may destroy them after six years.
So there will be no real transparency, and no history.
The longer my friends and I stayed up there, the more we relaxed. One said he was reminded of the first time he emerged from the Long Trail into the Mt. Mansfield ski area, with its giant lifts and towers, its slopes shaved out of the wilderness. This wasn't as bad as he expected, he said.
The other friend looked out over the Lowell range, where storm clouds were dropping over the summits. She noted that nature dwarfs every human-made thing, whether technology or art. The Sheffield towers, only a few miles away, looked tiny.
We could hear the turning blades creaking in an old-fashioned, mechanical way. I suggested that they needed grease. We were trying to diminish them, I thought later, denying that they are more fearsome than awesome.
And, while I was smitten by that sexy technology, I was also angry. I wanted to stroke the towers' skin. I also wanted to smear them with graffiti. Or blow them up.
I felt depressed as we descended the hill, and for days afterward.
But I can almost predict what will eventually happen, because it happens every time I drive up our own hill in Hardwick and see the 200-foot-tall cell tower that some of us spent years and thousands of dollars trying to stop, or at least shorten. I feel a twinge of sadness for our formerly unspoiled hill. But — while the coverage is still spotty, since no phone company has yet rented space on the tower — I've also gotten rid of my landline and rely only on my cellphone and save money. I can't stay angry and depressed forever.
Denial, anger, depression, bargaining: the stages of grief. The final stage is acceptance.
The long fight over Lowell Mountain has shifted the political winds around industrial wind. Hubbardton, West Rutland, Castleton and Pittsford voted against a proposed commercial wind project in their area. Newark amended its town plan specifically to exclude ridgeline industrial wind development. Lowell Mountain may not have died in vain.
Still, development has come to the Northeast Kingdom. Jay Peak's owners are trying to gather $500 million to invest in expanding their own kingdom. They claim this will create 10,000 jobs — about one-sixth of the region's population. Right.
Will people tire of defending one ridgeline, one river, one view at a time? Or will more and more little deaths mobilize more resistance, the way friends dropping dead throughout the gay community turned grief into rage and rage into successful activism?
The last sign on the Lowell Mountain path, after those foretelling the deaths of trees and rivers, is: "Then only will man find that he cannot eat money."
It is a warning, not a prophecy.
"Poli Psy" is a twice-monthly column by Judith Levine. Got a comment on this story? Contact levine@sevendaysvt.com.