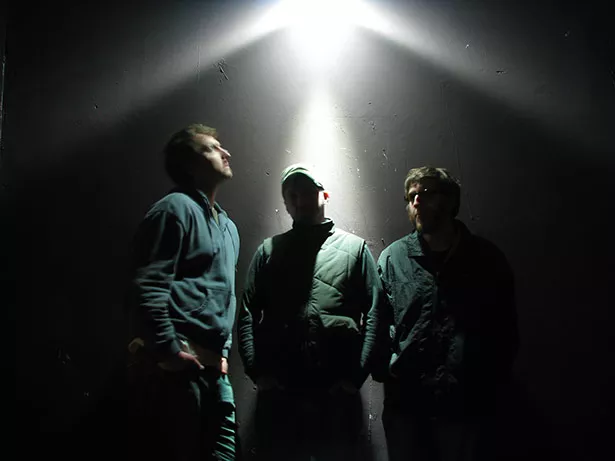 While on vacation two weeks ago, I felt what could only be described as a disturbance in the Force. There I was, whiling away the hours on a beach on Cape Cod, when I felt a presence I'd not felt in some time. But I couldn't immediately put my finger on it, and returned my attention to basking in the surf and sun. Couldn't have been anything too important, I surmised.
When I returned home, I discovered a press clipping from the Montréal Gazette sitting on my desk with the following headline: "Phish wades into pool of reunion rumors." Recognition hit like a biodiesel-powered school bus. That's it! I thought. They're getting the band back together! No wonder I'd thought I heard the sound of millions of hippies crying out in unison. And then silence.
Upon further inspection, the article - provided to numerous media outlets by Reuters - didn't really say anything most of us in Vermont don't already know. It can probably be best summed up by this quote from keyboardist Page McConnell: "Recently the conversations have turned toward the possibility of spending some time together," he says in the article. Well, stop the freakin' presses!
Still, I couldn't resist checking it out. I sent an email query to bassist Mike Gordon, who had this to say: "I feel that there won't be anything more to say than what I keep saying over and over. As Page's statement summed up recently: There are absolutely no plans, but rather enthusiasms."
So, is Phish reuniting? Sounds to me like an enthusiastic "who the hell knows?"
BIG HONKIN' SHOW
Turning to stuff that actually is happening, honky-tonk hero Brett Hughes is getting together with some old friends for a rowdy evening of boot scootin' at The Old Lantern in Charlotte this Saturday. Fans of Honky-Tonk Tuesday at Radio Bean will likely recognize the familiar cast of characters. The chrome cowboy will be flanked by pedal-steel wizard - and occasional Phish collaborator! - Gordon Stone, alt-country heartthrob Lowell Thompson, sultry singin' chanteuse Marie Claire and bassist Tyler Bolles. Yeah, he's related. Williston indie-Celtic trio Pale Fire, winners of the 2008 Young Traditions concert, open the show.
Rounding out the festivities - beneath the light of a full moon, no less - Flying Hayseeds will be serving up "flatbreads from a flatbed," and the Vermont Ice Cream Company will be on hand with a scrumptious array of frozen goodies.
For more info, see the calendar listing on page 22B.
MONOTONY
The story has been told a thousand times before: An Israeli punk band rocks too hard in its native Tel Aviv and heads to North America after being banned from virtually every club in its home country. The musicians land on American soil and make a name for themselves with raucous live antics involving setting fire to equipment and stealing drinks from audience members - only to pour said beverages all over each other. See what I mean? Totally clichéd.
Such is the story of riff-heavy rockers Monotonix, who are playing this Saturday at The Fifth Element, located at the bottom of Battery Street in Burlington. The mysterious Imaad Wasif and Two Part Beast and local indie-pop eclecticists Nose Bleed Island open the show. This week's installment of charmingly bizarre rock is brought to you by the good folks at Tick Tick.
HEAVY HEART
Few genres capture raw, unbridled angst quite like hardcore. Existing somewhere in the gritty ether between metal and screamo, Pennsylvania sextet Motionless in White proves that notion convincingly with an all-out assault of precision crunch and gut-wrenching vocals. This Sunday, the band is taking a break from a coveted slot on the Vans Warped Tour to take part in The Boys & Girls Club of Burlington's Hardcore & Metal Showcase VIII at the Higher Ground Showcase Lounge. Also appearing are Last Chance to Reason, Dour Cursiva, Silence at Daybreak and local acts aVicious Cycle and Half Past Human.
JAMTASTIC
Jam fans will want to take note of a relatively new entry into the noodle-rock fray as Burlington quartet Amozen (pronounced AY-moh-zen) releases their debut studio album A Moment of ZEN this Friday at the Higher Ground Showcase Lounge. The group describes its genre-jumping sound as "alternative re-jam" and claims to have been formed under the philosophy of "love the sound you've found."
I'll be honest, I have no idea what any of that really means. But if you do, I'd recommend checking 'em out. Philadelphia-based Latin rockers Among Criminals and Northeast Kingdom jam-rock quintet Coventry Rhode open the show.
ARTIFICE
Speaking of jam bands, I would be remiss if I didn't pass along that "Jerry Garcia / A Visual Journey" will be passing through the Green Mountains this weekend. The nationally touring exhibition is among the largest collections of the legendary guitarist's artwork ever assembled and features lithographs, etchings, watercolors and hand-signed originals. And the craziest part? He did them all with only nine fingers! Dude.
Obviously, such a remarkable event could only take place in the hallowed halls of one of our finer art museums, right? The Fleming Museum, maybe? Not quite. Check out this particular long, strange trip this Saturday and Sunday at the Waterfront Hilton in Burlington. And yes, all the works are for sale.
SLEEPY TIME
This next bit will no doubt come as a shock to regular readers, but there's a really cool show this week at The Monkey House. I know, I can hardly believe it myself.
Petty sarcasm aside, indie-electronica buffs will want to make their way into the Onion City this Saturday as Cambridge, MA, duo Arms & Sleepers take the stage for an evening of dreamy synth-pop and IDM. The band has been causing quite a stir in underground circles of late and seems poised for breakout in the near future. Also on the bill are Westchester, NY, indie outfit Moving Mountains and local boys My Dearest Darling.
BACK IT UP
Finally, I have a bit of housekeeping to take care of before we part ways for yet another week. Last Wednesday morning, I turned on my trusty little black (Mac)Book, expecting to find the happy smiley-face icon gracing the screen as the laptop sprang to life. Instead, I was greeted by a folder icon containing a blinking question mark. Apparently, that's not a good thing.
It seems my hard drive had been damaged beyond repair or recovery. I lost everything. Email, contact info, old files, photos, stories and, worst of all, an iTunes collection that had been accumulating since Ethan Covey's time as Seven Days music editor. I'm still a bit broken up about that last one.
The point is, if you contacted me recently about coverage for your band, I no longer have the info. In an effort to put all the pieces back together as quickly as possible, I'm putting out an open call for artist submissions. I need music, pictures, contacts and band bios. You name it, I need it. Even if we've worked together before, chances are I no longer have your stuff. And if we haven't ever been in touch, there is no time like the present.
Isn't technology fun?