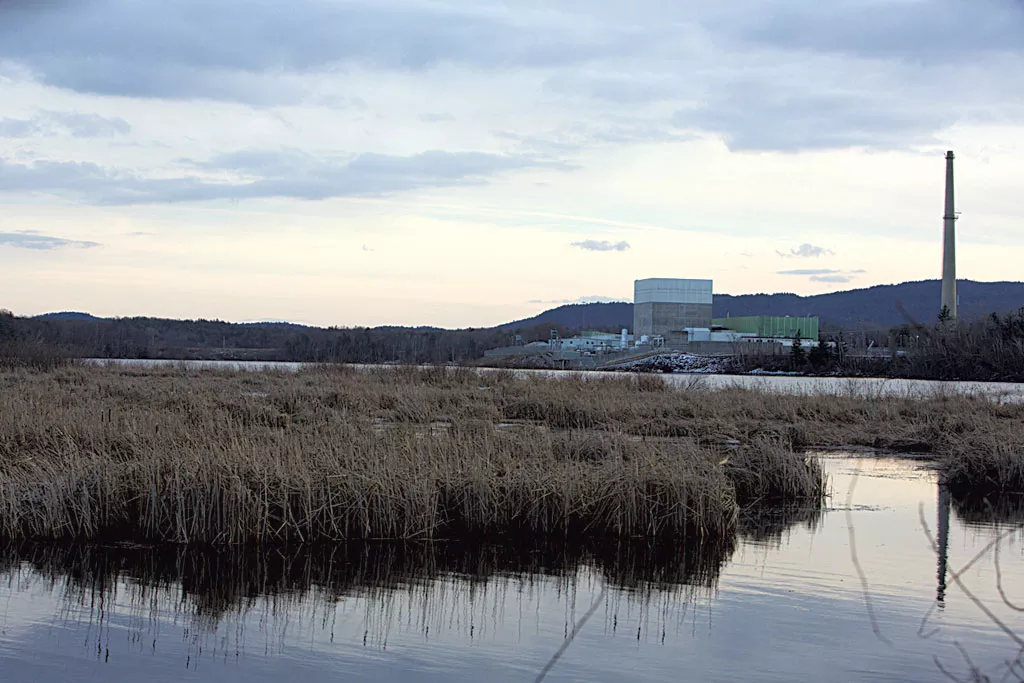 On December 29, the Vermont Yankee nuclear power station in Vernon will unplug from the New England power grid and stop generating electricity. The state's only nuclear plant has been a fixture in Vermont for so long that it's easy to lose sight of how much has changed since it went online 42 years ago.
One of the country's oldest nuclear facilities, VY was designed while Lyndon Johnson was still in office. Construction began the same year as the Vietnam War's Tet Offensive. The plant began producing energy commercially in 1972, the same year the Vermont Supreme Court legalized abortion. At the time, the state was experiencing such a large influx of "back-to-the-landers" that Playboy magazine dubbed it the "dropout mecca of the northeastern U.S."
Some of those folks joined in organized protests against Vermont Yankee; during the antinuclear movement, which peaked in the '70s and '80s, the plant was the target of numerous demonstrations.
Meanwhile, VY has been a cheap source of energy in Vermont, reliably generating about a third of the state's electricity for most of its operational life. Locals found high-paying jobs at the plant, and nuclear professionals moved to the area around Vernon — a town with no geographical center that relies on larger communities, such as nearby Brattleboro, for essential goods and services.
In 2002, the Vermont Yankee Nuclear Power Corp., a consortium of New England utilities, sold the Vernon facility to the Entergy Corporation of Louisiana. It became a "merchant" plant, selling its power to the highest bidders, most of which were out of state. Vermont Yankee continued to supply some in-state utilities, under fixed contracts, until 2012.
Four years after it bought the plant, Entergy started the process of renewing VY's original license, which would have extended its projected life to 2032. But subsequent mechanical problems and underground radioactive leaks cast doubt on the nuclear facility's safety and reliability.
Critics also questioned whether VY's proposed decommissioning fund would cover the cost of dismantling and cleaning up the plant. Entergy's original estimate of $620 million has since ballooned to more than $1.2 billion. In 2010, state lawmakers voted to block VY's ability to operate past March 2012. Entergy sued the state in federal court, and won.
Ultimately, though, it was neither legislation nor litigation that made Entergy shutter VY but simple economics. In an August 2013 announcement, the company cited low natural gas prices and the increasing cost of plant maintenance as key factors in its decision to shut down the plant 16 months later, at the end of 2014.
Vermont Yankee may be closing, but it's not going anywhere. Preparations for the plant's 40-year dormancy period, known as SAFSTOR, begin in January; SAFSTOR itself is expected to commence in 2020. The company, which now employs about 550 people, expects to keep about 316 workers on until 2016, 127 until 2020 and 58 beyond 2020. The next round of layoffs, relocations and retirements is expected on January 19.
The region, now dotted with solar panels that reflect a shift toward cleaner renewable energy, is bracing for the impact. Current and former VY employees run charities, coach hockey teams, put out fires, own homes and pay taxes. Now they're considering jobs at distant nuke plants, changing careers or simply retiring.
Seven Days staff recently visited Vernon and surrounding communities to speak with the people there. Some hailed the closure and voiced optimism about what might eventually replace VY. Others expressed doubt and bitterness about the loss of a generous corporate neighbor with high-paying jobs — most of which, they fear, will never be replaced. The following are some preliminary forecasts for Vermont's postnuclear age, from the folks at ground zero.
K.P.
The Merkles: A Family in Flux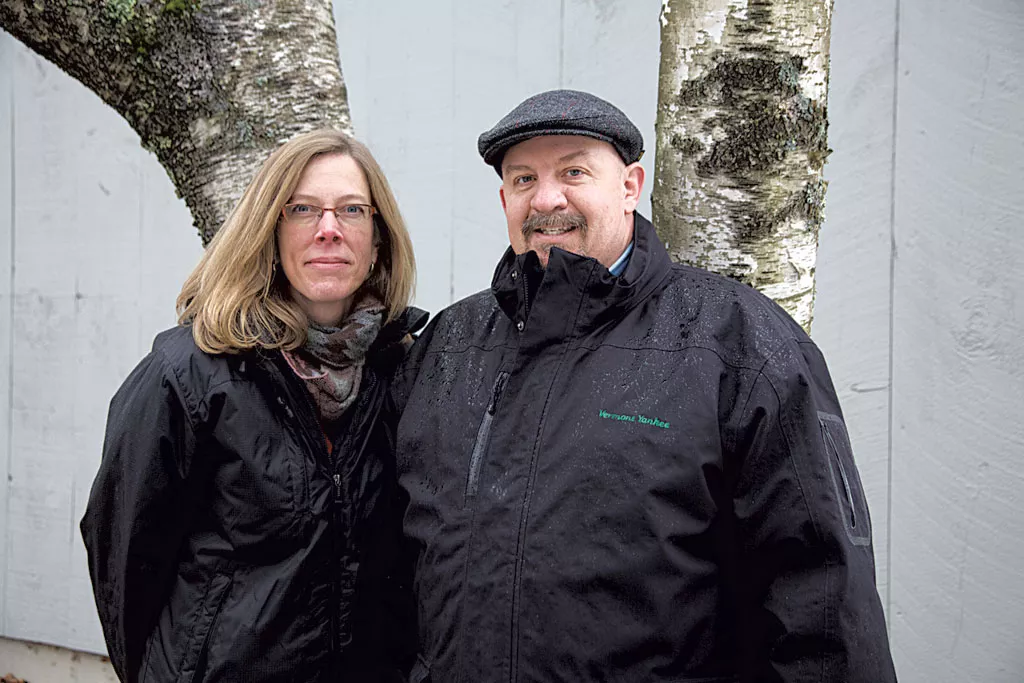 David Shaw
Ellen and Jeff Merkle
Ellen and Jeff Merkle remember exactly where they were when the Vermont Yankee news broke on August 27, 2013. She heard it on the radio on her way to work; he found out in a meeting at the nuclear plant.
"We really had no inkling" the plant would close so soon, Ellen recalled. "We had planned to stay here until he retired," she said of her husband, a systems engineering manager who has worked at VY for eight years.
The Merkles' elder daughter wasn't too concerned — she was a senior in high school getting ready for college. But Ellen said the couple's younger daughter, a sophomore at Pioneer Valley Regional School in Northfield, Mass., was "devastated" by the prospect of moving.
"Your whole life is thrown up in the air," Ellen said, sitting on a plush, red, L-shaped couch in the living room. "We're going to be OK. We know that. With his job, we'll find something. It's the fact that we have to leave our home and start all over again."
Jeff, 48, is from Brattleboro. When they moved to Vernon from Henniker, N.H., for the VY job, "it was like coming home for us," Ellen explained.
But during the last year, Jeff has watched many coworkers scatter across the country. He can list off the top of his head how many nuclear power plants remain in the U.S. — 98 — and easily rattled off the locations of the 10 remaining Entergy-owned plants in Plymouth, Mass., Oswego, N.Y., Covert, Mich., etc.
"A lot of the younger single guys are making the move early," he said.
Jeff is one of the roughly 300 employees who will stay on after the plant closes. "The idea," Ellen explained, "is to try to stay here as long as we can" to avoid yanking her daughter out of high school right before her senior year.
A civil engineer, Jeff said it's possible he could find a job in the area — but it would likely mean taking a sizable pay cut and giving up Entergy's generous pension.
If he were to land a position at a nuclear plant somewhere else, Ellen would have to give up her job at Trend Innovative Business Solutions, and the couple would have to sell their house, potentially in a tough market.
Gesturing up and down the street, the Merkles counted seven close neighbors who work at Yankee. They include a security guard who is selling a house he purchased just months before Entergy announced its days were numbered.
The Merkles were initially hesitant to share their story. "The press now wants to know about the people at Vermont Yankee," said Ellen, choosing her words carefully. "That wasn't there when people were protesting, when the newspapers were putting out all sorts of bad stories.
"Where were you," she asks, "when everyone was clamoring for us to close?"
A.F.
Lucie Fortier: Mission Impossible?
David Shaw
Lucie Fortier
The Brattleboro Area Drop-In Center is on a steep, winding road just south of downtown. It's based in a two-story clapboard house with a battered slate roof, a plow-scraped mud patch for a lawn and a front door that gets barricaded by snow.
It's also "A place of welcome, warmth & peace," promises a small sign near the side entrance.
Farris Cathey, the center's intake specialist, greets visitors with a hearty hello, then asks them what they need. That might be free bread, produce and canned goods; winter clothes; housing assistance; counseling; or temporary shelter from the cold. Cathey, a 10-year Marine Corps veteran, spent two years in Vietnam before becoming homeless himself, so he understands the needs of the center's clients, who numbered nearly 12,000 last year.
Lucie Fortier, the center's executive director, works upstairs in a cramped, low-ceilinged office that was once the attic. The 65-year-old Vernon resident started volunteering at the center in 2001 and has run it for three years. Shortly after 9/11, she and her husband spent a weekend feeding the homeless in New York City's Bowery district. That's where she "heard the calling" and made a decision to devote the rest of her life to helping the poor.
For 27 years, Fortier explained, the drop-in center has served hungry and homeless residents from Windham County and beyond. Some travel from as far away as Newfane and Halifax, Vt., Hinsdale, N.H., and Greenfield, Mass. Eight years ago, the center opened an emergency overnight shelter at the nearby Baptist church. It now averages 35 to 38 residents per night. Everyone sleeps on the floor because the church doesn't have the space to store cots. It's among the few overnight shelters in the Brattleboro area, and the only "damp" one, as she put it, meaning it accepts people who've been drinking.
In 2014, Entergy donated $32,000 to the drop-in center — a significant chunk of the $175,000-plus the company contributes to area nonprofits every year. That figure, which represents 10 percent of the shelter's operating budget, doesn't include donations from individual plant workers or support from Feed the Thousands, an anti-hunger campaign cofounded by Larry Smith, Entergy's former director of communications.
Fortier said she has a lot of great friends who work at Vermont Yankee and knows others who want it to close. "But when they're gone and they stop donating for all kinds of things that go on in this community — the Christmas breakfast, the kids' fairs on the common, the Strolling of the Heifers — people are going to realize that they lost a good corporate neighbor," she said.
As if on cue, Fortier's cellphone rang. The ringtone was the theme song to the '60s TV show "Mission: Impossible."
K.P.
Stephen Skibniowski: Back to the Future
David Shaw
Stephen Skibniowski
Stephen Skibniowski has worked at VY for all 42 years that the plant has been operating. He'll retire in January, shortly after it powers down.
After finishing work on a recent evening, Skibniowski found himself in the basement of the Vernon town offices — down the road from the plant — with his work badge still around his neck. Dimly lit and containing only a few tables, chairs, an American flag and a green metal safe, the room used to be headquarters for Vernon's cops. Residents voted to disband the local police force last Town Meeting Day as part of a belt-tightening effort.
A third-generation Vernon resident, Skibniowski started at Yankee as a security guard in 1967. Now 65, he's an environmental specialist for radioactive effluents and environmental monitoring. He translated, "I'm the guy that keeps watch of our effluents — what's the leaving the plant."
He recalled the optimism in Vernon when residents found out a nuclear power plant was going to be built in their town. "I remember my father, who was on the school board at the time, being quite excited about it because it meant an influx of money and people and it would reenergize the town," Skibniowski said. When the power is on, VY supplies half of Vernon's municipal tax base.
Skibniowski can sound nostalgic but he's not wallowing. He serves on the Windham Regional Commission and on the governor's Nuclear Decommissioning Citizens Advisory Panel.
He also chairs the Vernon Planning Commission, which was recently tasked with fostering economic development in the region. In that capacity, Skibniowski is trying to resurrect the town's proposal to create an incubator space for budding online businesses; the idea is to keep skilled VY workers in Vernon.
As part of an agreement with the state, Entergy is providing $2 million during each of next five years to promote economic development in Windham County. But the incubator idea didn't make it onto the short list of proposals submitted to Gov. Peter Shumlin, who is expected to make the final selections before the end of the year. Skibniowski sent Shumlin his own pitch for the project.
As for his own future, post-VY? "I bought a horse," Skibniowski said. "Suzie Q. She's a sweetheart. I've had my knees fixed, so I'm going to try riding again. And I bought a carriage, so I'm going to be back on the road."
A.F.
Kate O'Connor: Minding Her Businesses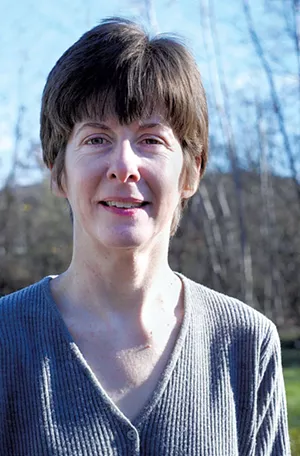 Courtesy of Kayla Rice/The Brattleboro Reformer
Kate O'Connor
Kate O'Connor doesn't own a business, but she's a major driver of Windham County's economy. She's vice chair of the Brattleboro Selectboard, executive director of the Brattleboro Area Chamber of Commerce and a member of the Vermont Nuclear Decommissioning Citizens Advisory Panel.
Not surprisingly, O'Connor's job duties include putting a positive spin on the impending closure of Vermont Yankee.
From her view, the Brattleboro area — which includes Vernon, Putney, Grafton and several other Vermont towns, as well as Chesterfield and Hinsdale, N.H. — has enough economic diversity to weather the loss of the region's largest employer. She provided Seven Days with a list of the area's numerous manufacturing firms, educational institutions and health care facilities.
"Vernon is another story," O'Connor said. "It is a company town, and they get a lot of their tax revenue from the plant."
But it's not as if Entergy is going to turn off the lights and leave town at the end of the year, taking every employee with them, she stressed. The cutbacks will occur in stages. "It's not like we're going to have a mass exodus of 600 people."
O'Connor was careful to note that not every plant employee lives in the immediate area, and predicted that many soon-to-be-ex-employees will stay in place and find new jobs. O'Connor, 50, gave her brother-in-law as an example. A former IT worker at VY, he resigned a year in advance of the closure, and has since found a job with Brattleboro's School for International Training.
O'Connor is one of 19 members on the plant's decommissioning panel. After just three meetings, she said the group is still working out its mission and agenda. She and her colleagues have heard plenty of questions about nuclear safety issues. But O'Connor is more interested in the post-Yankee goals of growing existing businesses and attracting new ones. She has plans for the $10 million that Entergy has promised to boost the local economy after the plant closes; she hopes some of it will be earmarked for a revolving loan fund that would assist local businesses.
"The world is not ending on December 31. I have not come across many people who are panicking," she said. "It's going to be a challenge, but I think the outlook is bright."
E.D.s.
Gary and Leslie Sullivan Sachs: Still Saying "Nay"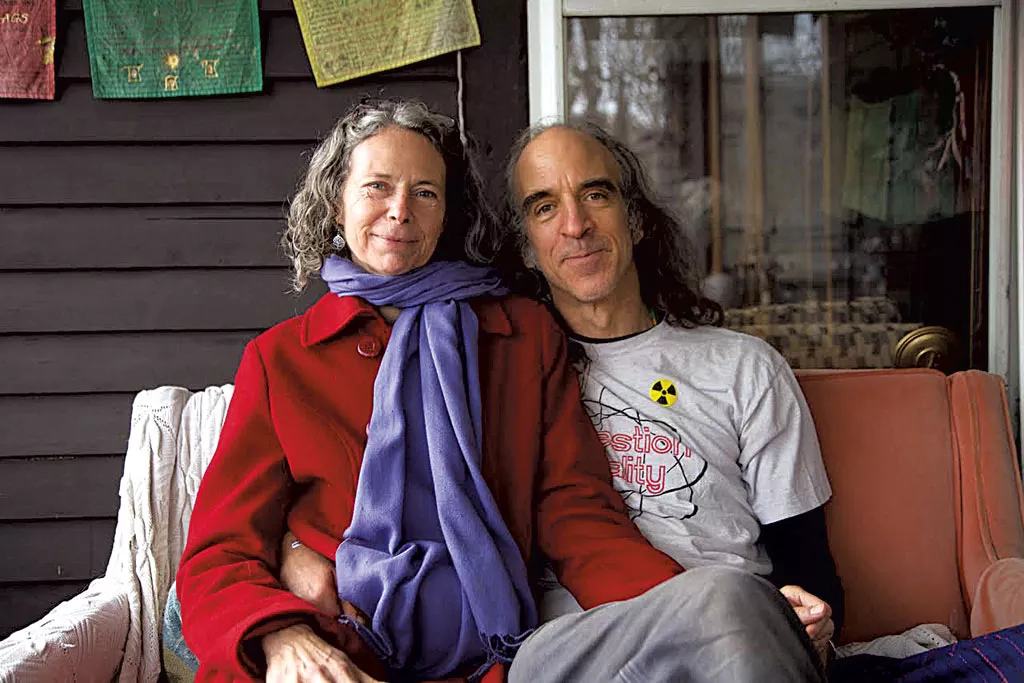 David Shaw
Gary and Leslie Sullivan Sachs
The small office that adjoins the kitchen of Leslie Sullivan Sachs and her husband, Gary Sachs, chronicles the skirmishes in their war against Vermont Yankee. The Brattleboro couple's walls are covered with framed photos of protests and marches past. Gary has collected an enormous stock of anti-Vermont Yankee propaganda, including bumper stickers and buttons. An antinuke lawn sign appears to be permanently planted in their front yard, even though a case could be made that they've won the battle to close the plant.
The two have devoted much of their adult lives to fighting Vermont Yankee, using every means at their disposal. Leslie, 59, is an environmental educator and projects organizer for the Safe and Green Campaign, a grassroots effort devoted to VY's closure. Her eyes welled up when she spoke of the Fukushima nuclear disaster in Japan. She said she believes her own sister-in-law contracted cancer as a result of the Three Mile Island meltdown in 1979.
Gary, 54, used to host a cable-access show that addressed nuclear issues from a local perspective. He's a nurse who also works in a bookstore and an art gallery. Since 2001, he's devoted most of his spare time to activism.
While they acknowledge their own parts in raising awareness, Leslie said, "I really believe that the collective efforts of 40 years of people saying no to this plant certainly impacted our legislators and the governor. It's been a sustained effort over time by a very educated populace."
And it ain't over yet. While the Sachses admit that they'll feel a great sense of relief and achievement when the last atom is split, "the work ahead of us," Leslie said, "is to make sure that [the plant] is shut down properly, and that [we address] that highly radioactive nuclear waste that's on the banks of the Connecticut River. It's actually a lot more fun to say, 'Shut it down,' than it is to say, 'Shut it down properly.' This is the hard work now ... Did we throw a party? You betcha. But it's all very much tempered by what's ahead."
What's ahead, she and Gary figure, are more struggles with Entergy, through the shutdown.Plant closure, they said, was a single, coherent goal, but decommissioning is a diffuse, complex, decades-long process. Neither of these activists is going away.
E.D.s.
Larry Doucette: Radiating Generosity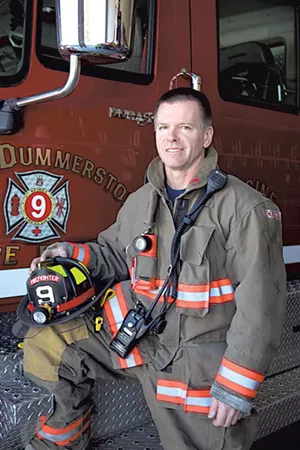 David Shaw
Larry Doucette
Larry Doucette had a lot of different jobs before Vermont Yankee hired him almost two decades ago as a mechanical engineer: logger, iron worker, small-engine mechanic, night manager at a restaurant. But none has been as rewarding as his current position.
"I'm not the smartest guy working at the plant. I'm just an average guy," Doucette said. "But I'm a good community person. I'm a hard worker at the plant and I'm very happy there. And I never had a job I kept for 17 years. That tells me something."
Doucette is better off than some. He's got a job until spring of 2016 — more than enough time for his son, a senior at Brattleboro Union High School, to graduate, and for his daughter to get in another year at Castleton State College. The 49-year-old Dummerston resident said he'll leave Yankee — hopefully for another Entergy job elsewhere — with no hard feelings.
"I have nothing but respect and appreciation for Entergy for all they do for the people who work there," he said. "Other places I've worked at that went out of business, you showed up for work and there was a padlock on the door. You didn't get a one-year warning. You didn't get seminars about résumé writing or training, or relocated somewhere else in the country by choice. You didn't get a severance. You got nothing."
Doucette has made the most of the opportunities Entergy offered — not only to him but to the local groups for which he volunteers. For the past five years, he's served on the Entergy Vermont Yankee charitable contributions committee, which meets monthly to dole out company funds to the community. "It's the best meeting of the month," he said, "because you leave with a smile on your face." Entergy encourages its employees to devote several hours each week to charitable work — and pays them for it.
Doucette is also on the Dummerston Energy Committee, which strives to reduce the town's reliance on fossil fuels. He coaches the girls' high school hockey team. And he serves on the West Dummerston Volunteer Fire Department, as both a firefighter and a medical first responder. Thanks in part to an Entergy donation, the town fire and rescue squad got a new garage.
In a similar spirit, Doucette is part of the rapid-response team that's charged with fixing and analyzing failed equipment at Yankee. He volunteers for any job at the plant, including those involving leak repairs in high-radiation areas. Despite the risks, Doucette said he always feels safe because "you are amazingly monitored and kept safe by so many people and so many regulations that it helps you feel very confident about what you are doing.
"I have no concerns, even when we go to some of the most radioactive areas," he said. "When you balance it out, the amount of radiation you get over a year is so minimal compared to background radiation" from an international flight, a dental X-ray or other sources. "I try to put it all in perspective."
The only bitterness Doucette expressed was directed at Gov. Peter Shumlin and other politicians who cheered the announced closure of Vermont Yankee. He noted the irony in the governor supporting Green Mountain Power's 2011 deal to buy electricity from New Hampshire's Seabrook nuclear power plant.
"Given my psychological state about Vermont, I'm very much looking forward to moving on to a new career and a new state," Doucette said.
When he and his wife leave Vermont, they'll take with them skills and values that Doucette expects any new community would embrace. His wife, Christina, is an X-ray technician at Springfield Hospital and a part-time dispatcher for the Vermont State Police.
"I feel like, when they shove you out the door, it's time to go," Doucette said.
K.P.
Jeffrey Lewis and Jen Stromsten: Post-Nuclear Depression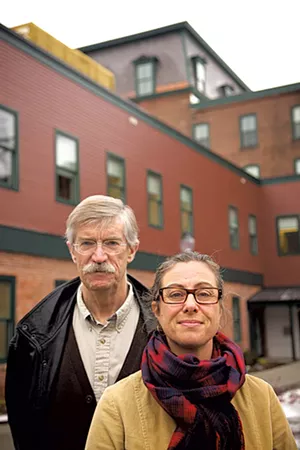 David Shaw
Jeffrey Lewis and Jen Stromsten
When a major employer pulls out of a sparsely populated region, the effects can be devastating. Many a Midwestern town has been reduced to an expanse of fallow cornfield by the departure of a manufacturing plant or large agricultural facility. According to Jeffrey Lewis and Jen Stromsten, though, the closure of a nuclear power plant presents a special — and especially vexing — challenge.
Lewis, who lives in Brattleboro, is cofounder of the Institute for Nuclear Host Communities and one of the authors of a 2012 report by the Post-Vermont Yankee Task Force of the Southeast Vermont Economic Development Strategy Planning Group. He calls nuclear power plants "economic flying saucers" — not for their alien technology but for their ability to hover, befuddle observers and then disappear.
"Almost all of the people who work at the plant didn't come from here," Lewis said in a local café called the Works on Brattleboro's Main Street. "Almost all of the capital that went into building the plant didn't come from here. Somebody picks a place, drops in this billion-dollar operation, brings in all the people who are going to run it, and runs it for 40 years. And then, when it closes, they all go somewhere else."
Lewis and Stromsten, INHC's cofounder and program director, said that when nuclear plants close, they tend to leave their communities worse off than before. Indeed, Lewis said, plants tend to be situated in "declining economic regions," and any resulting boosts in business effectively "mask ... the economic decline that's going on underneath that."
The negative economic effects of Vermont Yankee's departure, Stromsten said, will in fact be compounded by the fact that more and more New England nuclear plants have been shuttered recently. As a result, she said, employees are faced with a scenario of "taking a job in Louisiana now, because there may not be another job ... that'll come up in the next two years."
The duo's work — which follows that of University of Massachusetts professor John Mullin, who did a pioneering study of the economic aftereffects of nuclear plant closures — suggests that the repercussions of Vermont Yankee's shutdown will filter down to interpersonal levels. Their studies point to a loss of "intellectual and social capital" that's difficult to quantify but potentially even more damaging than the economic drain.
Stromsten resides in Greenfield, Mass., half an hour from VY and within its "laborshed." An Entergy employee has been a major funder of her child's sports team. Plant employees, she pointed out, often earn salaries double the region's median. When that employee's family leaves, she said, "we'll feel it in Franklin County, Mass."
E.D.s.
Ken and Peggy Farabaugh: Plan B
David Shaw
Peggy Farabaugh
Ken Farabaugh, 59, worked at five different nuclear power plants before settling at Vermont Yankee. Two of them — Millstone in Connecticut and Shoreham in Long Island — closed abruptly, sending his family packing.
He and his wife, Peggy, adopted a policy: Always have a Plan B.
"We've always been worried," Peggy said, noting that local opposition to VY didn't provide much in the way of comfort. But they were determined to put down roots because they had a toddler — the first of two sons who are now in college. Nearly two decades later, they're still here, preparing for shutdown No. 3.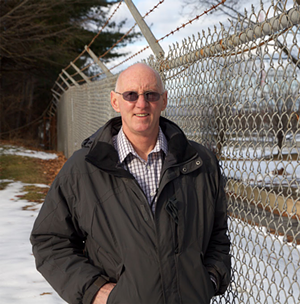 David Shaw
Ken Farabaugh
Wearing a white, cowl-necked sweater, Peggy sat at a cherry dining table in a renovated farmhouse on Huckle Hill Road in Vernon. Walnut chests, oak coffee tables and cherry bed frames were artfully arranged around her. This is the Vermont Woods Studios showroom, aka Plan B.
Peggy directed distance-learning programs for Tulane University in New Orleans until 2005, when she lost her job because of Hurricane Katrina.
Ken, 59, predicted it wouldn't be long before he lost his job, too, as a coordinator for the Vermont Yankee vice president.
So the couple decided to open an online furniture business, selling Vermont-made products out of a spare bedroom. Ken had picked up woodworking skills. "Every time we moved somewhere, our furniture didn't fit, so I wound up building stuff," he explained.
"My initial vision was, it would be something that may not be permanent but may be enough to hold the taxman and the bills off for three months or so," Ken said.
Today, Vermont Woods Studios employs 10 other people in a spacious farmhouse, perched on a hill that was a ski mountain in the 1940s. "We've put Vermont-made furniture in all 50 states," Peggy pointed out with pride.
When Ken loses his job in January, he'll join his wife, who's been running the business. For the last several years, he's worked at VY during the day, then spent evenings and weekends at Vermont Woods Studios.
Ken is looking forward to having only one job, but Peggy admitted she's concerned. "For me it's like, oh my God, how is this business going to replace your income?"
Other Vernon residents invariably point to the Farabaughs as an example of Vernon's post-Yankee potential. But past experience, a predisposition to worry and a hurricane gave them nearly a decade's head start. "It's fortunate we've had this much time, because it's taken this long to mold this business," Ken said.
Yankee workers could have it worse, he pointed out. Ken recalled getting a "tap on the shoulder" at Millstone, two days before he was scheduled to buy a house. In this case, Entergy is going to great lengths to help employees find new work. "You have a year and a half to figure it out," Ken said.
A.F.
Timeline
The original print version of this article was headlined "Gone Fission"