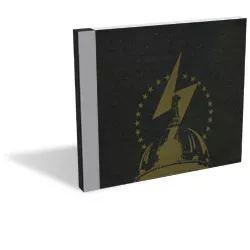 (State and Main Records, CD)
It feels like ages since we've had a full-fledged local compilation album. At the risk of dating myself, there once was a time when the easiest entry point into the local scene was to peruse a Good Citizen magazine or Club FUB comp. Those were halcyon days when, in the span of an hour or so, you could get relatively up to speed on the local music scene and figure out which bands you liked, or didn't. For whatever reason — the slow, steady death of CDs? a general scene disconnect? the Tea Party? — the compilation album is less prevalent in local stacks than it used to be. But that may be about to change.
With the release of State and Main Records: Volume I, Montpelier's Golden Dome Musicians Collective has revived the concept of the local sampler.
Featuring 15 acts spread over 19 tracks, the disc represents a shiny snapshot of the burgeoning rock, folk and hip-hop communities propagating under the shadow of the Golden Dome. Though a bit hit-or-miss, the recording is a fine introduction to the quirky central Vermont scene, and shows there's a lot to love.
"Get It On (Get Me Off)" by That's What She Said is a scorching intro track, suggesting riot-grrl punk is alive and well in Montpelier. Rockers Sweet Hound check in with two cuts: four-on-the-floor rocker "Give Your Heart to Us" and the cheeky "The Party's Over."
Town-Wide Yard-Sale's "Sword Drawn" is an early highlight, a sort of deranged, lo-fi doo-wop ballad. Lake Superior obliges the White Stripes-ish garage-blues portion of the program with an instrumental, "Flint River Blues." That leads into one of the disc's most compelling tracks, "June," by Simple Heart, which is perhaps the disc's most intriguing discovery.
That band's humble, pretty and heartfelt "Lucky Strike" is also a comp highlight, painting Simple Heart as a lovely abstraction of early Shins and Evan Dando. And bonus points for tasteful use of AutoTune — yes, really. You'll want more.
While the quality of the perform-ances here is almost universally solid, what's most impressive about Vol. I is the variety of music being made in Montpelier. There's something here to suit most any taste, from hip-hop (Boomslang) to electro indie dance-pop (Champagne Dynasty) to rock (Sweet Hound, Torch Canal) to … well, I don't know what you'd call Boxman. Long live the local comp.
State and Main Records: Volume I was released on Tuesday, February 15. A listening party, with performances, takes place on Saturday, February 19, at Montpelier's Buch Spieler Records. There's a CD-release celebration and show later that night at Langdon Street Café.