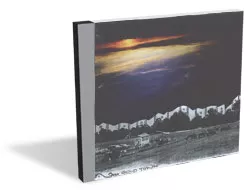 (Self-released, EP)
Given the stodginess exhibited by many trad, bluegrass and folk musicians, it's hard not to be at least a little intrigued by a string band that doesn't take itself too seriously, right? Right. Enter Gold Town. With their self-titled debut EP, the southern-Vermont-based trio introduces what they call its "fast bluegrass and whiskey twang." And, by and large, the band represents a fun new addition to the state's vibrant Americana scene.
Gold Town oblige the fast-grass designation on the EP's first cut, "The Slatetown Breakdown (aka West Pawlet Gap)." The instrumental does a fair job of showcasing the band's collective talents. Guitarist Andrew Stearns holds down a spastic lead theme, while upright bassist Josh Loun keeps the low end simmering. Fiery picking from banjoist Will Mosheim lends the tune something of a frantic "Dukes of Hazzard" chase-scene feel. But if you're gonna call yourself fast, son, you'd best be fast. In a mountain-music hotbed like Vermont, this tune would barely register on Roscoe P. Coltrane's radar gun.
The second track, "Drinkin' the High Class," fulfills the "whiskey twang" portion of the program. And it finds the trio more squarely in its comfort zone. Reminiscent of prodigal VT pickers the Jugtown Pirates — now based in San Francisco, in case you were wondering — the tune boasts a boozy, late-night barn-dance vibe. Also like the Pirates, no member of the band is particularly virtuosic on his chosen instrument. But what they lack in ace chops, Gold Town make up for in spirited performances. The song is immediately inviting and pleasingly haphazard.
"Hometown" slows the proceedings with a surprisingly tender 6/8 ballad. No individual songwriting or vocal credits are given in the EP's liner notes. But whoever takes the lead here delivers with heart-wrenching sincerity, even if the lyrics don't always quite make sense: "I get so tired of being barren to something physical folding with my limbs." The confusion of heartbreak, perhaps?
The band rounds out the EP with "Cattle in Cold Blood" and a rousing, uncredited closing track that nicely encapsulates the EP's casual back-porch appeal. While Gold Town may not blow you away with blinding licks, they don't necessarily have to. Refreshingly loose, they're more than capable of rocking a party. And their debut EP, while a decent appetizer, suggests the band is perhaps best at doing just that.
Gold Town are in the middle of a weekly Thursday-night residency at Nectar's that runs through Thursday, February 18.