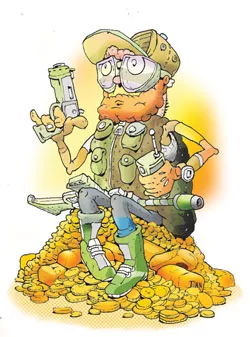 If you're like me and you follow Glenn Beck like the apostle Paul followed Jesus, you're crapping your chinos right about now. What with the uprising in the Middle East, the multiple natural disasters in Japan and Charlie Sheen losing his everloving mind, it is obvious the end is nigh. Or, at least, a total meltdown of the world as we know it looms on the radioactive horizon. We in the paranoid community of nutballs call this prospect when the Shit Hits the Fan, or SHTF for short. You know, the time when people will steal your eyeglasses to use as fire starters and rip your teeth out of your mouth for the metal.
One of the ways in which Mr. Beck has advised us to steel ourselves against the upcoming societal collapse is to buy gold. Buy it now, and buy it often. Sell your grandmother's wheelchair if you have to, but just buy some bleeding gold already. Preferably from Goldline, the only gold merchant for which Mr. Beck shills.
As a dutiful foot soldier, I have followed Mr. Beck's directives to the letter. I am now the proud owner of a pirate's chest full of South African Krugerrands, American Eagles, Canadian Maple Leafs, Austrian Philharmonics, a couple of gold bullion bars and a few doubloons thrown in for good measure. I also own a piggy bank full of pre-1965 sterling silver dimes and a handful of wooden nickels. Don't bother trying to figure out where I live so you can plunder my stash while I'm out inventorying the canned goods in my survival shelter. I'm armed to the teeth and not afraid of generating a casualty or two. Collateral damages come with the territory.
But here's the thing I can't quite puzzle out about this small gold fortune I'm sitting on. What the hell am I supposed to do with it when the ruination comes?
I can't eat gold, that's for sure. I can't heat my house with it or use it to keep the lights on. Nor can I power my car with it or sew clothing from it. I have all these gold coins, but with the value of gold currently at an all-time high of $1438 an ounce (a mind-blowing increase of 463 percent over the past decade), I'm not going to be trading it for a bag of turnips, right? I mean, unless those are some banging-ass turnips worth a few thousand bucks.
I realize that most people who buy gold do so as a hedge against inflation — a fiscal insurance policy of sorts. But I'm talking about when we're well beyond that. When there's no more currency to inflate, and the only use paper money has is to help you start a fire. You know, the SHTF scenario.
To answer my question, I sought the counsel of a few folks who know a thing or two about gold. Thomas Naylor, the former economics professor and secessionist behind the Second Vermont Republic movement, doesn't have any money tied up in the market. All his investments are in physical gold or gold stocks, because, he argues, gold will always be worth something.
"Gold will still have its intrinsic values. Maybe the fidelity goes down, but someone will be willing to buy it," Naylor says. Plus, he adds, metal will always have meaning.
OK, but how do I pay for goods with a precious metal that before the SHTF was worth more than $1400 an ounce? Do I shave off little bits of gold, weigh them on a gram scale, and exchange some slivers for a handful of seeds and an ax? What if I don't have a sharp enough knife?
I put my query to Saratoga Springs-based author James Howard Kunstler, who has written extensively, in both fiction and nonfiction, about the post-oil world and our dystopian future in it. In his novels World Made by Hand and The Witch of Hebron, gold and silver replace a "discredited" dollar, though most gold is hoarded, leaving silver as the primary tender in ordinary cash transactions. Like Naylor, Kunstler believes in the inherent value of these precious metals, "even if [we] are suffering and hard up for things."
"Gold and silver will be valued against commodities and other things of value," he writes in an email. "A half ounce of silver gets you five pounds of fish or a pound of honey or something like that. Even primitive free markets mainly exist for the process called 'price discovery'" — wherein buyers and sellers determine a transaction price for a specific item at a given time.
So, maybe I should ditch the gold and buy silver? Not exactly, says Paul Mendelsohn, chief investment strategist at Windham Financial Services, based in Ferrisburgh. A former gold trader, Mendelsohn is still fond of the shiny yellow metal. It's been one of the best-performing assets in the last eight years, and that trend is likely to continue, he says.
People who buy gold, Mendelsohn advises, should look at it as an alternative currency, one that will hold its value during a major crisis. He recommends that if you invest in gold coins, you should have enough to get you through three months' worth of expenses.
Then what? "I'm making an assumption that the people you buy [the coins] from will be able to cash you out," Mendelsohn says.
But what if there is no cash? What if our fiat currency explodes like an overinflated dirigible, and all the gold-and-jewelry dealer can offer me is a couple of empty peanut shells and a pinch of pocket lint?
"The more you get into this," says Eric Hanson, president of Hanson & Doremus Investment Management in Burlington, "the more the world becomes a scary place, because everything is like the Wizard of Oz behind the curtain. Because it's all a made-up thing — paper currency, gold, whatever it is. In the final analysis, we just hope that it's going to be worth what we think it's worth."
So, really, it's just a matter of crossing my fingers and hoping that when the nuclear winter comes, I'll have found some practical use for my gold booty. Luckily, gold has a number of physical properties that make it more than just flashy bling. It's the most malleable and ductile metal, as well as corrosion resistant and highly conductive. (Today, the 10 percent of gold that isn't someone's jewelry or investment is used for industrial purposes.)
When the SHTF, I can take my coins and melt them down to build a circuit board to communicate with the mother ship. Or perhaps I can hammer out a sweet grill to replace the teeth that will have rotted out of my mouth. I could even beat some into gold leaf and use it to paint Byzantine-style icons, which will serve no functional purpose after Armageddon but sure will look pretty.
Maybe I should just stock up on hand tools instead.