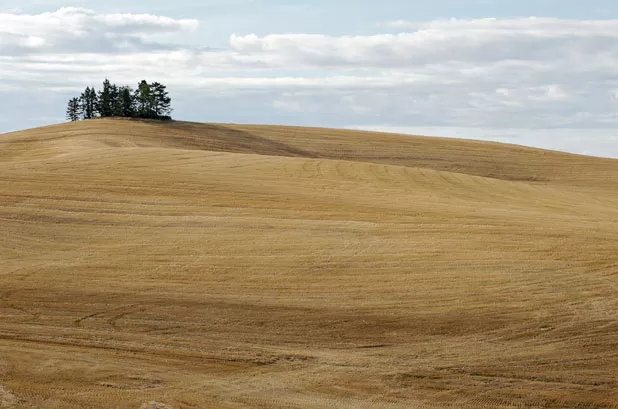 In Neal Rantoul's photographs, corduroy hills of tawny wheat slink into the horizon, all curving texture under the western sky. This landscape is Rantoul's muse. The accomplished and meticulous photographer has returned time and time again to this farmland near rural Pullman, Wash., since it first beguiled him in 1993. His exhibition "Wheat, An American Series," at the newly opened PHOTOSTOP Gallery in White River Junction, features pictures taken in the fall of 2008 and spring of 2009. The landscape alternately appears in endless stretches of gold or emerald green. In the spacious white-and-dark-gray gallery, these richly textured hillsides almost purr; smooth photographic surfaces mix with fiber-arts sensuousness to luscious effect.
Rantoul began photographing this land more than a decade ago with an 8-by-10-inch film camera, positioning himself along dusty farm roads. These days he's using digital and shooting from above as well as on the ground. Rantoul's aerial photographs of wheat mid-harvest are among his most enticing. In "Wheat 5," tracks of the harvested grain make lacy patterns in the landscape. The movement of these swaths follows the contours of the hillsides and the farmer's yen. Seen from above, the topography flattens out, making the meditative patterns more prominent and mysterious. Each pale line of cut wheat seems another stitch in a rippling bolt of velvet.
With his precisely focused, composed and printed images, Rantoul is a photographer's photographer. In the stark elegance of the PHOTOSTOP Gallery, it would be easy to peg him as a strict formalist concerned only with the perfection of the image, but he's too enamored of the landscape to fit that description. A sense of place burns in each printed grain of wheat. In his works, farmers spin their silvery webs through the landscape, and Rantoul's lens "reads" the swirling lines as if they were poems.
This exhibition is Rantoul's first for the PHOTOSTOP Gallery. Located in the Tip Top Building, an arts center that also houses Two Rivers Printmaking Studio and other creative businesses, the gallery opened in September. Owner Lia Rothstein selected Rantoul's works for the inaugural show after meeting him at the Photographic Resource Center in Boston. She felt his work would "set the standard of excellence and seriousness" she intends for her gallery, Rothstein writes in an email. With two adjoining rooms as well as classroom and darkroom areas, PHOTOSTOP is all clean functionality, which suits Rothstein's purpose. "I decided to create a place where people could look at, share and learn about photography," she says. Such spaces are especially needed in the age of digital photography, she suggests, when "so many images never make it off a memory card or personal computer."
Rothstein hopes to support her fledgling gallery by selling artwork — there were two sales at the Rantoul opening — offering classes and workshops, and eventually sponsoring some juried shows. While she chose highly polished landscape images to launch the venue, she wants to use PHOTOSTOP as a catalyst for discussing the current and future state of photography. "I want to present a variety of photography shows, everything from interactive video to traditional film and (now) digital photography," Rothstein explains.
A photographer for 30 years, Rothstein is saddened by the recent closings of photography shops and studios in the area. "We're the only photography or photo-based-work gallery in the Upper Valley region," she notes. She's optimistic that her long history and deep ties to the community will help PHOTOSTOP thrive.
With an opening-night turnout of about 200 people, the community certainly responded. Following the reception and a lively "Conversation with the Artist" event the next day, Neal Rantoul is also feeling positive. "My sense of the photography/arts community in [White River Junction] is that it is very strong," he reckons, "and starved for just what PHOTOSTOP represents."