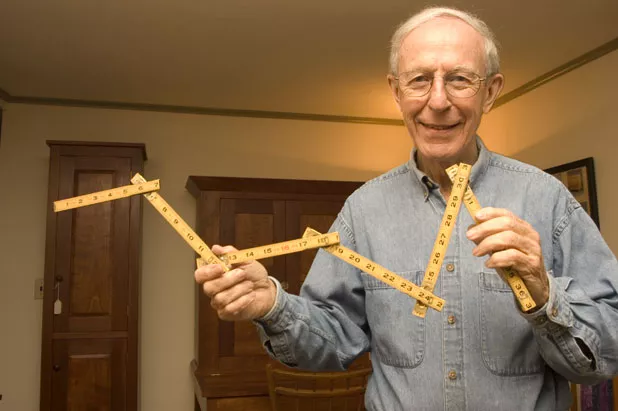 Matthew Thorsen
Furniture Maker Edward Allen
The Green Mountain State boasts 68 home wood-furniture makers and collectives, according to the Vermont Wood Products Marketing Council. They all produce gorgeous pieces for sitting, eating and housing one's books. But for customers drawn to the clean lines and scrupulous construction of Shaker furniture, the work of Edward Allen stands out.
The 74-year-old Middlebury resident has crafted one custom-ordered piece at a time in his converted garage since retiring from teaching industrial arts at age 51. The Shaker sect's furniture appealed to him from the start, he says: "I always liked the proportions, and they were very meticulous about how they made things." Flipping through an album of his past work, he pauses at a photo of a desk he made for a Hollywood writer. "At first, he sent me a sketch of what he wanted, and it was so ultra-modern that I didn't even want to do it," Allen recalls with a chuckle. "I like to do things that have a link to the past."
Inside Allen's house is a small showroom where prospective customers can see finished pieces in elegant, satiny cherry — a wood Allen says he favors because of the way its color changes as he works. Eschewing stain, he hand-rubs each piece with a clear Danish oil finish, sands it with 600-grit paper, and cloth-dries it "just as dry as I can get." Then he repeats the three-step process twice.
And that's just the surfaces. His smoothly sliding desk drawers have no metal gliders — which means their dovetailed construction takes into account the expansion and contraction of the wood over time. In some drawers, he inserts a false backboard a few inches from the end that reminds people not to pull them out too far. Legs have mortise-and-tenon joints secured with wooden pegs.
An ingeniously constructed plantation desk — Allen happened on the design while touring a historical house, he says — consists of two separate parts for easy transport: a lidded table and a shelving unit that sits on top. A low-profile molding attached to the desktop keeps the upper unit in place. Allen enjoys inserting personal touches into each piece: This one has a hidden compartment. "But my grandkids discovered it right away when I told them about it," he adds.
Allen tends to draw repeat customers — vacationers from South Carolina, Texas or Vancouver who show up on Open Studio Weekend and end up ordering piece after piece as years go by. Fellow woodworkers come to inspect his work, too; he once discovered one hunkered down beneath a hinge-top desk in the showroom, studying its roll-out supports.
A fifth-generation Vermonter from Brattleboro, Allen says he "heard Ira Allen is the [family] side we're on, not Ethan's, but I don't have any proof." His father and uncles all worked in construction, and he got his first job out of high school with the Estey Organ Company, one block from home, which was doing a booming international business in 1950. He moved to the local cotton mill, where he baled scraps on the night shift, then realized college would provide better opportunities. With a degree in industrial arts from Keene State College, Allen went on to teach in Connecticut and Vermont high schools, vocational centers and one state prison for the next 31 years.
Despite adhering to a 19th-century aesthetic, Allen is up to date on environmental concerns: He uses Vermont-harvested wood certified by Tom Lathrop of Exclusively Vermont Wood Products, 10 miles down the road in Bristol. "He and his wife [Pamela] know exactly where each piece comes from," Allen says, and they let him choose pieces for their grain patterns if, for example, he is making matching drawer fronts from a single plank. It's as perfect a fit as a Shaker joint — but entirely local.
Click a photo above to see the location.