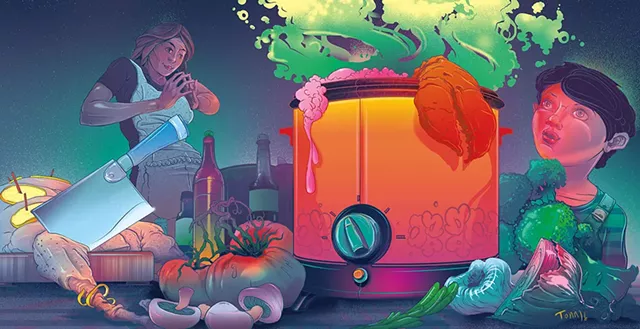 Winter is pantry and cellar season. As Green Mountain gardens sleep through the seasonal freeze, we find roughage in long-keeping crops such as potatoes and turnips, sunchokes and cabbages. Few of these are friendly to flash-in-the-pan cooking but instead reveal fine layers of flavor when heated for long hours, showered in seasonings.
And while the seasonal dearth of chlorophyll can compel even the most devoted locavores to seek solace in a bag of California greens, cold weather offers a ready excuse to dive deep into Vermont's outstanding array of homegrown meats and cheeses.
Not by coincidence, these high-fat, high-protein comforts help us face the cold.
What's more, roasts, soups and stews fill our homes with dense and rich savory scents. But even in the post-holiday lull, finding time to assemble a hearty meal can be tough.
Enter the slow cooker. You may know it by the trade name Crock-Pot, but any number of similar models fit the bill for one-pot cooking. The slow cooker allows us to prepare a low-maintenance, belly-filling meal with minimal trouble, yet the standard stew and chili recipes might seem a bit stale. To that end, Seven Days consulted with local chefs and farmers, brewers and food artisans for some inspiration. The next few months will bring plenty of cold, dark days to sample them all.
The Basics: Simple Meat and Veggies Crock-Pot Recipe
Jon Wagner and Karin Bellemare, Bear Roots Farm, Barre
Some slow-cooker recipes are rightfully complex, and hours of prep can lead to the best dish you've ever had. But good meals don't have to be complicated. As Jon Wagner of Bear Roots Farm explains, it can be as easy as dumping some ingredients in the pot, turning on the heat and walking away. If you're crunched for time, here's a dinner you can throw together in five minutes. Be sure to use fresh veggies!
This winter, find Wagner and his partner, Karin Bellemare, at the Burlington Farmers Market on select Saturdays.
Ingredients:
Ham or chicken
Handful of potatoes, chopped
Handful of carrots, chopped
1 onion, chopped
2-3 cloves garlic, chopped
Onion powder, salt, pepper
Olive oil
Preparation:
Put all ingredients into a slow cooker. Cook on low for eight hours.
The Cheese: Cheddar-and-Alpine Fondue
Meri Spicer, Grafton Village Cheese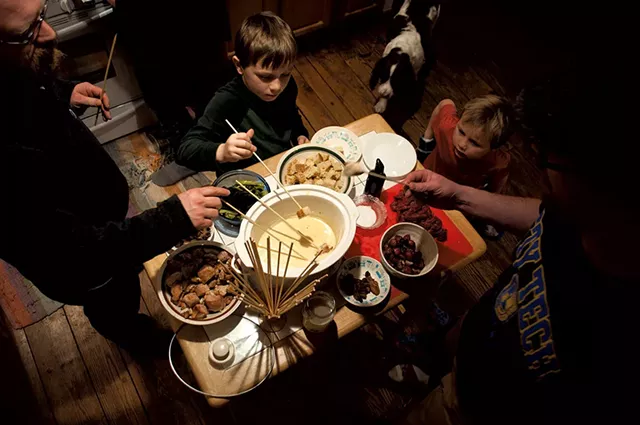 Hannah Palmer Egan
Cheddar-and-Alpine Fondue
Cheese has been a cottage industry in Grafton since 1892, when a group of dairy farmers banded together to find a cooperative solution to their excess milk.
More than a century later, Grafton Village Cheese continues that legacy, producing aged, raw-milk cheddars and small-batch specialty curds. These are available at retailers statewide, including the company's flagship store in Brattleboro.
Last week, the creamery released a new truffled cheddar cheese. Like Grafton's other cheddars, it's smooth and lightly sharp, but Italian black truffles impart an elegant fungal funk.
The truffled cheese is brand-new, so when we requested a recipe, Grafton sales and marketing vice president Meri Spicer sent us a fondue using one of the creamery's more established offerings. If you don't have a wedding-day fondue kit collecting dust in a hard-to-reach cupboard, you can make this on a stovetop (see chef's note below), then transfer the fondue into a pre-warmed slow cooker. That will keep the cheese flowing until it's gone.
Chef's note: If you have a lightweight fondue pot or regular saucepan, put an inch or two of water in it and bring to simmer. Place a stainless steel bowl over the saucepan so it hovers over the water but is not immersed in it.
Ingredients:
1 clove garlic
1 cup dry, crisp white wine
8 ounces Grafton two-year aged cheddar or Grafton Vermont clothbound cheddar, grated
8 ounces Jasper Hill Farm Alpha Tolman, or Gruyère or other alpine-style cheese, grated
1 tablespoon cornstarch
1 tablespoon kirsch brandy (optional)
Preparation:
This is best made in a heavy fondue pot but can be done in a double boiler (see chef's note). Crush the clove of garlic slightly with the flat side of a knife. Rub the garlic all around the pot.
Add the wine and bring to a simmer. In the meantime, mix the two cheeses together in a large bowl and mix the cornstarch into the shredded cheeses, distributing well with your hands.
When wine is simmering, keep heat low and add the cheeses into the wine one handful at a time. Let each melt completely before adding another one. Stir continuously to keep the fondue smooth.
Stir in the kirsch, if using, and turn heat to low to serve. If not using a proper fondue pot, transfer to a saucepan or slow cooker that you can keep warm while serving.
Serve with crisped bread cubes, apples, or raw or blanched vegetables (broccoli, cauliflower, snap peas). Experiment!
The Roast: Pork Adobado
Matt Sargent, Phantom, Waitsfield
Hannah Palmer Egan
Pork Adobado
Phantom Productions was a midlife passion project that began as a pop-up dinner and music series and then became a food truck. About a year ago, owner Matt Sargent moved his operation into a storefront in Waitsfield's Mad River Green.
During dinner and weekend brunch, Sargent's menu swings from pub fare to pan-Asian to continental and Latin American; the chef decides daily what to do with the local meats and produce that most tickle his fancy. The results — always thoughtful, local, high-quality and affordable — are worth a trip to his restaurant. Bonus: On some nights, Phantom hosts live music by rockers and crooners from Vermont and beyond.
Chef's note: This is an easy favorite that was also a big hit on the food truck. Pure soul food.
Ingredients:
3 red bell peppers
4 or 5 dried chile peppers such as ancho, guajillo or pasilla
3-4 pounds pork shoulder, cut into 1 1/2-inch cubes, with most of the fat removed
1 large Spanish onion, diced
1 12-ounce can diced tomatoes
2 chipotle peppers in adobo (remove seeds if you don't want it too hot. Use gloves!)
1 tablespoon cumin powder
1 tablespoon granulated garlic
1/2 teaspoon cinnamon
Salt and pepper to taste
Peparation:
Roast the red peppers in a 450º F oven for 25-30 minutes. Place in a bowl and cover with plastic wrap. When cool, peel and deseed the peppers. Strain, reserving any liquid from the process.
While peppers are roasting, boil water, pour over dried chiles and soak 30 minutes. Reserve the soaking water. Wearing gloves, remove stems and seeds.
Brown the pork in a large skillet. Do not crowd the pan — do in batches if necessary. Drain off oil and place meat in a slow cooker.
Place red peppers and their reserved liquid, soaked chiles, diced onion, canned tomatoes, chipotles, cumin, garlic, cinnamon, salt and pepper in a food processor and process until nearly smooth. You may need to do this in batches.
Add the puréed sauce to the slow cooker, then add a cup or two of the reserved chile soaking water to cover the pork.
Set on high for six to eight hours. Serve over rice with fresh lime, chopped cilantro and sour cream.
The Stew: Creamy Beef Provençal
Clarina Cravins, Healthy Living Market and Café, South Burlington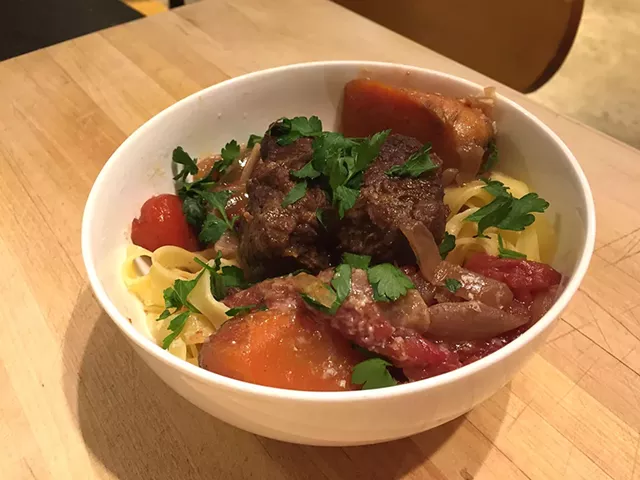 Melody Pfeiffer
Creamy Beef Provençal
Don't be put off by the long list of ingredients in this recipe. Aside from a little whisking and browning, you'll simply throw everything in your slow cooker.
Want to know more about healthy cooking? The store's Learning Center offers classes to help you with your New Year's resolutions.
Ingredients:
1-3-pound chuck roast, quartered into equal cubes
Salt and fresh-cracked pepper to taste
Vegetable oil as needed
4 medium carrots, cut about 3/4-inch thick at an angle
1 head garlic, shaved thin
1 small bulb fennel, trimmed and julienned
1 yellow onion, julienned
1 14-ounce can whole peeled tomatoes in juice
1 small (6.5 ounce) can sun-dried-tomato tapenade
1/4 cup brandy
1/2 teaspoon orange or lemon zest
1 sprig rosemary
1 sprig thyme
1 sage leaf
3 1/2 cups chicken stock
1/3 cup flour
Small handful chopped parsley
1/2 cup heavy cream
1/2 cup grated Parmesan
More Parmesan and parsley for garnish
Hot, buttered egg noodles for serving
Preparation:
Sprinkle the meat with salt and pepper. Heat deep skillet over high; add oil to coat. Once oil is hot but not smoking, add meat and brown on all sides (about two minutes per side).
Place carrots on the bottom of slow cooker and add browned meat on top. Then add garlic, fennel, onion, tomatoes, tapenade, brandy, zest and all herbs but parsley.
In a separate bowl, whisk together chicken stock and flour. Pour over slow-cooker mixture.
Cook four hours on high. Turn to low; cook two more hours until meat begins to fall apart. Whisk in parsley, cream, Parmesan, salt and pepper. Remove mixture from pot and portion over noodles in wide, shallow bowls. Garnish with more parsley and Parmesan, and enjoy!
The 'Cue: Mutton BBQ, Northeast Kingdom-Style
Maria Schumann, Cate Hill Orchard, Craftsbury Common
Cate Hill Orchard is an organic farm that grows nearly everything, from heirloom apples to sheep. Here, co-owner Maria Schumann shares her Vermont-ized version of mutton barbecue, a regional dish from Kentucky. Find her at the Capital City Farmers Market in Montpelier this winter.
Ingredients:
Olive oil
1 (2-3 pound) lamb shoulder, bone in
5 cloves garlic
1 onion, quartered
1 carrot, cut into big chunks
1 1/2 cups apple cider
1/2 cup apple-cider vinegar
1 teaspoon honey
3 tablespoons hot sauce (e.g., Vermont Pepper Works Peach Ginger Habanero)
1 cup diced canned tomatoes
Salt and pepper
Preparation:
Coat a large pan with olive oil. Brown lamb shoulder over high heat, about four minutes per side.
Put garlic, onion and carrots in slow cooker and top with lamb.
In a small bowl, mix cider, vinegar, honey, hot sauce and tomatoes. Pour over meat. Sprinkle with salt and pepper.
Cook eight hours on low, until meat falls off bone.
To crisp up meat and reduce sauce, break lamb into pieces and put it with half of the sauce into a shallow pan. Bake at 500 degrees for about 30 minutes.
Return meat and sauce to vegetable mixture. Serve with mashed potatoes, cabbage salad and pie for dessert.
The Bird: Crock-Pot Coq au Vin
Nicole Grenier, Stowe Street Café, Waterbury
Melissa Haskin
Crock-Pot Coq au Vin
Stowe Street Café is known for offering healthier versions of comfort food. Here, owner Nicole Grenier shares her recipe for a French classic. Five hours of slow cooking will yield very tender and flavorful chicken, not to mention a tantalizing aroma in your kitchen.
Chef's note: Don't be tempted to peek or stir! Every time you remove the lid, you lose moisture and add another 30 minutes to the required cooking time!
Ingredients:
8 ounces cleaned, quartered mushrooms
3 large carrots, washed and chopped into 1/4-inch pieces
1 1/2 cups medium-diced onion (or frozen pearl onions, if you prefer)
2-3 tablespoons olive oil
1/2 teaspoon salt
1/2 teaspoon ground black pepper
2 1/2 pounds chicken thighs, skin removed
cup dry red wine
1/2 cup chicken broth
1 tablespoon flour
2 tablespoons balsamic vinegar
2 teaspoons herbes de Provence
3 cloves garlic, minced
4 cups hot, cooked whole-grain wide noodles
2 tablespoons chopped fresh Italian parsley
Preparation:
Put mushrooms, carrots and onions in a four- to five-quart slow cooker and set aside.

Lightly coat Dutch oven or large skillet with olive oil and heat over medium-high.

Sprinkle salt and pepper on both sides of chicken thighs and place in skillet, meaty sides down. Cook six to seven minutes or until brown, turning once. Add chicken to slow cooker (chicken will not be fully cooked yet).
Add wine to skillet and bring to boil. Reduce to simmer for two minutes, stirring up bits from bottom and sides of pan. Remove from heat.
Stir in broth, flour, vinegar, herbes de Provence, garlic, salt and pepper to taste. Pour over chicken.
Cover and cook on low for five to five and a half hours, or on high for two and a half to three hours.
Serve over hot noodles and garnish with chopped fresh parsley.
The Chili: Summm' Batch Chipotle Chili
Liam Quinlan, Stone Corral Brewery, Richmond
Last summer, Stone Corral Brewery moved from the Huntington hills to a 4,000-square-foot space in Richmond. The move allowed co-owners Bret and Melissa Hamilton to drastically increase their production and to welcome guests in an airy, spacious tasting room. The brewery secured its first-class liquor license last fall and is now open for lunch and dinner Tuesday through Sunday. Many nights bring live jams from local pickers and strummers.
Chef Liam Quinlan's pared-down menu offers cheese plates, grilled panini stuffed with cheese and ham or apples, and chili. His chili is spicy, colorful and smoky with chipotle peppers and beer from the brewery.
Chef's note: Stonewood Farm's turkey sausage is the way to go — it has great flavor and crumbles well, leaving some bigger bite-size chunks. The peated malt and slight smoky flavor of our Latigo Scottish Export-style ale works very well with the heat from the chipotle peppers.
Ingredients:
1 cup diced red bell pepper
1 cup diced green bell pepper
1 sweet onion, diced
3/4 cup hot turkey sausage
3/4 cup sweet turkey sausage
2 cups Stone Corral Latigo Scottish Export ale
4 cups tomatoes, diced
1 15-ounce can tomato sauce
1 15-ounce can pinto or kidney beans
3/4 cup kernel corn
1/4 cup brown sugar
1 tablespoon chili powder
1 tablespoon cumin
1 teaspoon salt
1 teaspoon ground black pepper
3 dried chipotle peppers, finely chopped
Preparation:
In a hot pan with a little oil, lightly sear peppers and onions.
In a separate pan, sear sausage. When it starts to brown, add beer and allow to reduce slightly.
Add sausage, peppers, onions and remaining ingredients to slow cooker and cook on low for three hours. Increase heat to high and cook two more. (Can cook on low six to eight hours if you're not around to change the setting.) You want the chili to reduce by at least an inch. Another trick, if it seems too soup-like, is to remove most of the liquid at the end and reduce on your stovetop, then return it to the chili.