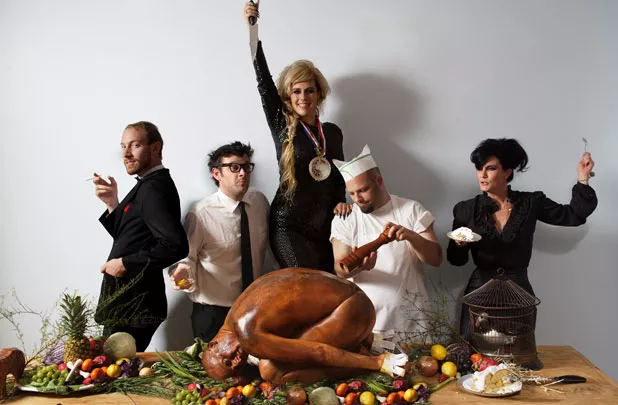 Heloise and the Savoir Faire
You'll have to excuse me if I seem a little scattered this week — or more than usual, anyway. You see, I'm heading to Austin, Texas, in a few days for South by Southwest. If you're unfamiliar with SXSW … um, why are you reading this column? It's the largest, most hyped live-music event on the planet. You need to know this stuff if we're going to continue this relationship.
Anyway, I'm preoccupied making arrangements and planning my attack. Frankly, the sheer volume of events happening in the Live Music Capital next week is beyond overwhelming. For every band I've heard of — quite a few, thank you very much — about 20 others are totally new to me. While I'm excited to catch some old favorites, such as Built to Spill and Bruce friggin' Springsteen (yes, really), the whole point is to find those diamonds in the rough. You know, the bands you've never heard of that will reaffirm your faith in God and music — and make you appear hipster-er than thou when you get home. But where to begin? The options are legion, and the national hype machine is already on overdrive pimping dozens of bands as this year's likely SXSW breakouts. I also really need to go buy some sunblock, since it's hot and sunny in Texas and I'm a ginger. We don't really "do" sun. But I digress.
Clearly, I've got a lot on my mind. But I've also got a column to write. The only solution? A rapid-fire, all-BiteTorrent edition of Soundbites. Strap in.
BiteTorrent
If your radio sounds a bit lamer these days, well, it is. In another apparent attempt by commercial radio to be as homogenous as possible, Hall Communications affiliate 99.9 FM the Buzz axed two of its specialty-music shows last week. Both the new-music show Early Warning and local-music show Homebrew signed off for the last time last Sunday, March 4. Both shows had been with the station since its inception in 1996. Bummer. On the bright side, Homebrew will live on as a podcast available through the Buzz website. The first episode drops this Saturday, March 10.
In a related story, WRUV 90.1 FM is still awesome. That is all. And 105.9 FM the Radiator is, too.
So what's the best thing about Three Needs taking over the space formerly known as Parima? Some might say the additional pool table is a nice touch. Others might point to the cozy booths lining the joint and the general increase in elbow room compared to the old Needs. Still others might note the weirdly familiar smell of vomit that greets one upon entering — seriously, what the hell is that? Personally, my favorite aspect of the new Needs is that the space is once again home to Mildred Moody's Full Moon Masquerade, which started at Parima about a year ago and quickly became one of Burlington's best — and most debauched — parties. Well, folks, there is a full moon this Thursday, March 8, hence, another masquerade. The usual suspects will all be there — Mildred Moody, the Human Canvas et al. But the belle of this ball will be up-and-coming local electro-indie outfit Errands, fresh off their Higher Ground Ballroom debut opening for indie dance favorites YACHT.
[UPDATE: 7D has just learned that due to a permitting snafu, Mildred Moody's Full Moon Masquerade has been moved from the Three Needs to the One-Half Lounge.]
Speaking of locals in the Ballroom, Joshua Panda scores a sweet gig this week: opening for newgrass heavyweights the Infamous Stringdusters on Tuesday, March 13. I'm guessing after Allen Stone rips up Club Metronome this Wednesday, March 7 — see the interview in last week's issue — local scenesters will be all aboard the retro soul train. Well, as a gentle reminder, Panda, though a little rootsier now, has been the conductor on that line in Burlington for years. Just sayin'.
Haven't heard much from local indie-rock favorites Villanelles in a hot minute. The band has been on something of a hiatus in recent months while members make babies and dig into side projects — the latter presumably not baby related. I'm happy to report the band is back in action this week. They'll be at the Monkey House on Wednesday, March 14, with local rockers Trapper Keeper and Wringer. Nice to see you again, gents.
Last summer's Girls Rock Vermont! camp was, by all accounts, a smashing success. If you recall, the day camp, curated by local riot grrrls Doll Fight!, offered girls ages 8 to 18 the opportunity to study under some real, live, local lady rockers and channel their inner Joan Jett. Registration for this year's camp, which takes place July 30 through August 4, is now open at girlsrockvermont.org. Also open is registration for the new Ladies Rock Camp, aimed at would-be rockers ages 19 through 99 — sorry, centenarians — and will be held over Memorial Day weekend. If you want to get a taste of what goes down at the camps, swing by the Radio Bean the second Sunday of every month, when Doll Fight! host a fundraiser for the camps. This Sunday, March 11, the lineup includes Maryse Smith, Montpelier's First Crush — see the review of their new album on page 63 — Gneiss and the Toes.
Squid City guitarist Thomas Pearo unveiled a new sonic experiment recently, dubbed the Ambient World Project. For the unfamiliar, Pearo matches his considerable finger-picking prowess with a variety of digital loops, effects and other sonic shenanigans to create, well, an ambient world of sound. He'll be at Muddy Waters this Thursday, March 8. The show will double as a sort of informational meeting for his Ambient World Society, a weekly meeting of the minds Pearo will host at the Firefly Gallery to discuss new technologies and promote ambient music in Vermont. Local hip-hop heroes Lynguistic Civilians are in the midst of a monthlong residency, every Thursday in March at Nectar's. This Thursday, March 8, they'll be joined by local funky bunch Dr. Ruckus and MCs Face-One and Brutally Honest. Word.
I have really been enjoying the recent run of local rock at the BCA Center in Burlington. In particular, the Rough Francis show two weeks ago was killer. Yeah, the band was great, as per usual. But seeing a massive mosh pit erupt in an art gallery simply warmed my inner 15-year-old's punk-rock soul. This Saturday, March 10, disco-rock phenoms Heloise and the Savoir Faire return to the BCA Center with DJ Disco Phantom. I doubt we'll see any moshing. But I'm sure it will still be sweaty and fun. And I'm hoping for more cuts from the band's long-awaited new record, which at this point has been rumored to be coming out since Heloise was in viperHouse.
Last but not least, did I mention I'm going to SXSW? Oh, I did? Silly me. Well, I bring it up again to let you know that you can follow along with my adventures beginning Monday, March 12. All week long, I'll be chiming in every day on the Seven Days staff blog, Blurt, with reports, reviews and other random thoughts from Austin. For more bite-sized bits and pieces — and probably some late-night tipsy tweeting — you can also follow me on Twitter (@DanBolles) and on Facebook at Dan Bolles — That Guy From the Seven Days. If you crank up the heat in your apartment, score a case of Lone Star beer and some gnarly BBQ, and then maybe watch season one of "Friday Night Lights" — Clear eyes, full hearts! — it will almost be like you're in Texas with me.
Listening In
Once again, this week's totally self-indulgent column segment, in which I share a random sampling of what was on my iPod, turntable, CD player, 8-track player, etc., this week.
Adam & the Amethysts, Flickering Flashlight
Young Prisms, In Between
Regina Spektor, All the Rowboats
Hunx, Hairdresser Blues
Dinosaur Jr., Where You Been