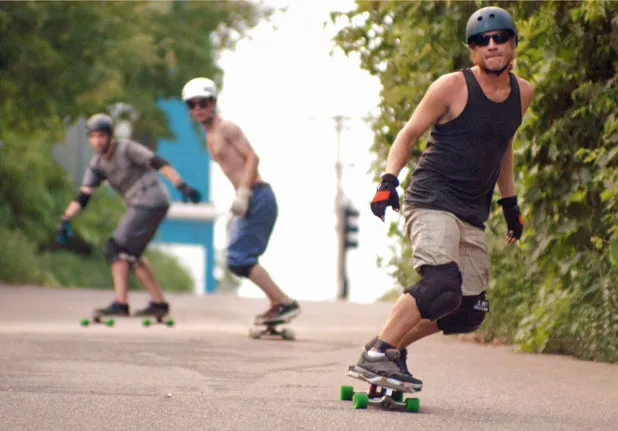 Matthew Thorsen
(Left to right) Neil Torpey, Jake Palmer and Tom Wilson
On South Burlington's tony Deer Field Drive near Overlook Park, the typical evening commute brings a few Priuses and SUVs nosing down the steep slope alongside gracious homes. But things are taking a different turn on a recent Wednesday night.
Jake Palmer, 26, hops on a skateboard and lets go, carving deep turns on the asphalt as he accelerates and eventually becomes a green-shirted speck at the bottom of the hill. One by one others follow: Will Deming, Tom Wilson, Peter DiFonzo, Neil Torpey, Izzy Moreno, all wearing helmets and gloves with pieces of plastic affixed to them.
Insane? Actually, it's insanely fun, according to a growing number of longboarders in the Burlington area. A natural complement to skiing and snowboarding, an easy way to get around college campuses, and, for some, the only way to commute to and from work, longboard skateboarding no longer belongs just in California and other warm climates.
Now, thanks to the Vermont Long Board Crew and an increasingly popular skating session on Wednesday nights, longboarding is gaining traction — and respect — in a city that turns out to be nearly ideal for zooming around on four tiny wheels.
"Longboarding is at the point where it's a community in Burlington," says Wilson, who has been skateboarding for more than 20 and longboarding for some eight years. "It's about the enjoyment and the experience of it … this is an opportunity to share with others the things I wish people had taught me."
That doesn't necessarily mean ollies or bluntside grinds. Unlike freestyle skateboarding (the domain of those who flock to Burlington's waterfront skate park and the Burton Bowl), longboarding isn't about learning to land the latest trick, explains Wilson. Longboards are, well, longer than traditional skateboards, with modifications added to suit the rider's needs: commuting miles to work, racing downhill, or darting in and out of cones on a closed course — called slalom, as in Alpine skiing. The foothills rising from Lake Champlain toward the Green Mountains are ideal spots to experience a little gravity-fed adrenaline.
"The disciplines are very similar to skiing," says Palmer, a New Hampshire native who now lives in Winooski and was a top collegiate ski racer for Colby-Sawyer College when he began longboarding as cross-training for balance and core strength. He eventually started competing on dry land in slalom and downhill races. "It was being able to carve and go fast during the summer that attracted me to longboarding. And it's a lot more fun than going to the gym," adds Palmer, who works as a freelance graphic designer and merchandiser.
Fellow racer and Winooski resident Deming, who grew up in Burlington watching his uncle enter slalom skateboarding races on Spruce Street — and land in the Burlington Free Press for doing a handstand on a skateboard — fell naturally into the sport. He founded the Vermont Long Board Crew a few years ago as a way to gather like-minded riders and find strength in numbers.
"It was just me and the college crowd at the time," says Deming, now 26 and a ski technician for South Burlington's Alpine Shop. "Burlington has had a pretty good scene for a long time, but the lifestyle of skateboarding is coming back around to the longboard, the cruiser side."
While Deming, Palmer and Wilson regularly travel to downhill skateboarding races — where they don full-face helmets and leather suits to tackle hairpin turns at high speeds — they're committed to spreading the word about safe longboarding back home in Burlington. "There's no set rules or handbook for people to learn things," Palmer laments. Hence the Wednesday-night skate sessions, which can draw up to 20 riders at a time to forgiving grades not only near Overlook Park but also on Marble Island Road in Colchester and Milton's Ritchie Avenue.
It's hard to top the view of the setting sun from Overlook Park. "But the great thing about Vermont is that all of the spots are really scenic," Palmer says.
While some cities' ordinances prohibit skateboards of any kind, members of the Vermont Long Board Crew hope that by raising awareness, they'll help to make longboarding more mainstream, and as acceptable as riding a bike.
"We're trying to encourage people away from downtown, away from traffic," adds Wilson. "We rotate the places we go to on Wednesdays, and we know how traffic works so it can be done safely. A major part of it is, if we see a car, we'll holler."
Case in point: "CAR!" screams Palmer to Moreno, in action, as an SUV turns off Spear Street down Deer Field Drive. As DiFonzo demonstrates, they also clap their "slide gloves" together as a warning. The gloves have squares of plastic attached to the palms, which allow skateboarders to use their hands on the asphalt to turn or slow down. The plastic pieces, when clapped together, make a sharp, loud noise.
"It's like a horn for your hands," says DiFonzo, a Sugarbush snowboarding instructor who works at the Alpine Shop and recently became hooked on this warm-weather sport's similarities to his winter one. "It's a very accessible sport, very fun, like a combination of snowboarding and surfing." (As Deming explains, longboarding also attracts plenty of older skateboarders who can no longer take the falls that come from landing tricks.)
Unlike hard-core surfers, members of the Vermont Long Board Crew aren't super protective of their turf; in fact, they seem friendlier and more approachable than might a group of seniors playing tennis. And, remarkably, not a single driver seems annoyed by the crew of longboarders on Deer Field Drive. "A few weeks ago, one car went through honking their horn and making a scene," Deming admits. "Sometimes people make an issue, but not really, for the large part. I like to think that it's because of the way we approach it — being respectful, staying out of their way, not causing a holdup."
In fact, Wilson adds, often nearby residents will emerge from their garages with a board of their own after they spy the sinewy turns of the Vermont Long Board Crew. "Even though we may not live in the community we're riding in," he says, "we've made a lot of good connections — we want to have the rapport, the relationship, [so] they understand we're not the ones leaving trash on the hill. We're here to contribute as much as we can."
That means teaching the basics to riders as young as 8 years old, encouraging helmets and proper footwear, and touting the benefits of commuting via skateboard. "It's more affordable than a bike," says Palmer, who says a complete rig costs about $150. "It's less maintenance, and you don't have to lock it up and worry about someone stealing the pin out of your back hub or your seat, or flattening your tires." If you travel long distances, Palmer adds, "it doesn't take a roof rack — you just throw it in your trunk."
Palmer guesses that as many as half of college students in Burlington now own a longboard. "Around here, definitely," he insists.
Tonight's scene fails to back him up, as there's not a single woman shooting down the hill — but, then again, school hasn't quite begun. When it does, the Vermont Long Board Crew will still be out there, riding as long as the streets are dry. "For longboarding, all you need is a nice day," Moreno says. "Not even a nice day — it can be 40 degrees, and we'll be out there."
Darkening days just mean a chance for night cruises on the Burlington Bike Path with headlamps: fewer people, fewer dogs, more fun. "If I see someone else with a longboard, especially if I see them riding downtown," says Deming, "I immediately feel a little bit more connected to them. I've probably taken that run 100 times. I know how it feels."