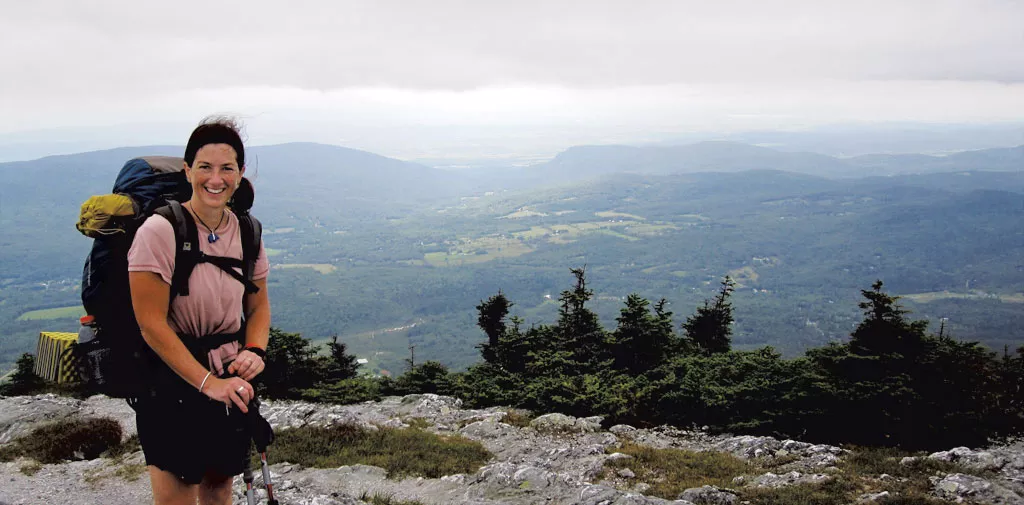 Courtesy of Jocelyn Hebert
Jocelyn Hebert needs no encouragement from Hollywood to hit the hiking trail all by herself. For years, she's ventured deep into the woods with only her backpack for company. Animals, accidents and creepy strangers aren't worries for her, although occasionally the whisper of the wind gives her the shivers. "Seriously, the wind can be eerie," Hebert says.
Women hiking alone gained attention with the 2014 movie Wild, starring Reese Witherspoon and a gigantic backpack. The film is based on a best-selling 2012 memoir by Cheryl Strayed; in it, she tells the story of her 1,100-mile solo hike/self-help odyssey from California to Oregon on the Pacific Crest Trail.
Not every woman wants or needs to trudge hundreds of miles solo to find her mojo. But with summer's arrival — and with or without inspiration from Wild — women who seek some time in the woods can find plenty of trail options in Vermont.
Many women who hike alone say they don't worry about their safety, but that their friends and family do. Long-held stereotypes about women's strength, resourcefulness and vulnerability come into play.
The fears aren't baseless. Accidents happen to both men and women alone in the woods, sometimes with tragic results. In February of this year, a 32-year-old Manhattan woman froze to death on a solo hike in New Hampshire's White Mountains. Crime finds its way to the forest as well. Many Vermonters still mourn the death of Patricia Scoville, a 28-year-old Stowe resident who rode her bike to Moss Glen Falls on an October day in 1991 and was raped and murdered there by a stranger.
Those cases, though sobering, are uncommon.
Don't be shut down by fear if the trail beckons, experienced hikers suggest, but do pay attention to your own comfort zone and plan carefully to maximize fun and minimize risk. Remember that in Vermont, cellphone service on the trail can be spotty or nonexistent, so don't count on it. And be willing to scrub a trip if weather warrants. Winter hiking alone is especially risky and leaves no room for error.
Hebert, a 47-year-old Calais resident, carefully follows certain rules when she sets out alone. She tells someone — usually her mother and a friend or two — when and where she's going, and when she should be back. Other basics: Study the route and allow sufficient time to complete it; choose a realistic route for your fitness level and outdoor savvy. Hebert advises bringing enough food, water and clothing to spend a night in the woods in case of emergency.
An experienced hiker, Hebert has twice thru-hiked the 272-mile Long Trail, which runs along the spine of the Green Mountains from the bottom to the top of Vermont. She's carved out a day job that supports her passion, working as an editor for the Green Mountain Club in Waterbury, the nonprofit that maintains the Long Trail.
Sometimes she hikes with friends, sometimes alone. Hebert likes to arrive at mountain summits in the early evening to see the sunset and descend with a headlamp. Few others seem to like hiking in the dark, she says, so these excursions are often solo.
Hebert notes that some of her best thinking happens on the trail. "It's life-affirming and empowering," she says. "You're able to go where you want, when you want, at your own pace."
And she's never had a problem with animals or people while hiking. "The people you will encounter on the trail are some of the most interesting, intelligent, generous, gracious and peaceful people you will ever meet," Hebert declares.
Wild teaches that lesson, too. Strayed sets out burdened by both an outsize pack and an enormous weight on her heart. Her beloved mother is dead from cancer. Strayed has just divorced a loving husband and flirted with heroin.
Little goes as planned on her trek: Deep snowpack forces her to detour off the most scenic stretch of the route; rattlesnakes block her path; her boots are too small; and she ditches much of the heavy, expensive gear she couldn't afford to buy in the first place.
But Strayed arrives at her destination stronger, happier and ready to start over.
That sense of renewal in nature is one of the reasons 28-year-old Emily Benning of Stowe likes to pull on her backpack and go. She grew up on a dead-end dirt road in the Northeast Kingdom and, as a child, often slipped into the woods. Her parents were frantic at first, then accepting.
"My dad told me recently that when I was very young, he came to the realization that I was going to do what I wanted, and he could either be supportive or we could be on bad terms," Benning says.
Benning has hiked solo in New Zealand and all over Vermont, including a 28-day excursion on the Long Trail. Her mom stopped worrying about her after that trip.
"Friends of hers kept asking, 'Aren't you terrified your daughter's alone in the woods?'" Benning says. Her mom's reply: "No, my daughter would kick a bear's ass."
After earning a degree in plant science at Cornell University, Benning landed a job at a chemical research lab. One day, she'd had enough.
"I realized I was getting very, very, pale and very, very fat, and I said no. So I quit my job, and I moved back to Vermont," she recalls.
Benning now works as southern field assistant for the GMC, which means she's on the trail for both work and play.
On May 1, she set out on a 12-day, 110-mile solo trek over the southern section of the Long Trail. It was early spring after a snowy winter, so she carried snowshoes. That turned out to be a good thing.
"I was up in the Glastenbury Wilderness, and it was 85 degrees, and I was in shorts and a tank top," she recalls, "and there was waist-deep snow."
Along with weather surprises, even the most prudent hiker is likely to face an injury on the trail at some point.
Benning recalls a late afternoon in October when she was hiking alone on the ridgeline of Mt. Mansfield. She slipped on ice and dislocated her shoulder. Benning had played rugby at Cornell and knew what she had to do.
"I had dislocated my shoulder before, so I knew how to get it back in," she says. "It wasn't pleasant." Benning pushed on the joint, and "it just kind of popped back in," she says.
She then hiked to Taft Lodge, one of the huts maintained by the GMC, spent the night and made it down the mountain the next morning without incident.
Once or twice, Benning has encountered intoxicated or "sketchy" hikers, she says, but no problems resulted.
Trouble is more likely to be found closer to where the trail meets the roads, because that's where it's easiest for rowdy parties in the woods to happen, Benning says. Bad actors don't tend to go too deep into the forest, she's found.
"For the most part, if you hike up to the top of a mountain, by the time you get there you're going to be too tired to cause any real trouble," she adds.
Still, many women who like the woods are cautious about entering them alone.
Gwendolyn Causer of Burlington frequently heads into natural areas in her job as a teacher and naturalist with Audubon Vermont, and as a volunteer conducting rare plant surveys for the New England Wild Flower Society.
Often she has company, and she likes it that way. "You want somebody else there if you sprain your ankle," Causer says.
She does occasionally venture out solo, but not for long periods and generally not in remote locations. Causer says she brings a whistle, a first-aid kit and safety techniques she learned in a self-defense class.
"I really trust my instincts, so, if I'm walking along and I pass someone that I'm not feeling comfortable about, I'll turn around and go the other direction," Causer says, "or make sure I make eye contact and walk with a very confident gait."
Her advice is to prepare well and look carefully around the trail. Sometimes the hazards are hard to miss.
"The biggest mishap I've had," Causer says, "is walking into a poison ivy patch a few times."
---
Take a Hike
Are you not quite ready to thru-hike the Appalachian Trail by yourself, but eager to get outside? Vermont has plenty of accessible hikes that anyone can do solo for a few hours or a day.
The Green Mountain Club in Waterbury (greenmountainclub.org) is a great resource, not only for books and information about routes, but also for learning more about hiking and the mountains in general. Club members and volunteers organize group outings all over the state, and the GMC hosts classes and talks.
Here are a few hikes not far from Burlington:
Mt. Philo, elevation 968 feet, Charlotte. Winding road and dirt paths of roughly one mile to the summit. Spectacular views of the lake and Champlain Valley. Short and steep, moderate difficulty, popular on weekends. Bonus for Chittenden County residents: It's only 20 minutes from Burlington, with several pick-your-own berry farms on the way home. vtstateparks.com
Snake Mountain, elevation 1,286 feet, Addison. From Mountain Road to the top and back, it's about 3.6 miles, with a 1,600-foot elevation gain, and likely to take two hours up and down. Bonus: The sheer drop off the summit will take your breath away. Hang on to small children. greenmountainclub.org
Mt. Mansfield, elevation 4,393 feet. On the Sunset Ridge Trail from Underhill State Park, it's a 6.6-mile round trip to the summit, with a 2,200-foot elevation gain. Four hours or more up and down. Bonus: This route to Vermont's highest peak leaves the tree canopy early, making for a relatively open hike by Vermont standards. Moderate to challenging. vtstateparks.com
Mt. Abraham, elevation 4,003 feet, Battell Trail, Lincoln. From the trailhead on Lincoln Gap Road, the trip up and down is five miles and likely to take three or four hours. Bonus: Nearby Bristol has several good restaurants, and you've burned a lot of calories. Challenging. greenmountainclub.org