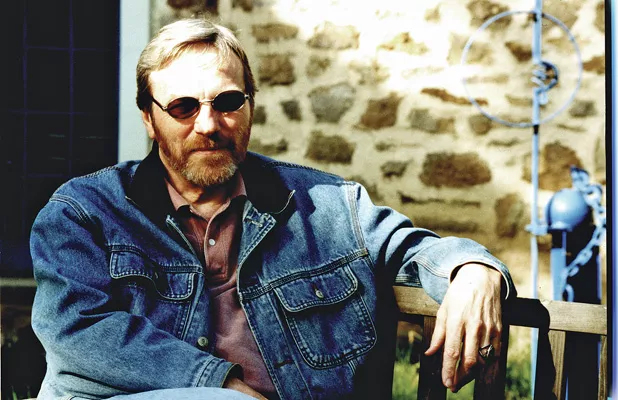 You may think you know Lake Champlain — its crisp, icy-blue stillness at sunrise, and its warm orange glow against the familiar backdrop of the Adirondacks as the sun descends in the evening.
Countless artists have tried their hand at capturing our lake's striking beauty. But what lies beneath? Daniel Lusk, a poet and senior lecturer in the University of Vermont English department, was inspired by the stories resting unseen beneath the otherwise familiar scene.
The Lake Champlain Maritime Museum has just published Lusk's new collection, Lake Studies: Meditations on Lake Champlain. The sixth "great lake" is at the heart of each of the 37 poems.
Art Cohn, LCMM's executive director, says the museum's central mission is to preserve and share the history and archaeology of Lake Champlain and the region. For the last two decades, LCMM has used various tactics to engage the public with the lake's story, from offering shipwreck tours to ferrying schoolkids around on the canal schooner Lois McClure.
"Lake Studies is our first foray into presenting this lake perspective through the creative art of poetry," Cohn says. "In reading Daniel's poems about many of the shipwrecks we studied and shared with him, I was so impressed with the power of poetry to describe these familiar situations, many of them resulting in tragic human loss, in such a profound and touching way."
Lusk initiated the project in 2008, after his curiosity was piqued by researchers mapping the bottom of Lake Champlain. He began imagining the mysterious underwater world and approached the maritime museum, asking for permission to dig around its archives. When he learned more, his desire to share the information through a poetic lens grew.
"As I began to look through what the museum had produced, I learned that some of the ships that went down actually had people on them," Lusk says. "They were tragedies, and this is the type of thing a poet takes note of."
A strong partnership formed, as LCMM readily opened its doors to Lusk and his vision. With the help of grants from the Vermont Community Foundation's Arts Endowment Fund and UVM, and steady support from LCMM, Lusk submerged himself in the enigmatic world beneath the water. His research included going on boat tours; visiting town centers; meeting with divers, marine biologists, historians and archaeologists; and reading ample maritime literature.
Soon he penned poems fueled by documents detailing prehistoric fish, shipwrecks and our storied lake monster, Champ. Lusk says he enjoyed the challenge of tackling such a broad subject. "By exploring the underwater wilderness of Lake Champlain and recent discoveries of its human treasures, and by adding my own, firsthand experiences of the lake to the accounts of others, I hoped to produce poems that re?ect our mutual fascination with those treasures," he adds. "I wanted to suggest something of our own psychological complexity in the process."
The poet says he began his artistic journey by simply imagining himself underwater. The first Lake Champlain poem Lusk wrote, "Nocturne," takes us into his made-up subterranean world. From there, Lusk moved on to poems in which he aimed to capture the tragedies of lives lost in the dark, cold water.
"Entering the Water" was inspired by the canal schooner Troy, which vanished in 1825 with five aboard and was discovered in 1999 by Art Cohn and a crew of divers. The poem combines known facts with Lusk's creative elements and haunting words: "Young captain's hat and pocketbook / they say, his locker, came ashore / to testify the ghostly tramp / of footsteps echoing in family lore."
Each poem is uniquely engaging and captivating. While they do provide information, Lusk is quick to note he's still an artist, not a historian. He sees the work as a means to evoke both emotions and thoughtfulness in his readers.
"The facts that fueled this collection are facts," the poet explains. "The lore is lore. The poems are … works of imagination."
"Lake Studies: Meditations on Lake Champlain" by Daniel Lusk, Lake Champlain Maritime Museum, 96 pages. $14.95. store.lcmm.org.